Wimbledon 2013: 'Laura effect' goes straight to the heart of a nation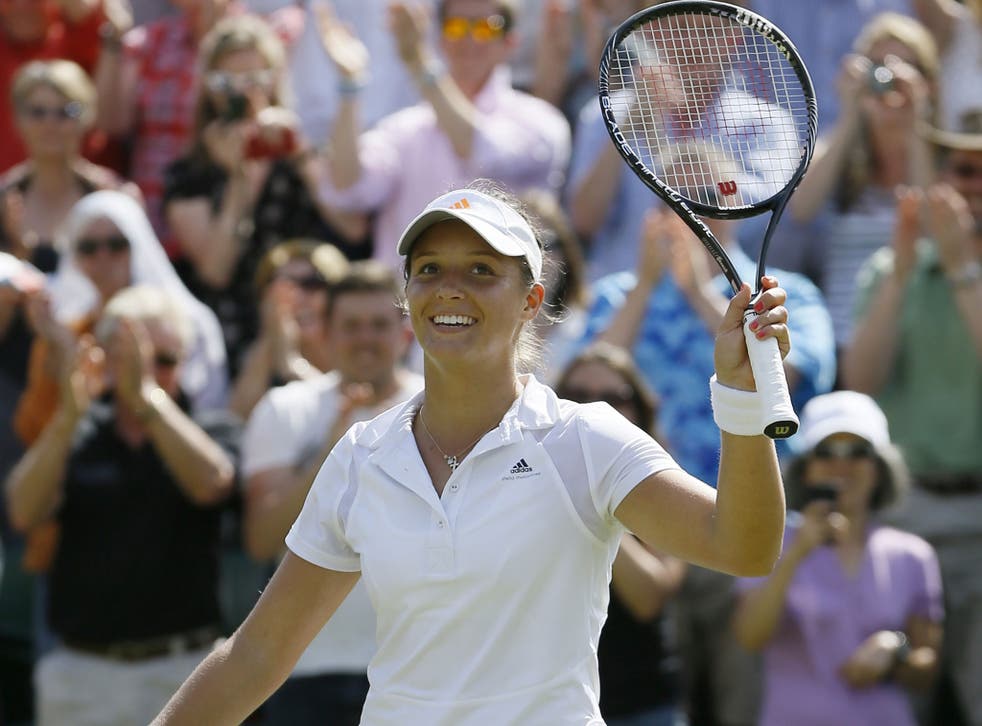 The Lawn Tennis Association have already acknowledged "the Murray effect", as youngsters have been inspired by his gold medal at London 2012 and his US Open win last September to pick up a racket for the first time. Who knows what effect Laura Robson may yet have on British tennis; at seven years the Scot's junior she may, we now dare hope, have as bright a future ahead of her.
This marks the first time since 1998 that British fans can support both a man and woman in the second week of Wimbledon, but while it has taken until recently for home supporters to take Murray fully to their hearts, Robson is already there. They're even prepared to overlook the fact that technically she's Australian, born in Melbourne to parents who later moved to Singapore and then the UK because of her father's job as an oil executive.
That unequivocal support owes much to Robson winning the Wimbledon girls' title in 2008, but mostly to her outgoing personality, given full rein on the social media she loves.
Her YouTube "Gangnam" spoof, made with her friend, the Canadian player Eugenie Bouchard (who lost her third-round match yesterday), has had more than 410,00 hits and Robson is a frequent tweeter (in jokey Twitter spats with Murray she has called him "a dork" for his love of PlayStation).
She's also bright – although, unlike the last British woman to reach the fourth round at Wimbledon, Sam Smith in 1998, Robson won't be taking time out to take a degree – and is happy to engage in banter at press conferences. It's a mark of her growing maturity that Robson no longer makes misguided off-the-cuff comments about other players on the tour, and was discretion itself last week when asked about the Maria Sharapova-Serena Williams brouhaha.
She was in playful mood in her post-match press conference yesterday, saying that her brother will finally be impressed with her achievement at reaching the second week of a Slam, after reaching the fourth round at the US Open last September. "I played on the Sunday and my brother said it didn't count," she said drily. "But this time it will be on the Monday, so that's pretty cool."
Robson has admirers in high places. Sharapova, John McEnroe, Sue Barker and Martina Navratilova have all described her as a future top-10 player (she enters the top 30 after this result) and Virginia Wade, the last British woman to win at SW19, in 1977, has been a Robson fan since her junior days.
Wade believes Robson may do "something incredible" at this year's Championships, but the teenager brushed this off, saying with a laugh: "Virginia always gets quite excited, doesn't she? Yeah, I'd love to win a couple more matches, but I don't want to get ahead of myself." Wade thinks Robson may go far here because she is working with Miles Maclagan, who previously coached Murray, and that his easy-going nature meshes well with hers.
"He is totally different to her previous coach Zeljko Krajan, who was a hard taskmaster," Wade said. "I don't think she needed someone that was as in her face and breathed down her neck, as she is quite laid-back."
Robson has repeatedly said she is taking each match as it comes, but she must fancy her chances on a surface she loves. "I can definitely play better than I did today," she said. "But it's tough to play your best tennis all the time, but I'm working on being super-consistent."
Register for free to continue reading
Registration is a free and easy way to support our truly independent journalism
By registering, you will also enjoy limited access to Premium articles, exclusive newsletters, commenting, and virtual events with our leading journalists
Already have an account? sign in
Register for free to continue reading
Registration is a free and easy way to support our truly independent journalism
By registering, you will also enjoy limited access to Premium articles, exclusive newsletters, commenting, and virtual events with our leading journalists
Already have an account? sign in
Join our new commenting forum
Join thought-provoking conversations, follow other Independent readers and see their replies