Wimbledon 2015: Home grown Zarina Diyas flies in the face of Kazakhstan's army of expensive imports
The 21-year-old reaps rewards of Chinese backing to progress to third round
Ian Herbert
Wednesday 01 July 2015 22:42 Comments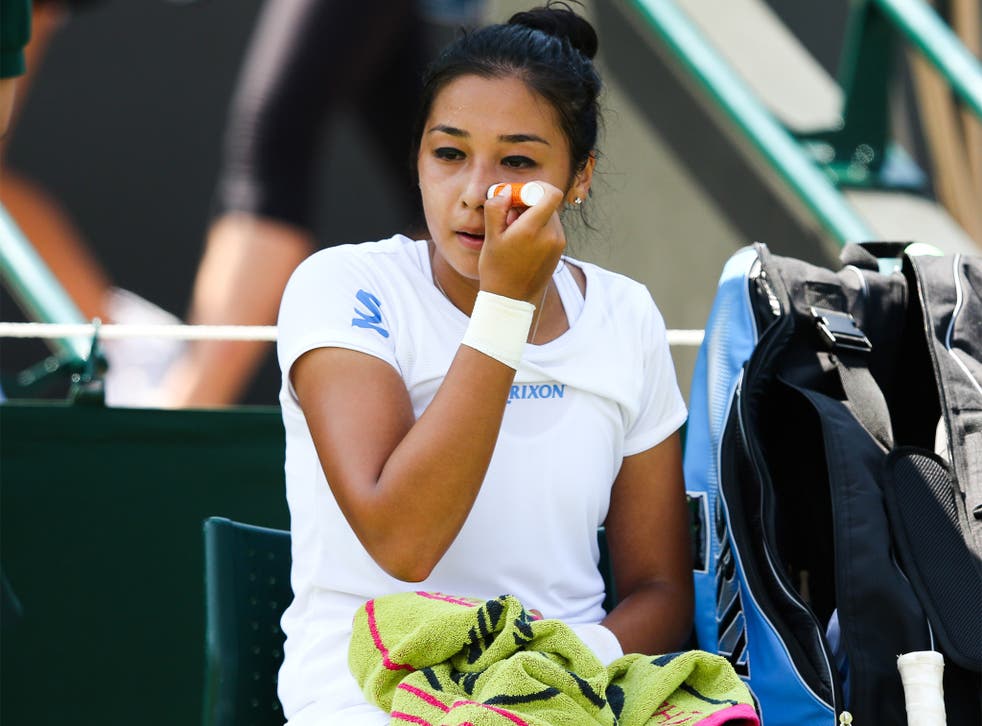 The improbable tennis rise of Kazakhstan – the remote former Soviet republic bordering China where they used to test nuclear weapons and send exiles – puts those plastic Brits controversies into some kind of perspective.
The country found a lot of money, seven years ago, built some very serious tennis facilities, reached the Davis Cup's elite World Group and stayed there – without fielding a single player born within its own borders.
The source of the cash certainly was one of their own – Bulat Utemuratov, a Kazakh banker and investor in the top 800 on the Forbes rich list, with an interest in tennis and £1.32bn burning a hole in his pocket – but like the men who have made Premier League football what it is, he didn't want to wait around for the luxury of home grown talent.
Importing overseas players became a matter of policy and the Russians came flooding in: Mikhail Kukushkin, Andrey Golubev, Evgeny Korolev and Yuri Schukin – all eager to change their national allegiance with the Kazakh tennis federation waving Utemuratov's money in front of them.
Wimbledon 2015 - in pictures

Show all 74
Other nationalities joined them, like Sesil Karatantcheva, born in Bulgaria, in the women's ranks.
Against a backdrop like that, you could only begin to imagine the satisfaction that must have been felt by the country's big hope for Wimbledon – 21-year-old Zarina Diyas – who overcame an indifferent start to her second round match to advance.
Diyas was one of those native Kazakhs who found herself surplus to the national tennis federation's requirements when the Russians started arriving. The Kazakh tennis federation did not consider her good enough and a series of injuries following the severe shoulder problem she sustained as a 15-year-old reinforced the sense that obscurity beckoned.
Her Italian fitness coach Stefano Baraldo, willing her through her victory over Bulgarian Aliaksandra Sasnovich, has a saying that "luck is blind" and it certainly helped that the Chinese Olympic tennis coach, Alan Ma, chanced upon Diyas on the fringes of a Challenger tournament and decided that Chinese investment might just locate in her the ability the Kazakhs didn't see.
None of those who work with her will tell you that she possesses any almighty tennis weapon. "I'm afraid it's messy," Baraldo said, apologetically, as we watched her early struggle against Sasnovich – dropping her serve in the first game of the match and then looking incapable of any threat on the Bulgarian's serve. Diyas looked plaintively at Ma and Baraldo in those early stages. "Technically she's so-so; physically she's so-so," Baraldo added. "But she wanted to win when she was nowhere and she wants to win now. So much of it is mental."
That psychological faculty became visible as soon as they began working with her at Ma's facility in Guangzhou, which is heavily funded by the Star River hotel chain and where her rise has been meteoric. Diyas was 230th in the world ranking when she left Almaty and began working in China. She did not appear at a Grand Slam until the Australian Open last year, but her third round in Melbourne was part of a breakthrough year. There was soon a Wimbledon fourth round to add to it. She broke into the top 100 and kept rising.
The inner resolve was evident against Sasnovich. "It's nerves. She's got to return better," said Baraldo as she struggled to make up the early service loss. But Sasnovich was afflicted, too, when she tried to serve out the first set, at 5-4. Her own service vanished, Diyas broke back for 5-5 with a forehand down the line and there were two more displays of the same weapon as she broke a second time to take the set. The Bulgarian was in freefall after that, claiming only one game from the second set.
Ma insisted there were no hard feelings about the way that the Kazakhs had cast his player out into the cold and his reflections on the Utemuratov cash certainly don't conform to the philosophy of Xi Jinping's Communist Party. "The money got something moving in Kazahakstan," he said of an investment which has built a new national tennis centre in the capital, Astana, indoor facilities which are crucial in such a harsh climate and a ballooning of registered players from only 500 to around 3,000. "They only brought in Russians who were top 100 players and those players earned those rankings. I don't believe in hand-outs to players. A player should earn enough to contribute third to their costs."
Had Ma's sponsors needed to bankroll Diyas as she journeyed from obscurity? "They won't need to now," Ma replied. Diyas will earn £77,000 from her third round appearance. Her compatriots are rather more interested in her now that she is a name at Wimbledon and ranked 34th in the world.
Register for free to continue reading
Registration is a free and easy way to support our truly independent journalism
By registering, you will also enjoy limited access to Premium articles, exclusive newsletters, commenting, and virtual events with our leading journalists
Already have an account? sign in
Join our new commenting forum
Join thought-provoking conversations, follow other Independent readers and see their replies