Wimbledon must act to avoid repeat of retirement fiasco as Roger Federer and Novak Djokovic call for rule changes
The Centre Court crowd were short changed on Tuesday when Alexandr Dolgopolov and Martin Klizan treated them to only nine games and eight games respectively
Paul Newman
Wimbledon
Wednesday 05 July 2017 11:29 Comments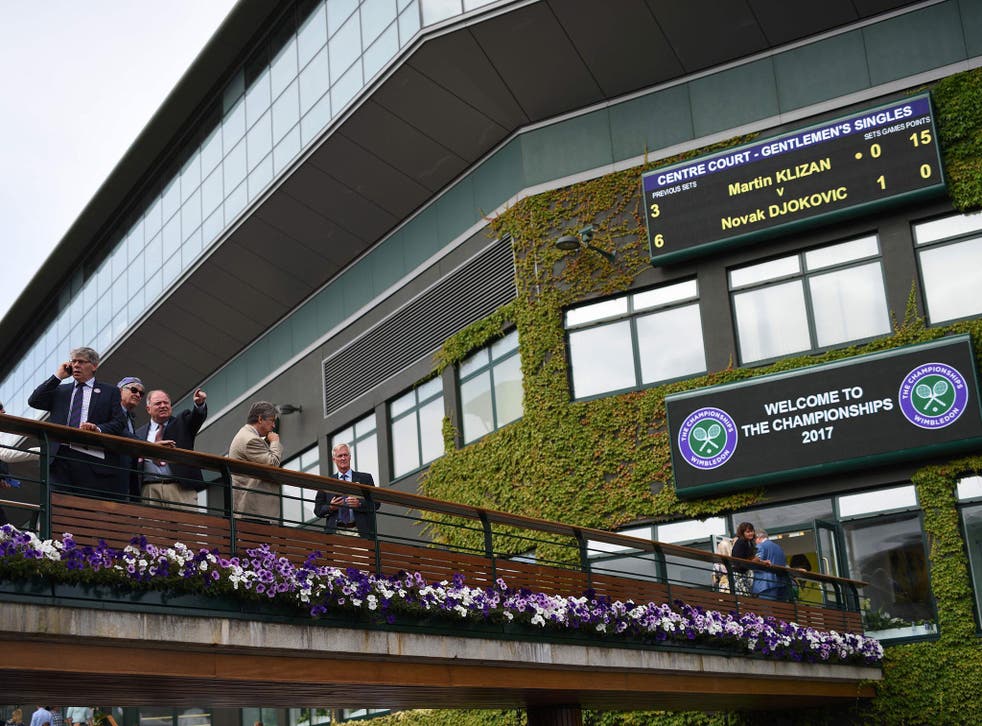 Alexandr Dolgopolov and Martin Klizan did not receive much sympathy from the Centre Court crowd on the second day of Wimbledon.
On the face of it, that was harsh. Here were two journeyman professionals whose big day in the spotlight ended early because they were injured. Both retired hurt, Dolgopolov after playing nine games against Roger Federer, Klizan after completing only eight against Novak Djokovic.
Nevertheless, the crowd's frustration was equally understandable. With due respect to Dolgopolov and Klizan, most of the spectators had come to see Federer and Djokovic.
Wimbledon: The greatest pictures from The Championships

Show all 50
On their day Dolgopolov and Klizan have the talent to push even the very best – Dolgopolov has beaten Rafael Nadal in the past and Klizan kept Andy Murray on court for more than three and a half hours at the French Open last month – but here it was evident that their physical state meant that they were no match for Federer and Djokovic.
Should Dolgopolov and Klizan have even started the matches? If they had withdrawn, that would at least have given an opportunity to another player – a "lucky loser" from the qualifying tournament – and given the crowd better matches to watch.
Part of the problem comes down to money. First-round losers at Wimbledon this year earn £35,000, which may not be much to a Federer or a Djokovic but can make a huge difference to a journeyman's annual earnings.
While Tuesday's crowd were clearly short-changed (even if they were given an extra match when Caroline Wozniacki's meeting with Timea Babos was switched to Centre Court), think of the players' point of view.
Being a professional tennis player is a costly business. This is a global sport, meaning you spend most of the year on the road. Airline tickets and hotel rooms do not come cheap. You also need to pay for your coach, physical trainer and physio - if you can afford them.
Studies in the recent past have shown that you generally need to be ranked in the world's top 150 just to break even – a much lower figure than, for example, in golf, where the prize money is significantly higher at a lower level. Britain's Naomi Broady says that it has been the money she has earned from her annual visit to Wimbledon that has kept her going in some years.
Prize money away from the Grand Slam tournaments is often much lower. In his first two tournaments of this year, Dolgopolov was beaten in the first round in both Brisbane and Sydney and earned a total of just $8,850 (about £6,900) for his two weeks' work. When you consider the costs he will have incurred, you can understand why the Ukrainian might be keen to bank the bigger cheques when he can.
The Grand Slam tournaments are to be praised for the way in which they have tilted recent increases in prize money towards those who lose in the early rounds. First-round losers at Wimbledon now earn twice as much as they did five years ago.
Wimbledon 2017: Men's contenders

Show all 10
While some might argue that £35,000 is a lot to be paid for losing one match, the counter argument is that the players have earned the right to be in the main draw at the Grand Slam tournaments through their efforts in the rest of the year. Apart from those given wild cards, everyone else in the draw is there thanks to their world ranking – which is based on a rolling total of ranking points earned over the previous 12 months – or through their efforts in qualifying.
As is so often the case, it was Federer who provided the voice of reason. The seven-times Wimbledon champion pointed to the example of the men's tour, where players who are in the main draw of a tournament but are unfit can still take their prize money despite having to withdraw.
If such a system was used at the Grand Slam events, there would still be withdrawals – there will be occasions, for example, where players are unfit but think there is a chance they can play through their injuries – but it would mean that those who know they have little chance of completing even one match would not be tempted to play just so that they can bank their cheques.
As it happens, the seven men who retired early from the first round here - Klizan, Dolgopolov, Feliciano Lopez, Janko Tipsarevic, Nick Kyrgios, Viktor Troicki and Denis Istomin – are all players who have earned good money from their careers. Nevertheless, it would still be a much more satisfactory situation if the financial temptation to play when you have a serious injury was not there.
Register for free to continue reading
Registration is a free and easy way to support our truly independent journalism
By registering, you will also enjoy limited access to Premium articles, exclusive newsletters, commenting, and virtual events with our leading journalists
Already have an account? sign in
Join our new commenting forum
Join thought-provoking conversations, follow other Independent readers and see their replies