Francis Ngannou outpoints Ciryl Gane at UFC 270 with surprising wrestling display
The greatest power-puncher in UFC history took an unexpected approach against his former teammate, but it paid off as Ngannou unified the heavyweight titles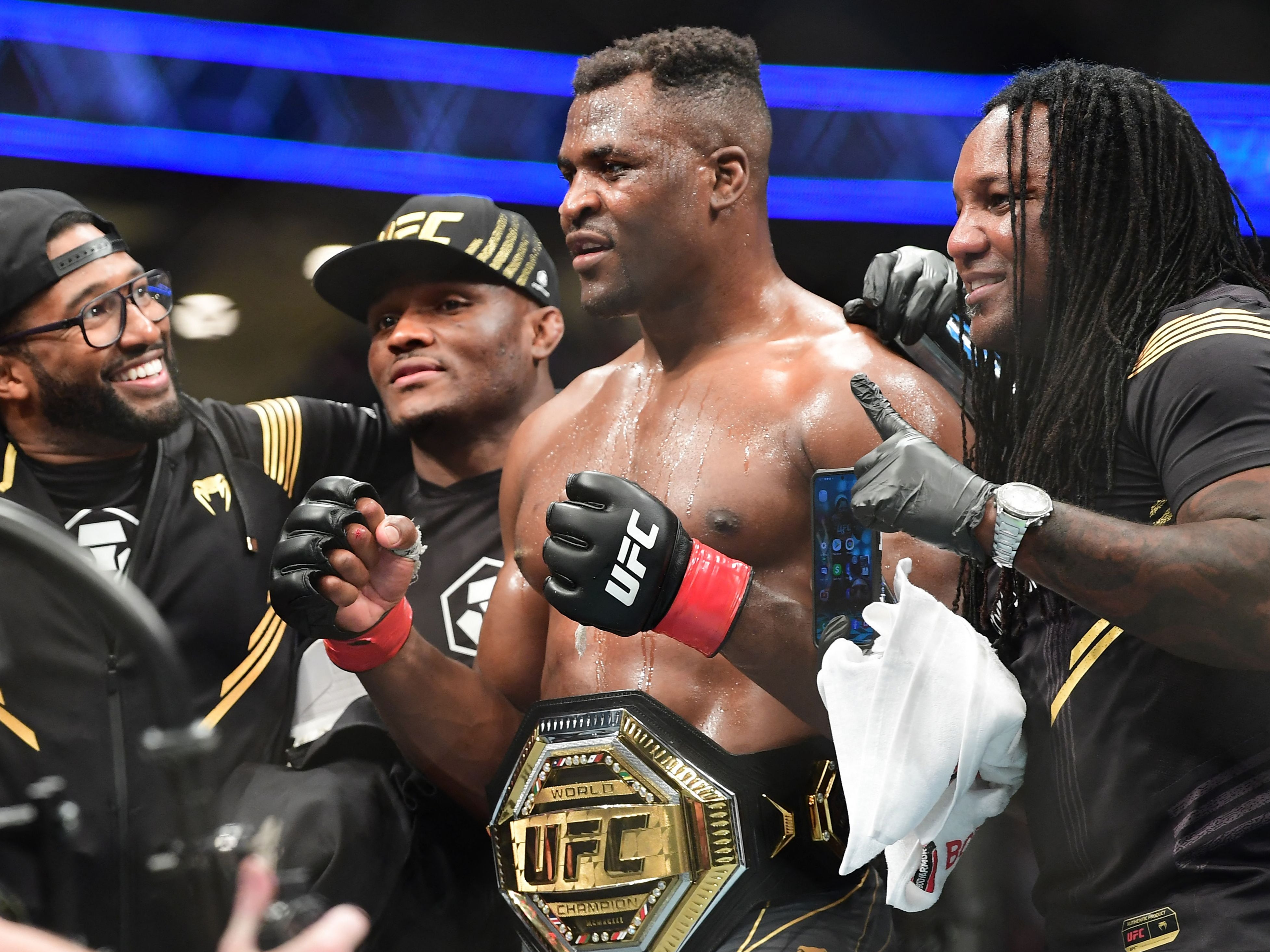 Francis Ngannou unified the UFC heavyweight titles in the main event of UFC 270 on Saturday night, beating interim champion Ciryl Gane via unanimous decision with a surprising wrestling display.
Ngannou (17-3) is known for his hellacious knockout power and had never before won on points, but the French-Cameroonian scored multiple takedowns as he handed former teammate Gane (10-1) his first defeat as a professional mixed martial artist.
Ngannou's 16 previous pro wins had all come via stoppage, 12 of them via KO/TKO and most of them early in his fights. Against a much quicker and seemingly more technical opponent, the least likely path to victory for Ngannou seemed to be a decision, but the 35-year-old defied expectations in Anaheim's Honda Center to beat Gane 48-47, 48-47, 49-46 on the judges' scorecards.
Gane was the first to initiate a grappling exchange in the main event, shooting for a double-leg takedown early in the first round. Ngannou defended the attempt and soon found himself holding the interim champion against the fence.
What followed was a more predictable period from Ngannou, who responded to an elbow from Gane with a harsh hook to the body and a driving uppercut to the 31-year-old's head. Ngannou managed to land more effective punches in close, though Gane was seemingly unfazed by the power coming at him.
The heavyweights soon grappled again in the centre of the Octagon, with Ngannou using his strength to drive Gane to the cage wall, only for "Bon Gamin" to reverse the position.
Ngannou was breathing heavily as the first round came to an end, and Gane dictated the tempo in the second round by peppering the "Predator" with leg kicks – below bands that Ngannou was notably wearing around each knee.
The crowd grew restless as Gane utilised more kicks to likely claim the round, and the pattern of the fight continued into Round 3 until Ngannou capitalised on a missed kick by Gane, slamming the Frenchman to the mat.
Ngannou worked from side control and looked to move into mount, but Gane was able to stand against the fence. Despite looking tired once more and plodding towards Gane, Ngannou was able to secure another takedown, smartly shooting for a double-leg after connecting with a left hook to the body.
Gane at once looked for a Kimura lock but failed to establish the correct positioning as the third round ended. The interim champion further utilised his kicking game in the fourth round, only for a missed kick to cost him for the second time in the fight.
After catching one such attempted attack, Ngannou took down Gane once again. Although Gane was able to momentarily stand, Ngannou dragged him back down the canvas at once.
With Gane seemingly needing to win the final round to have any chance of leaving Anaheim as undisputed champion, the 31-year-old pressed forward, landing a one-two before securing a single-leg takedown.
Gane, who only turned pro in August 2018, seemed to exhibit a slight lack of ring IQ, however, attempting a heel hook but giving up his dominant position in doing so.
Ngannou fought off a second attempt at the submission to end the round and fight on top, before being declared the victor and undisputed UFC heavyweight champion with a successful first defence of the belt he won from Stipe Miocic last March.
"I knew he was gonna be a tough opponent, no doubt, I know him," Ngannou said of Gane after the bout. "He was very, very good.
"The only thing I had to do was stay composed, don't chase him, trust yourself."
Referencing the bands around his knees, Ngannou added: "Three weeks ago I hurt my knee, tore my MCL completely, but couldn't see myself retreat from this fight, because it was a moment for me to make a statement.
"You guys may sleep on me, but I put in work every day."
The victory also seemed to keep alive Ngannou's dream of a crossover fight with heavyweight boxing champion Tyson Fury – even if the win did not showcase the "Predator"'s trademark punching power.
"Boxing is always in the back of my pocket, it's something I must do before the end of my career," Ngannou said.
"It's not like I have a lifetime here."
The French-Cameroonian is believed to have one more fight on his current UFC deal, though he has insisted he will no longer fight for "$500,000 or $600,000" amid a pay dispute with the promotion's president Dana White.
Meanwhile, Gane reflected on his first pro loss by saying: "I'm disappointed, I'm a little bit sad, but the future is in front of me."
In the co-main event, Deiveson Figueiredo defeated Brandon Moreno via unanimous decision (48-47, 48-47, 48-47) to regain the men's flyweight title in the rivals' trilogy bout.
The pair first fought in December 2020, with Figueiredo retaining the belt after a majority draw. Moreno then took the gold from the Brazilian last June, submitting him to become champion.
Figueiredo levelled the series at 1-1-1 on Saturday, however, before calling for a fourth fight with Moreno in the Mexican's home country.
Full UFC 270 results
Main card
Francis Ngannou (C) def. Ciryl Gane (IC) via unanimous decision (48-47, 48-47, 49-46)
Deiveson Figuiredo def. Brandon Moreno (C) via unanimous decision (48-47, 48-47, 48-47)
Michel Pereira def. Andre Fialho via unanimous decision (29-28, 29-28, 29-28)
Said Nurmagomedov def. Cody Stamann via first-round submission (guillotine choke, 0:47)
Michael Morales def. Trevin Giles via first-round TKO (strikes, 4:06)
Prelims
Victor Henry def. Raoni Barcelos via unanimous decision (30-27, 30-27, 30-27)
Jack Della Maddalena def. Pete Rodriguez via first-round TKO (strikes, 2:59)
Tony Gravely def. Saimon Oliveira via unanimous decision (30-27, 30-27, 30-27)
Matt Frevola def. Genaro Valdez via first-round TKO (strikes, 3:15)
Early prelims
Vanessa Demopoulos def. Silvana Gomez Juarez via first-round submission (armbar, 2:25)
Jasmine Jasudavicius def. Kay Hansen via unanimous decision (30-27, 29-28, 29-28)
Join our commenting forum
Join thought-provoking conversations, follow other Independent readers and see their replies