Volkan Oezdemir interview: How the Swiss star went from unranked to UFC title contender in just five months
In the space of five months, Oezdemir has gone from an unknown to the UFC's next big thing. But there was a time when the Swiss light-heavyweight almost walked away from the sport altogether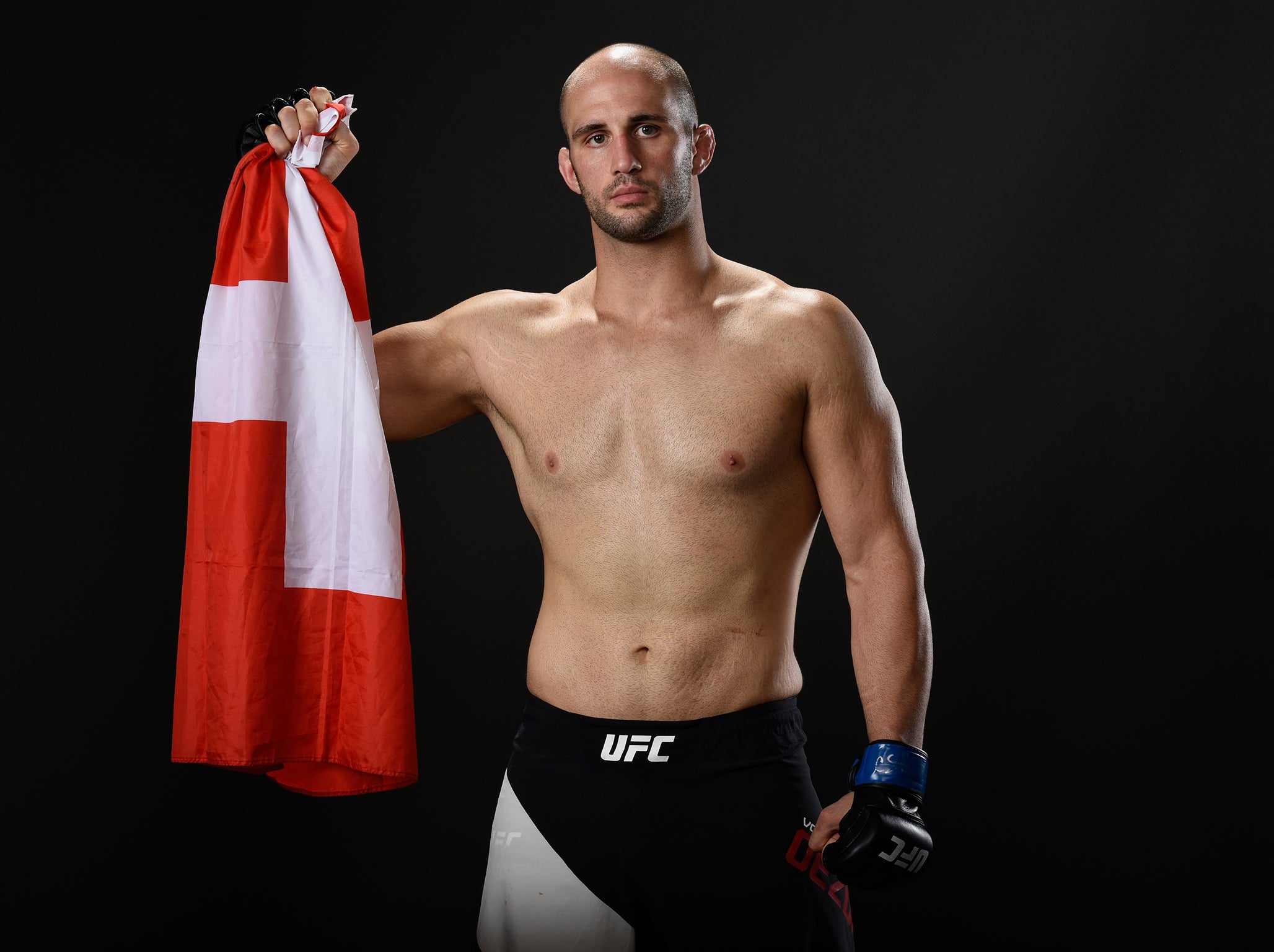 On a late summer's day in London, sat in a private room at an expensive Westminster hotel a few weeks after his 42-second victory over Jimi Manuwa at UFC 214, Volkan Oezdemir pauses briefly, for perhaps the first time in our conversation.
"I stopped fighting for a while because there was a period of my life that was full of doubt and stuff," he says slowly, in response to a question about why there is a gap of some 20 months right in the middle of his professional mixed martial arts record. "I arrived at a place in my life where I really needed to choose what I was going to do. And, basically, I decided to give up on everything."
It is a surprising admission for a man who has knocked out his last two opponents in the UFC in less than 60 seconds, enjoying a lightning-quick ascent to the top of the sport that has taken him from an unranked and unknown light-heavyweight to world championship contender in less than five months. Such is the temerity of his rise in the 1000-watt world of the UFC that he has even adopted the moniker No Time, to further reinforce the point that he is a man without even a second to waste.
But it hasn't always been like this. Oezdemir, who turned 28 earlier this month, has not always complained about a lack of time.
Once, when he was toiling away in tiny Swiss gyms and working a series of ultimately unfulfilling dead-end jobs, time stretched out cruelly before him with the promise of precious little success on the horizon. After a promising start to his career — including a scarcely believable night on which he knocked out three opponents in three fights in less than three minutes — Oezdemir had arrived at a crossroads.
"I had given up everything for the sport," he says with a sigh, briefly transported back to his darkest days. "And that meant that I wasn't taking care of my life. I had money problems and was working fucking stupid jobs for nothing and stuff like that, and it was time for me to do something about it."
Oezdemir stops and ruefully shakes his head. "But then one of my friends told me to maybe give things a go in the USA before truly giving up. And so that's what I did. I went to the USA and almost immediately the Blackzilians team wanted to sign me and I had to decide whether it was worth joining them and giving up everything I had back in Switzerland. My family, friends, girlfriend… Everything."
After a brief period of contemplation, Oezdemir went ahead and booked a one-way ticket to Florida. Everything, it transpired, was a price worth paying. But for those who knew him well, his undaunted decision to grasp at the opportunity of a new life in the Sunshine State did not come as a surprise. In fact, this was not the first occasion that Oezdemir, a native of the city of Fribourg with a Swiss mother and Turkish father, had disappeared on a plane to advance his martial arts career.
The first time had been when he was still a teenager, not to mention a complete MMA novice. "I officially tried the sport when I went over to the Netherlands when I was around 19," he says. "I reached out to the Golden Glory kickboxing gym, and they loved my drive and application to training. They said to me: Why don't you fight? I wasn't sure because I was doing mostly kickboxing. But they told me to return for a full training camp and so that's what I did."
Golden Glory didn't only push Oezdemir into the MMA business. The famed gym, based in the military city of Breda, also provided him with his greatest ally. When Oezdemir arrived in the Netherlands, the Strikeforce heavyweight champion Alistair Overeem was still an idol. Within days, he was a roommate, taking the kid kick boxer from Switzerland under his wing.
"I started living with Alistair and so I saw him training up close and I was doing things exactly the same as him," Oezdemir says. "I had a really good training camp there, alongside one of the best athletes in the world. I then had my very first fight which I won in the first round with a high kick and it was just an amazing feeling. I just remember turning around and seeing that everybody was on their feet, because the knockout was amazing."
In the early days of the sport European fighters had to stick together. For while MMA continued to grow in the United States, buoyed by the rise of the UFC and underpinned by the proud traditions of collegiate wrestling, in Europe there was no recognised framework for success. "I just couldn't see a route to the UFC from where I was in those early days," British fighter Dan Hardy told The Independent earlier this year. Oezdemir's experience was similar.
"The Swiss MMA scene was non-existent at the very beginning," he admits. "It was difficult to find the right trainers and the right fights. Then, after finding a fight, you get opponents who cancel on you. And if they don't, you get paid something like $2000 to fight after the weeks and weeks of preparation. It's difficult."
Oezdemir left all that behind when he flew to Florida, risking it all once again for a career he had already risked everything for. It didn't take long for the gulf in professionalism and ambition to reveal itself; Oezdemir may have already fought professionally several times with a record of 11-1 but, really, his journey was just beginning.
"I'm lucky because I kept my fighting style — the main difference was the mentality." He elaborates: "When you get to the gym in Florida, everybody is motivated and they are there for high performance rather than fun. People sleep well, come to training early and you just feel this incredible energy that makes you want to try your best. Whereas back home it was always very cold early in the morning and you were always sore from the day before.
"Plus MMA is a profitable world in the USA. There is a lot of structure around and very good coaches and good medical staff. So you have absolutely everything around you that you need to succeed."
Structure is one thing, raw talent and ambition quite another. Mixed martial artists spend hours each day fastidiously replicating thousands of techniques and submissions so that they are prepared for every eventuality when the cage doors close. But significant opportunities are hard to come by and must be snatched with both hands.
When the UFC finally approached Oezdemir, their offer had a catch: his debut was to be against interim title challenger Ovince Saint Preux in just 14-days time.
Oezdemir accepted the bout immediately and began preparing for the fight that would announce him as a UFC contender. "People say that it was a complicated choice to fight the sixth-ranked fighter in the world at two weeks' notice," he says, before adding decisively: "But I honestly didn't give a fuck. I did it because I believed in myself."
He was right to. He took the fight on a split decision before immediately agreeing to a contest with the highly touted prospect Misha Cirkunov, which lasted just 28-seconds. Two months later and he was back in the Octagon facing Jimi Manuwa, stunning the British title contender with a left hand just 42-seconds into the opening round.
"They were both dangerous fights," Oezdemir acknowledges. "Misha is a tough guy and people were talking about him potentially being the next champion. And Manuwa wanted a title shot. But they were both fights that I was planning for. I don't have time to waste and I want to accomplish something in MMA so that's why I made those choices. I have no time. Now I have fought three times in six months and I have gone from unranked all the way up to third place. It's because of the choices I have made."
His next choice was to call out #1 ranked light heavyweight contender Alexander Gustafsson, instead of legend of the sport Jon Jones. Oezdemir's decision was rooted in pragmatism — "I do not have a big name and I do not have a big following yet, so I know that I am not interesting for Jones," he willingly concedes in a moment of surprising candour — and was validated when the news broke that Jones had tested positive for a banned substance in an in-competition USADA prior to his fight with Daniel Cormier at UFC 214.
Oezdemir shrugs. "The news was disappointing but I knew I wasn't going to get the Jones fight this time around. Fighting Gustafsson makes far more sense going by the rankings and also builds the value of the title fight, and then maybe I can fight Jones or (current light-heavyweight champion) Daniel Cormier afterwards."
Despite no official announcement, and despite Gustafsson's understandable reticence to accept a non-title fight, Oezdemir is characteristically confident that he will get his own way. "I am an entrepreneur and I get the opponents that I want — and I know that I am going to get Alex too," he says, unable to stop the smirk dancing across his face. And would he be able to cope with the additional attention a 'King of Europe' fight would generate?
Silly question. He leans back in his chair. "For me this is honestly now normal. Constantly my friends ask me but what does it feel like, being stopped and recognised? I tell them it is normal. This has been part of my vision the whole time so, believe me, it all feels normal."
Join our commenting forum
Join thought-provoking conversations, follow other Independent readers and see their replies