San Diego Loyal star Collin Martin accuses opponent of calling him a 'B*** Boy' as reason for team walking off pitch
Midfielder claims he was subjected to the homophobic slur but Phoenix Rising defender Flemmings has denied making the comment during Wednesday night's USL Championship match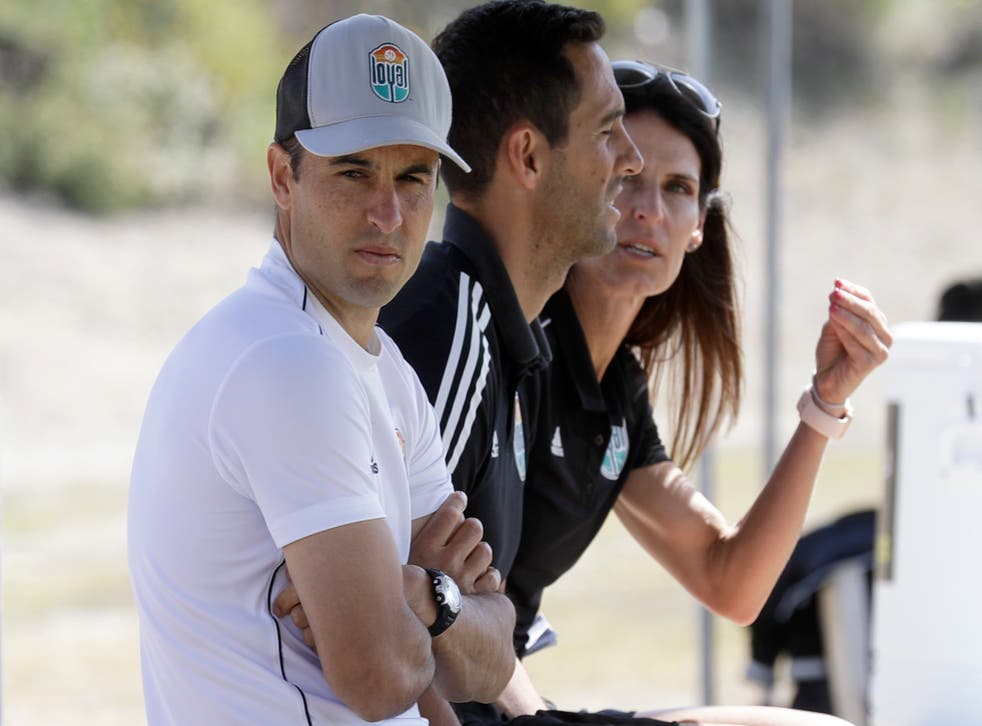 San Diego Loyals midfielder Collin Martin has accused Phoenix Rising opponent Junior Flemmings of calling him a "B*** Boy" that resulted in the expansion team walking off the field and forfeiting their match on Wednesday night.
Landon Donavon's Loyals forfeited their second consecutive match after openly-gay Martin reported receiving homophobic abuse from an opponent, which followed a similar incident in last week's match against LA Galaxy II which saw teammate Elijah Martin subjected to racist abuse.
Former United States international Donovan praised his players for taking a stand against "bigotry, homophobic slurs and things that don't belong in our game", and Martin has since issued a statement on social media to detail the events that saw the USL Championship match abandoned.
"In last night's game against Phoenix Rising, an exchange between Junior Flemmings and myself escalated to the point of him calling me a 'B*** Boy', which is a homophobic slur that can be translated to 'f****t'," Martin wrote on Twitter.
"This is not the first time I've heard this homophobic slur, however it's the first time in my eight-year playing career that a slur has been directed at me during a game.
"During the stoppage time in play, I tried telling the ref that a gay slur had been directed towards me, however he got confused and thought I called him gay - hence why I was mistakenly given a red card thereafter.
"Once it was cleared up with the ref, as well as explaining to the fourth official and my coach what had transpired, Flemmings came over and told me that he knew of my 'situation' (I'm an out gay man) and that he didn't call me a slur. At this point it is clear to me that he was backtracking and attempting to deny what he said.
"Why would he say that slur to me if he knew I was gay?"
"What followed next is what I truly want to focus on and that is the response of my coaches, teammates, and the organisation. Their collective decision to walk off the field in solidarity and forfeit the match speaks volumes of their support for me and what this organisation is standing up to. Ultimately, I hope this can be another example that we have a long way to go in educating ourselves and kicking hate out of our game."
Flemmings has denied the allegations, though the second-tier USL is aware of the incident and has confirmed that a full investigation will be carried out.
"At no point did I say a homophobic slur towards Collin Martin," Flemmings said on Twitter.
"I do not know Collin personally, but I respect all of my opponents equally, Collin included. I stand in solidarity with the LGBTQ+ movement."
The incident followed a similar walkout by Loyals last week when Elijah Martin alleged he was racially abused by LA Galaxy II defender Omar Ontiveros, who has been suspended by the league and released by the club.
"We went through a really hard incident last week and we made a vow to ourselves, to our community, to our players, to the club, to USL that we would not stand for bigotry, homophobic slurs, things that don't belong in our game," Loyal manager Donovan said.
"Last week our one regret was we should have done something in the moment when Elijah was racially abused. That was our regret. I wish we had done something.
"Our guys, to their credit, said we were not going to stand for this. They were clear in that moment that they were giving up all hopes of making the playoffs, even though they were beating one of the best teams in the league."
Join our new commenting forum
Join thought-provoking conversations, follow other Independent readers and see their replies