NFL week 12: Five things we learnt as Panthers keep winning but Patriots lose injury battle
Thanksgiving has been and gone and Week 12 in the NFL gave us lots to be thankful for. Zander Swinburne examines which head coach might bow out of the NFL, which team could still go 16-0, as well as which division has become the worst in the league.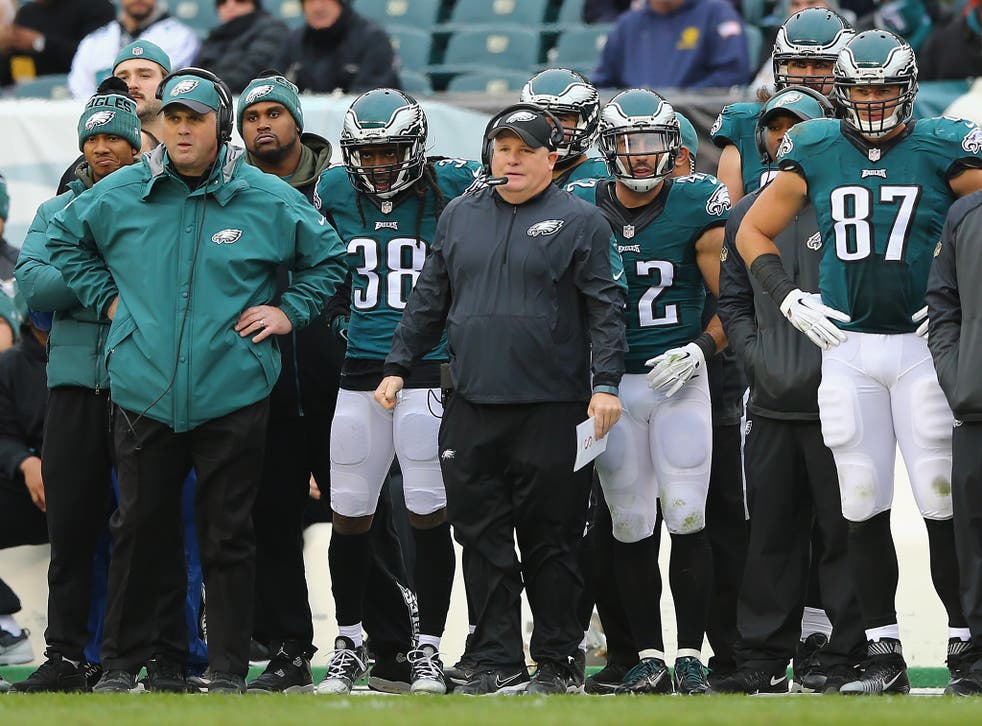 Is Chip Kelly on the way out in Philadelphia?
Thanksgiving is a double edged sword in the NFL for head coaches. Whilst the primetime games can give a team and its players some much needed publicity, it can also shine an unwanted spotlight on the struggling sides.
On Thursday, the Philadelphia Eagles were dealt their third consecutive loss when they were soundly beaten 45-14 by the Detroit Lions. Philadelphia were totally outclassed, surrendering points often and early to a team that has been plagued with offensive inefficiency all year long. The Eagles were unable to protect Mark Sanchez as the Detroit Lions sacked the stand in QB six times throughout the night.
At 4-7, Chip Kelly will have to face a growing number of questions surrounding his suitability as the team's head coach. Expectations for this season were no doubt much higher and if such form continues it will be a tremendous fall from grace.
Whilst Kelly has done little to guarantee his job security for next season, the issue is not necessarily whether the under fire head coach is at risk of being fired but more if he decides to return to the college football scene. Rumours have been building that Kelly may be wooed away in January back to the league in which he was an unequivocal success in.
If the situation in Philadelphia continues to deteriorate, don't be surprised to see the gossip surrounding Kelly's tenure start to pick up. Whilst this season's performance may not warrant an immediate sacking come black Monday, Kelly may just decide to return to the league that showcases his talents the best.
A 16-0 Panthers side is no longer a joke
Unbeaten teams are often few and far between. First there was the unbeaten 1972 Miami Dolphins who capped off their historic season with a Super Bowl victory. The NFL then had to wait until 2007 before another team went unbeaten in the regular season. The New England Patriots fell one short of the Dolphins' achievement, winning every game bar the Super Bowl that season.
This year, there is only one team left that could do the unthinkable and go unbeaten. The Carolina Panthers, a team now sitting on an 11-0 record, would have had very few (if any) believers at the start of season that they were a team capable of an unbeaten run. During the offseason their offence looked in disarray without an established number one receiver, and questions were raised as to whether Cam Newton was able to build off his successes last year.
Carolina's 33-14 victory over the Dallas Cowboys on Thanksgiving night was the first time this season that the Panthers definitively proved they could be the third team in NFL history to go unbeaten. The drubbing of the Texas team was so significant that one had to wonder how this team hadn't been taken more seriously in the weeks previously. Their pass defence, linebacker Luke Kuechly in particular, was unstoppable against Tony Romo and his offence. A shade of turquoise blue appeared to blanket the entire field when the Cowboys had the ball, resulting in Dallas unwillingly turning it over three times in the air.
There remain five more games for Carolina to slip up and pass up the chance of an unbeaten season. However, considering their upcoming opponents have a combined record of 26-25; one has to wonder whether the opportunity for Carolina to do something truly historic really is possible now.
Suh has done little to guarantee his job security
Every now and then a story in the NFL emerges that leaves many scratching their heads in bewilderment. One of the more unusual storylines to come out on Sunday was that of Dolphins defensive tackle Ndamukong Suh's strange rant to his teammates earlier in the week. The former Detroit Lion reportedly told teammates that his place in the locker room was secure for the next five years and that he runs the defence.
If an individual were to make such a claim, one would expect a strong performance to back it up at the next game. Unfortunately for Suh, he and "his" defence were completely steamrolled by the New York Jets on Sunday, surrendering 38 points to a team that has stuttered in recent weeks. The Dolphins were unable to turn the ball over once and more embarrassing for Suh, his team recorded just one sack on the day. This has been a recurring theme for the Dolphins this season, and their inability to establish any kind of dominance on defence has been one of the major downfalls of this team
Suh has only four sacks this season himself, not spectacular considering his $114 million price tag. Maybe Suh's rant last week was an attempt to provide some leadership to a defence that has been without it all season. If so, he first needs to start playing at a level that backs up his claims.
Does anybody want to win the NFC East?
Nearly every year in the NFL there tends to be at least one division that struggles to crown a winner, and not because it is highly competitive. The NFC South in recent years had become renowned for failing to produce a clear winner amongst a pack of losers, but 2015 has seen a new division emerge as the NFL's least capable.
Whilst the AFC South was the front runner at the start of the year, the NFC East is taking the prize for the NFL's worst division. The New York Giants are the divsion's leaders with a 5-5 record. They unexpectadly lost to the Washington Redskins 20-14 on Sunday, allowing nearly any team within the division to take the title.
Dallas remain the East's worst team following their Thanksgiving drubbing by the Carolina Panthers. With a record of 3-8 and no Tony Romo until 2016, their season should be well and truly over, but somehow they are still mathematcially in the hunt.
The Redskins have suddenly emerged as a possible contender after Sunday's win. Previously written off, the divisonal victory has given this team a new lease of life. However, their early season form does little to instill confidence in Washington's fanbase and it will take consistent improvements to make the playoofs.
The Eagles have also found themselves in unfamiliar territory having now lost three in a row. Once regarded as Super Bowl contenders, Philadelphia are despereate just to get back to 500..
At 4-7 and 4-6 respectively, both the Redskins and Eagles would ordinarily be completely out of the running, but as the Giants have been so inconsistent, this division is anyone's for the taking.
With a combined record of 16-26, the NFC East is a struggling division. Whilst a wild card spot is unachieveable, each East team is able to take comfort in the fact that they are as bad as each other. With this division, the team with the fewest losses rather than the most wins is likely to make the playoffs.
Injuries look set to be New England's toughest opponent
The unbeaten run is over. This year's Super Bowl favourites have at last been beaten, the first time since December 2014. It took a little over four quarters, but the Patriots were downed by a Manningless Denver Broncos 30-24 in overtime. Whilst the unbeaten streak is over, one that was ended by a high calibre opposition, New England faces a far tougher opponent in the months ahead.
Although the 1 on their win-loss record will no doubt be painful, the injuries the Patriots have sustained might become even harder to deal with. On Sunday night, Rob Gronkowski was carted off the field with a right knee injury, a sight that would have silenced Foxborough had the game been in Massachusetts. Whilst news has emerged that Gronk looks to be out for a week at most, it is clear that if the star tight end was to go down for a long period of time, Tom Brady's receiving targets would look considerably less talented.
The Patriots have already lost Julian Edelmen for the season, and Danny Amendola's status for their next game remains unknown after he missed the matchup with Denver. New England's backfield is also looking depleted as running back Dion Lewis was ruled out for the rest of the year with a torn ACL.
Trying to minimise the impact such key injuries will have looks set to be the team's most significant challenge. Whilst Brady has undoubtedly been the New England's standout player, he will need a healthy supporting cast if they are to win another Super Bowl title.
Join our new commenting forum
Join thought-provoking conversations, follow other Independent readers and see their replies