Miami Heat condemn Meyers Leonard's 'extremely hurtful words' after antisemitic slur
NBA star has issued a public apology and will be away from the team indefinitely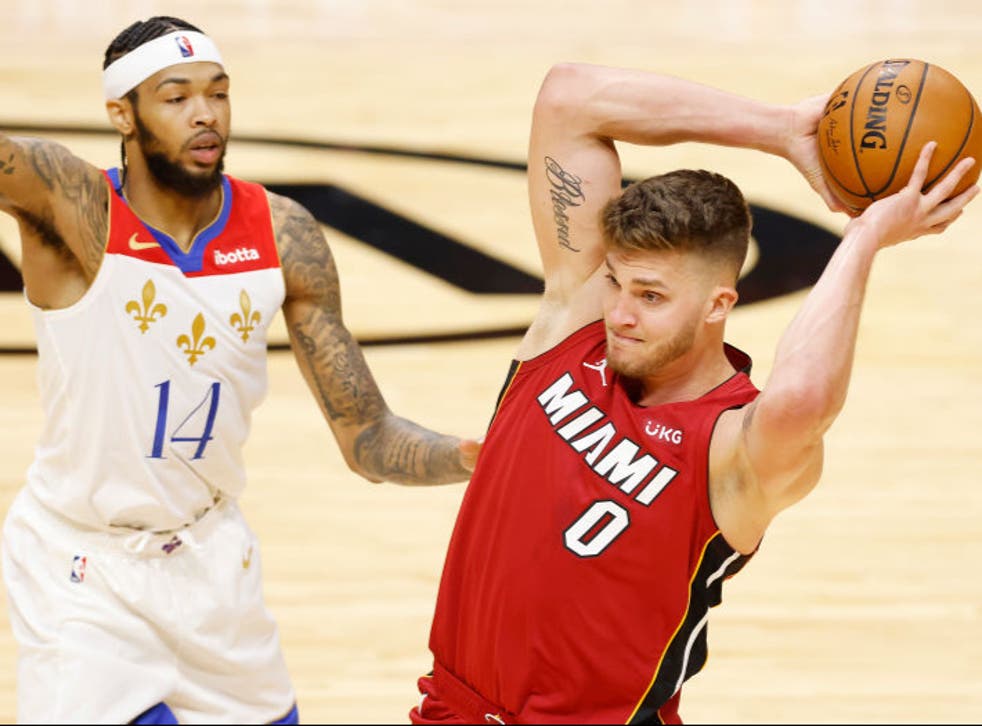 Miami Heat's players and coach have condemned teammate Meyers Leonard after he used an antisemitic slur.
The 29-year-old, who issued a public apology yesterday, used the offensive term while live streaming a video game earlier this week. And Heat coach Erik Spoelstra has said there have to be repercussions for Leonard's actions.
"He said something that was extremely distasteful and hurtful," he said. "And we're left with the aftermath of that. There are consequences to words. And those were extremely hurtful words."
He then went on to add: "Meyers has been a really good teammate. He's a good human being."
Heat have confirmed that Leonard will be away from the team indefinitely and the NBA announced they are carrying out an investigation.
"We can't tolerate that here," said Heat captain Udonis Haslem. "Right is right and wrong is wrong. And since I've been here in this organisation, to the day I leave this organization and beyond, we're going to try to be on the right side of everything especially issues like this."
When asked if he had ever heard Leonard use that sort of language in the past, Haslem added: "No, sir. I've never heard him use any language that made me uncomfortable at all."
Leonard's apology on Wednesday read: "While I didn't know what the word meant at the time, my ignorance about its history and how offensive it is to the Jewish community is absolutely not an excuse and I was just wrong."
Meanwhile, Jewish American Football player Julian Edelman posted a letter aimed directly at Leonard on social media.
He said: "I get the sense that you didn't use that word out of hate, more out of ignorance. Most likely, you weren't trying to hurt anyone or even profile Jews in your comment. That's what makes it so destructive. When someone intends to be hateful, it's usually met with great resistance.
"Casual ignorance is harder to combat and has greater reach, especially when you command great influence."
Heat kick off their second half schedule today when they take on Orlando.
Register for free to continue reading
Registration is a free and easy way to support our truly independent journalism
By registering, you will also enjoy limited access to Premium articles, exclusive newsletters, commenting, and virtual events with our leading journalists
Already have an account? sign in
Register for free to continue reading
Registration is a free and easy way to support our truly independent journalism
By registering, you will also enjoy limited access to Premium articles, exclusive newsletters, commenting, and virtual events with our leading journalists
Already have an account? sign in
Join our new commenting forum
Join thought-provoking conversations, follow other Independent readers and see their replies