Pittsburgh Steelers to boycott national anthem as Donald Trump row escalates
The president has called on fans to stop watching the NFL as players continue to protest against racial discrimination and police violence in the US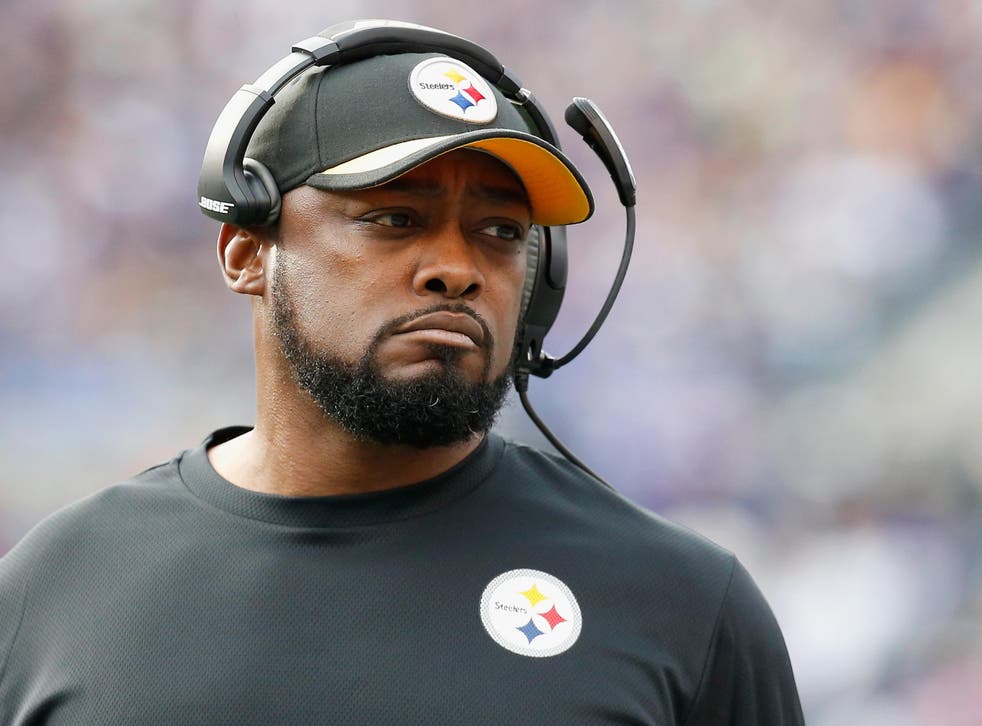 Pittsburgh Steelers coach Mike Tomlin confirmed his side will boycott the national anthem before their match against the Chicago Bears on Sunday and will instead stay inside the locker room as a row between Donald Trump and the nation's professional sport stars escalated.
The US president called on fans to stop watching NFL matches so long as players continued to protest against racial discrimination by kneeling during the 'Star Spangled Banner'.
It followed an extraordinary weekend-long rant from the former New York businessman in which he uninvited NBA star Stephen Curry to the White House, claimed protesting NFL players should be sacked and culminated in him being called a "bum" by LeBron James.
Tomlin said: "We're not going to play politics. We're football players, we're football coaches. We're not participating in the anthem today. Not to be disrespectful to the anthem, but to remove ourselves from this circumstance. People shouldn't have to choose."
He added: "If a guy wants to go about his normal business and participate in the anthem, he shouldn't have to be forced to choose sides. If a guy feels the need to do something, he shouldn't be separated from his teammate who chooses not to.
"So we're not participating today. That's our decision. We're going to be 100 per cent. We came here to play a football game. That's our intent."
At Wembley on Sunday morning, players from the Jacksonville Jaguars and the Baltimore Ravens knelt during the American anthem in the biggest protest so far.
The near packed-out Wembley contest between the Jags and Ravens offered the first chance for players to respond to those comments and over a dozen, from both the Ravens and Jaguars, took a knee as their national anthem played.
Those who did not kneel linked arms, including Jaguars owner Shad Khan, who stood between Marcedes Lewis and Telvin Smith on the sidelines.
Khan, who also owns Championship football club Fulham, has previously donated one million US dollars to Trump's presidential inauguration.
When the game kicked off, over a dozen teams had made public statements in support of their players, but the Ravens and Jaguars had not.
Shortly after the contest got under way at Wembley, the Ravens posted a message on Twitter which read: "We recognise our players' influence. We respect their demonstration and support them 100 per cent. All voices need to be heard. That's democracy in its highest form."
The Jaguars tweeted a photo of Khan standing, arm in arm with Lewis and Smith, with the caption "Unity".
Register for free to continue reading
Registration is a free and easy way to support our truly independent journalism
By registering, you will also enjoy limited access to Premium articles, exclusive newsletters, commenting, and virtual events with our leading journalists
Already have an account? sign in
Register for free to continue reading
Registration is a free and easy way to support our truly independent journalism
By registering, you will also enjoy limited access to Premium articles, exclusive newsletters, commenting, and virtual events with our leading journalists
Already have an account? sign in
Join our new commenting forum
Join thought-provoking conversations, follow other Independent readers and see their replies