As it happened
ended
1517804769
Super Bowl 2018: Updates from Philadelphia Eagles vs New England Patriots - as it happened
All the live action from the US Bank Stadium as it unfolded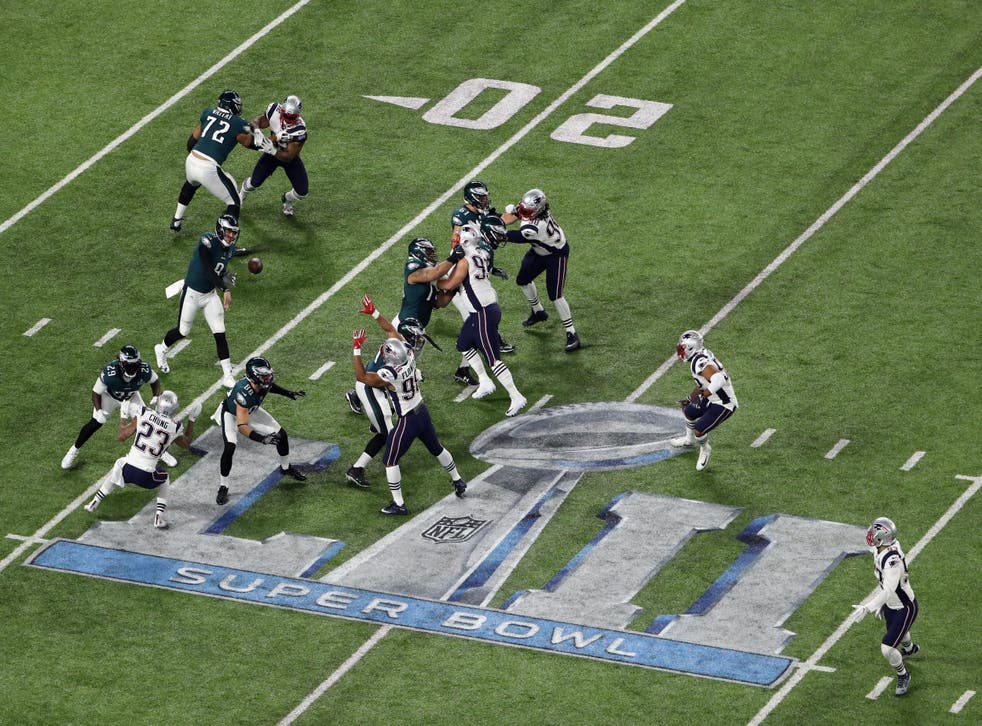 The Philadelphia Eagles have beaten the New England Patriots 41-33 to claim their first Super Bowl win.
In a record-setting shootout between Nick Foles of the Eagles, and Tom Brady, the Eagles backup quarterback led a pressure-packed 75-yard drive to the winning touchdown, 11 yards to Zach Ertz with 2:21 to go.
"If there's a word (it's) called everything," Eagles owner Jeffrey Lurie said. "That's what it means to Eagles fans everywhere. And for Eagles fans everywhere, this is for them."
"I felt calm. I mean, we have such a great group of guys, such a great coaching staff," Foles - who won the game's Most Valuable Player award - said. "We felt confident coming in, and we just went out there and played football."
The Patriots were looking to win back-to-back Super Bowls, after their stunning comeback victory over the Atlanta Falcons last year.
The Eagles, meanwhile, headed into the game having been crowned NFC champions following a dominant 38-7 victory over the Minnesota Vikings.
See all of the live action updates below
---
1517778522
Good evening and welcome to The Independent's live coverage of tonight's Super Bowl. We'll be bringing you all the build-up, action and reaction from the US Bank Stadium in Minneapolis so make sure to stay tuned!
Samuel Lovett
4 February 2018 21:08
1517778607
Up first, though, a shameless plug from your host this evening (that's me, by the way) on the unbridled, unapologetic razzmatazz of the Super Bowl:
Samuel Lovett
4 February 2018 21:10
1517784826
Yo yo yo, nearly time to get this show on the road but first it's important to make sure you have requisite snacks and drinks. 
My personal choice tonight? Well, I'm glad you asked. I diced up some crap old cheese from the fridge, smeared the inside of a ramekin dish with caramelised chutney and then popped the cheese in. Oven for 25 minutes. Done. 
Now dunk some french bread into it. 
Ed Malyon
4 February 2018 22:53
1517785547
What coverage are you watching tonight? Sky or BBC? 
I'll probably be sticking with Mark Chapman and his crew. Chappers is undoubtedly one of the best broadcasters around right now and his team really know their stuff. 
If you can get the American coverage with all the commercials though, it is always the best choice. 
Ed Malyon
4 February 2018 23:05
1517790713
Nick Foles, it's your time. 
The Eagles have the ball back and after sputtering at the start of this drive it's a big play to Alshon Jeffrey that gets them moving again. In fact, they're just outside the end zone.
AND NOW THEY ARE IN IT! LeGarrette Blount cannot be stopped and Philadelphia are 15-3 ahead. 
Ed Malyon
5 February 2018 00:31
1517790980
Note: the timings might look weird but this is a technical problem so let's just focus on the football
Ed Malyon
5 February 2018 00:36
1517791091
Anyway, Rex Burkhead bursts through for a significant gain and the Pats are already at the Eagles' 27. 
It's 3rd down though.... incomplete. Patriots hit the field goal but it's 15-6 to Philadelphia with 7:24 left in the 2nd quarter. 
Ed Malyon
5 February 2018 00:38
1517791112
Here was the Eagles' second TD: 
Ed Malyon
5 February 2018 00:38
1517791619
Zach Ertz' second false start of the game takes the Eagles back to 2nd-and-14. His first might have cost them 4 points on their opening drive. 
Torrey Smith's catch gives Philly a shot and 3rd-and-4.... which Ajayi converts with change to rampage into the opposition half of the field.
INTERCEPTION! Foles goes deep for Jeffrey again but he juggles it and the ball pops into a defender's arms. It's way back in Eagles territory but it is a turnover nonetheless. 
Ed Malyon
5 February 2018 00:46
Join our new commenting forum
Join thought-provoking conversations, follow other Independent readers and see their replies