Female students expect to earn over £3,300 less than men post-graduation, despite getting better grades
Gender pay gap already highlighted by the Institute of Fiscal Studies which shows males earn £30,000 ten years after graduation, compared with only £27,000 for women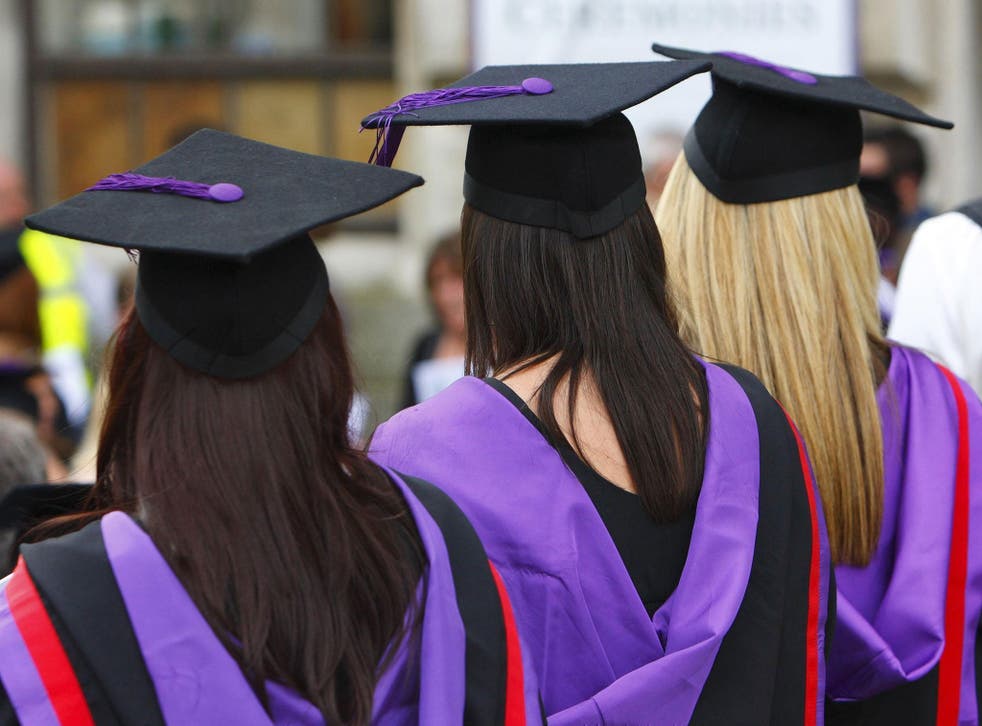 Female students expect to make over £3,300 a year less than their male counterparts in their first graduate job, indicating that women may be "primed" to expect lower earnings from a young age, according to a new survey.
The startling finding has come from this year's National Student Money Survey which asked university students to estimate their starting salary post-graduation. While the average given by male students came in at £22,988, for female students it was just £19,662, a massive 14 per cent cut.
Even though female students hold the majority of university spaces, get better grades, and are more likely to be in work than male students six months after graduation, the results are now questioning why the message of salaries isn't getting through to female students, who also report feeling less confident about money in general.
The survey, conducted by student money site Save the Student, found male students stress less about their student loan - half of men compared to 65 per cent of women - and are more confident about finding work; 60 per cent of men believe they will land a job after their studies, compared with just 45 per cent of women.
The gender pay gap was also highlighted in April by the Institute of Fiscal Studies which showed that, amid the ongoing discussion about women outperforming men at school and outnumbering men at university, male graduates are still earning an average of £30,000 ten years after graduation, compared with only £27,000 for women.
Graduates from disadvantaged backgrounds are also facing a large pay gap compared to those who come from richer families; the average gap in earnings between students from higher and lower-income backgrounds is £8,000 a year for men, and £5,300 a year for women, ten years after graduation.
The National Union of Students described at the time the Government's decision to scrap maintenance grants would "only serve to widen this pay gap," and said it "strongly believed" employment data should not be used to measure teaching excellence. The union added: "As this research shows, graduate employment and earnings are rife with inequalities."
Save the Student's editor, Jake Butler, described how it is "sad" to hear female student undervalue themselves in comparison to their male counterparts. He said: "The employment stats for graduates tend to be stronger for women, so why is it they lack the belief? It's an important issue that needs addressing so that female graduates can start to smash the gender equality barriers.
"It's a wider concern that male students are also undervaluing themselves. Students across the board are starting to really question the value of their degree in terms of securing top level graduate employment, all against the backdrop of tuition fees increasing yet again."
Butler's comments were making reference to the fact that concern has emerged all students are selling themselves short when it comes to graduate salaries; both male and female students pitched themselves below the current UK average starting salary for graduates, which is £25,000. Student loan repayments in England and Wales begin at £21,000, so many grads may be taken by surprise at how soon they start paying back student debt.
A parliamentary debate was triggered only a week ago after a hard-fought-for campaign following mass outrage when the Government made a U-turn on a 2012 promise by freezing the student loan repayment threshold at £21,000, meaning graduates are now being forced to pay back more on their loans than originally promised.
Prior to implementing the changes, the Government had opened a consultation where an overwhelming 84 per cent of responses were against freezing the threshold which would see around two million graduates pay back £306 more each year by 2020/21 if they earned over £21,000. With only five per cent of consultation respondents in favour, the changes still went ahead.
Consumer champion, Martin Lewis, who has been tirelessly fighting for the Government to overturn its decision, described the retrospective change as "a national disgrace," and said no commercial company would be allowed to change a loan contract in such a way after people had signed it, insisting the Government shouldn't be allowed to either.
Join our new commenting forum
Join thought-provoking conversations, follow other Independent readers and see their replies