The Independent's journalism is supported by our readers. When you purchase through links on our site, we may earn commission.
Sheffield and Glasgow lead the way for being the best cities in the UK to be a graduate
With graduation season well underway, the time has come to think about what to do with the rest of your adult life - and the fear of reality has never been so real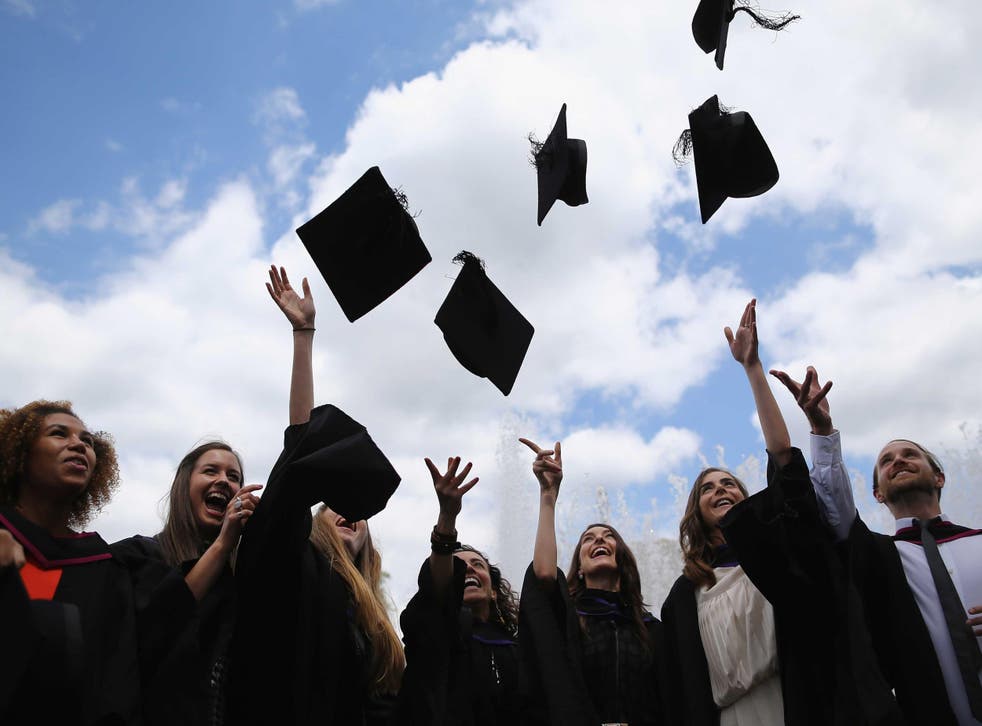 Being a graduate is scary. For years, your parents, friends, and distant relatives have been asking the age-old question: "What are you going to do when you graduate?" Needless to say, you were probably too busy drinking the finest Tesco Value vodka, sleeping til noon, and surviving on a diet of pasta and noodles to even give this a second thought.
But, now that graduation is just around the corner, and you have more to worry about than what you're going to wear on the day, the time has come to think about what to do with the rest of your adult life. The fear of reality has never been so real.
Moving out is tough. The likelihood is that you're dreaming of the bright lights of London; sipping cocktails after a busy day at work in the City. However, the reality is that your graduate job will only pay you enough to rent a tiny, run-down studio flat - and you'll have to hand over three quarters of your salary each month for the pleasure. Oh, and most cocktails cost well over a tenner. Still sound appealing?
In an attempt to find out where graduates can have the best quality of life in the UK, the team at property site, TheHouseShop.com, has calculated the average graduate salary, rental and house price, monthly utilities, disposable income and - most importantly - the cost of a pint for different locations around the country.
With Sheffield and Glasgow taking the helm, here's a countdown of the five best cities in the UK to be a graduate - and student as well, for that matter:
5) Birmingham
With plenty to offer, such as museums, art galleries, and dozens of cheap and fun bars and clubs, being in the middle of the country means getting to anywhere else in the UK is pretty easy. And, if you get bored of the unpredictable British weather, Birmingham Airport is centrally-located. With an estimated graduate monthly income sitting at £1,043.10 after tax, repayments, and bills, the jet-setting lifestyle is definitely achievable.
4) Newcastle
Geordie Shore has proven Newcastle makes for a buzzing night out, and with the average cost of a pint at just £1.85, that's hardly surprising. Newcastle is also one of the smallest 'big cities' in the world, and takes just 15 minutes to walk across, perfect for getting home on nights out and commuting to work. The added bonus is that, after paying rent, tax, student loan repayments, and utilities, graduates are still left with around £1,120 at the end of the month and, with the average price of a two-bedroom property being £118,200, there's no reason not to stay there forever.
3) Leeds
Leeds is already a big student city, so the small steps graduates take into adulthood shouldn't be too daunting. Rental prices here are slightly higher than those in Sheffield and Glasgow, but still come out at an affordable £371.50 per tenant, per month for a two-bed apartment in the city centre.
Graduates who may be looking to lay down more permanent roots are also in luck; with the average house price for a two-bed property at just £135,900, and monthly disposable income (minus tax, student loan repayments, and utilities) of £1,862.62, being a homeowner here is actually achievable.
2) Glasgow
Scotland's largest city is the culture lover's paradise. Not only this, but there are a plethora of bars and clubs to enjoy too, and with the average cost of a pint at £2.75, you can pretty much guarantee a cheap, fun night out. Forget Dalston, Glasgow is the new hipster hangout and with an estimated graduate monthly earning of £1,133.74 (after rent, tax, student loan repayments, and utilities), you could buy as many charity shop finds as you desire in the cool West End.
1) Sheffield
Giving graduates the best quality of life, with an average salary of £25,000 and cheap rental and living costs, graduates will have plenty of spare cash at the end of each month to enjoy the Yorkshire city. Plus, if you're looking to make a more permanent move, the average price for a two-bedroom property is only £119,806.
With the largest regional theatre outside of London and award-winning art galleries and museums, there are plenty of cultural treats to enjoy, as well as a buzzing live music scene. And, with the average cost of a pint at just £2.70, and an estimated monthly graduate income of £1,173.88 after tax, student loan repayments, and utility bills, you'd be able to fit plenty of drinking in.
Complete rankings breakdown, courtesy of TheHouseShop.com:


Now we've gotten the best cities out of the way, the rankings have also highlighted the top two worst places in the UK for quality of life for grads:
1) London
Undoubtedly great, the capital city has everything you could ever wish for and more, from cool galleries, secret cinemas, hipster hangouts, and world-class sporting venues. But, for graduates, there's one big issue: money.
With London being the most expensive place to live in the UK, your graduate salary probably won't give you the best quality of life, unless you've landed a scheme in investment banking. To live the same quality of life as you would in the north of the country, you'd be left with an estimated £308.90 to live on a month, which probably won't get you very far, especially with the average cost of a pint being £3.92. And you better say goodbye to the hopes of ever actually owning your own place, as the average price of a two-bed property is a staggering £850,994. Enough said.
2) Brighton
Although Brighton is really fun, with a beautiful beach, ace arcade at Brighton Pier, thriving LGBT scene, and arguably the highest number of bars within a square mile than anywhere else in the UK, unfortunately, it's just like London - you won't be able to enjoy all of the wonders that Brighton has to offer, unless you're a secret millionaire.
With rental prices amongst the highest in the country, your grad salary won't get you very far, leaving you with an estimated disposable income of just £677.25 a month. Owning your own property here is also pretty difficult, with the average price of a two-bedroom place sitting at £366,291. Better hope you come into a hefty inheritance soon.
Nick Marr is co-founder of TheHouseShop.com
Register for free to continue reading
Registration is a free and easy way to support our truly independent journalism
By registering, you will also enjoy limited access to Premium articles, exclusive newsletters, commenting, and virtual events with our leading journalists
Already have an account? sign in
Join our new commenting forum
Join thought-provoking conversations, follow other Independent readers and see their replies