Trade training is tailor made
The business world rediscovers the value of the apprentice. By Russ Thorne
Thursday 10 November 2011 16:30 Comments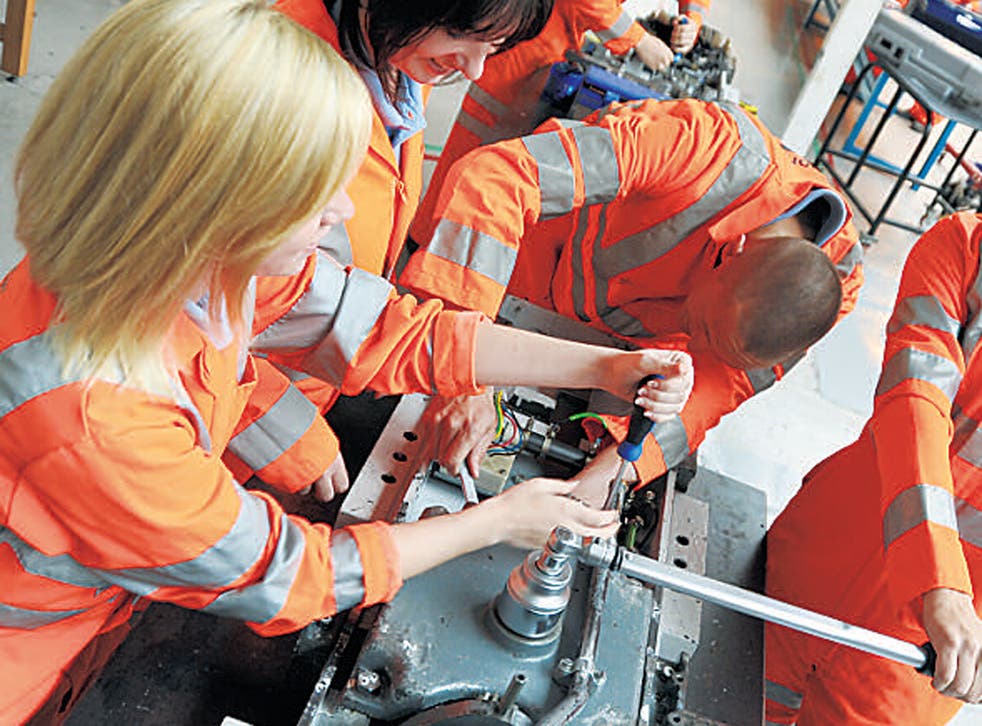 Apprenticeships in 12th century England required parents to pay employers handsomely to give their offspring "a trade". Modern employers can't expect a bag full of silver pennies, but many recognise the value of an apprenticeship to their operations and there are increasing calls for more businesses to get involved.
In a letter to The Independent, published on 20 October, businessmen from firms including BT, Nissan UK and BAE Systems argued: "Now is the time to invest in apprenticeships." This followed a speech from Prime Minister David Cameron during the Conservative party conference, in which he called for businesses to "give us the apprenticeships we need".
The demand is certainly there from students at all levels. A BBC Inside Out/ComRes survey this week suggested that around two thirds of students would consider the apprenticeship route as an alternative to university, meanwhile Network Rail reported more than 8,000 applicants for the 200 places available on its advanced apprenticeship scheme.
Across the UK, around 85,000 employers are offering more than 200 types of apprenticeship (see apprenticeships.org.uk for full details). Unlike the seven years an apprentice could spend under a master craftsman in the 16th century, today's apprentices spend two years training (three in the case of advanced apprenticeships).
Their time is split between paid on-the-job learning with employers and study at a college or another institution to gain key skills and formal qualifications, such as a BTEC or NVQ.
The potential benefits to an apprentice are clear: the chance to gain new skills while working in a relevant industry and earning money, with the possibility of a career at the end of the process.
However, there are considerable potential benefits for businesses.
"The investment that we make in our apprentices is driven by needing people with the right skills coming in to support our maintenance teams," says Adrian Thomas, head of resourcing for Network Rail. The company offers advanced apprenticeships that equip the workforce with the specific knowledge needed to maintain the UK's rail infrastructure. "If we were to go out and hire people with those skills, we'd probably need to go beyond the UK or retrain them from other industries, so it makes both economic and safety sense to to run our own apprenticeship programme," explains Thomas.
Smaller operations can reap the same benefits, and apprentices gain equally relevant industry-specific experience. "Apprenticeships have provided us with the ideal staffing solution to support our growing business," says Dean Watson, owner of DW Bathrooms, based in Durham. "We've been able to recruit someone who is keen to work in our line of business, and mould their skills to deliver high quality standards and service."
There can be other benefits as well, says Steven Harder, practice manager of Happy House Surgery in Sunderland. He says apprenticeship training has improved the way the practice runs. "We've freed up a significant amount of our nursing and GP time, allowing them to concentrate on the areas where their particular expertise is needed most," says Harder.
The continuing development of an apprentice's skills can pay dividends for small and medium enterprises or global corporations equally.
"As a small start-up, we're delighted our apprentice has already brought in new business," says Sean Conlon, co-founder and account director of Blue Baboon Design in London, whose apprentice quickly applied his training at college to the workplace. At the other end of the scale, Tony Rooke, operations manager for apprentice programmes at Airbus, which offers advanced, higher and undergraduate apprenticeships, sees them as a way to develop and retain skills. That's good news for businesses as well as apprentices.
"We're able to retain skills and knowledge and develop our apprentices to fit into the business. By the time they've completed the programme, they've gained at least two years of real work experience, a world recognised qualification and the chance to progress," he says.
Apprenticeships may have moved on from craftsmen receiving a windfall and humble 'prentices learning a trade, but in the 21st century there may still be something in it for everyone.
Register for free to continue reading
Registration is a free and easy way to support our truly independent journalism
By registering, you will also enjoy limited access to Premium articles, exclusive newsletters, commenting, and virtual events with our leading journalists
Already have an account? sign in
Join our new commenting forum
Join thought-provoking conversations, follow other Independent readers and see their replies