Unpaid internships: The growing movement of young people fighting for fair pay
UK Government 'does little' to enforce change, as London-based campaign proposes 4-week limit on unpaid internships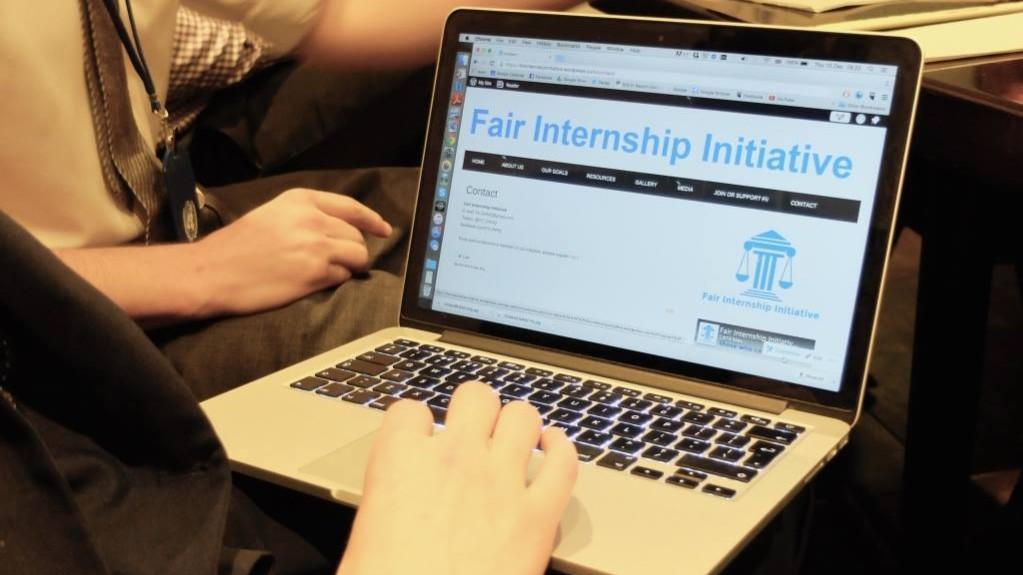 When it emerged last year that unpaid United Nations (UN) intern David Hyde was living in a tent, unable to afford Geneva rents, the flurry of media attention made Hyde briefly famous. Standing in front of TV cameras, he used the spotlight to declare: "Interns need to come together to push for the recognition of our equal rights."
A year on, Hyde has not given up the fight. Proclaiming at a recent TED talk that "we will not be the intern generation any longer," he is working alongside his partner, Nathalie Berger, on a documentary, An Unpaid Act, which criticises unpaid internships.
"The film was actually planned from the start," Berger admits. "We made a deal that we'd both apply for internships, and the first one to get an offer would do it while the other filmed."
Hyde is clear, however, that the film is not about him. "We're using the tent story as a hook, but it's really about the people who can't start their careers because they can't afford unpaid work.
"Change will come eventually," says Hyde. "But the UN needs to take responsibility for itself. It can't keep hiding behind excuses."
UN Staff Union chief Ian Richards agrees with Hyde that instituting paid internships at the UN is "an uphill struggle."
"There's, unfortunately, an attitude in many parts of the UN that if you can get something for free, why pay for it," he says. "Ban Ki-moon says it's up to the General Assembly to decide. The General Assembly says they're waiting for Ban Ki-moon to make a proposal.
"As much as the General Assembly is concerned about increasing costs, we're finding it hard to get their support," he continues. "A starting point could be for donors to fund stipends for interns working on specific projects."
Like Richards' suggestion, Hyde and Berger's film is clearly a starting point. "We want to give unpaid interns the ability to fight back," agrees Berger. "Interns groups like the Fair Internship Initiative are increasingly organised, and we want to document the growing movement."
That movement is certainly growing. Bubbling underneath the surface across Europe is a network of highly-motivated groups campaigning for change.
Spearheading the charge in Brussels - with three full-time staff members - is InternsGoPro. Established in 2013, it evaluates organisations on the quality of their internships, providing the best employers with a 'European Label for Best Internships' that the organisation can use for marketing. It has, so far, rated 12 employers as providing good-quality internships, placing them on a scale of 'advanced' to 'champion', using criteria it developed over 18 months of workshops with 300 interns across eight countries.
With the 400 ratings of a range of internships it has simultaneously collected, it is also poised to publish a list with Forbes of the best internships in Europe.
Speaking from Brussels, InternsGoPro co-founder, Pierre-Julien Bosser, explains the strategy: "We need young people, politicians, employers, and universities to recognise the harm they cause. Our focus is on the employer, giving them incentives to pay their interns."
Among its other campaigns, InternsGoPro co-ordinated last year's International Interns' Day with 17 other groups across the world, including the European Youth Forum, Intern Labor Rights, and the Canadian Intern Association. With events in Europe, Australia, India, and the US, it received endorsements from EU Commissioner, Marianne Thyssen, and European Parliament President, Martin Schulz.
"What I'm most proud of," Bosser says, "is the feeling I'm part of a growing movement of young people starting their own initiatives."
Another group is Brussels Intern NGO (B!ngo). Established in 2013 with a network of 15 organisers, it recently launched its Just Pay campaign to pursue employers not paying the minimum wage.
"Belgian law doesn't allow for graduate unpaid internships," explains B!ngo organiser Bryn Watkins, "but the authorities are not enforcing the law. It's hard for a small NGO to police it, but we're doing our best."
Watkins argues there is gradual change in Brussels, with European Commission interns creating an Interns4Interns group, and Parliament interns creating an association which held a conference on unpaid internships in June.
"Interns are often afraid to speak out," Watkins argues. "They are in a very vulnerable position and they're gone in six months. B!ngo provides consistency and a repository of expertise."
Of all the campaigners, however, the most optimistic is Ben Lyons of London-based Intern Aware. Set up in 2010 by Lyons and university friend, Gus Baker, what started as a Facebook group has become a serious campaign.
Lyons explains what Intern Aware is demanding. "The problem in the UK is that the law lacks clarity and the Government does little to enforce it," he says. "What we're proposing is a four-week limit on unpaid internships."
Intern Aware's campaigning methods are diverse, and involve reporting organisations offering unpaid internships to HMRC, supporting interns taking cases to court, and lobbying parliamentarians.
Despite the lack of movement from the UK Government, Lyons is upbeat. Estimating that the percentage of London interns receiving a stipend has doubled since Intern Aware started, Lyons argues that "we're definitely going in the right direction."
"The argument against unpaid internships has been won," he says. "Every unpaid intern who's taken their employer to court has been successful, and a number of companies that used to offer unpaid internships now pay their interns."
Whether Lyons's optimism is well-founded remains to be seen. The UN still employs 4,000 unpaid interns each year and no government does much to enforce laws on internships. But, despite the difficulties they face, one thing is clear: the interns are fighting back.
Kamila Kingstone is a freelance journalist, Master's student at Leiden University, and runs International Conflict Witness
Join our commenting forum
Join thought-provoking conversations, follow other Independent readers and see their replies