Black Lives Matter UK was not born out of a desire for imitation, but of a shared need for liberation
'To every black student activist: I hope we never forget that we are here because of our struggles - not in spite of them'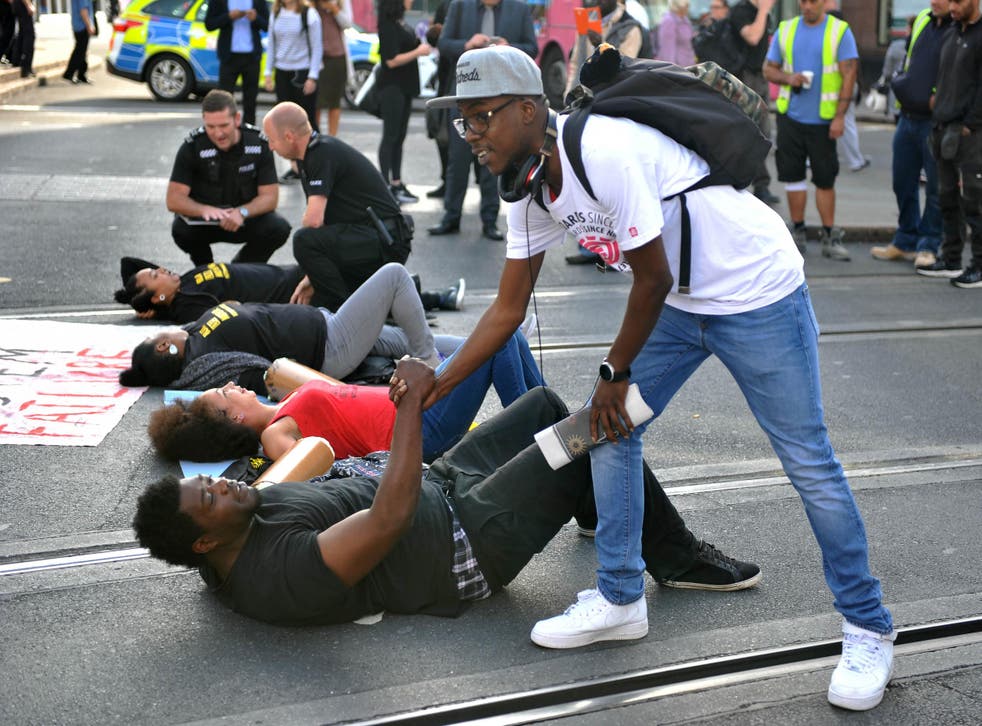 The media and public were taken by storm this month during the nationwide #ShutDown day of action, which was called for by Black Lives Matter UK. The actions served to bring visibility to the growing movements against racism and state violence in the UK, as well as to the very nature of that violence.
It has often been dismissed and belittled as "not being like the US" - which ignores the huge continuities between the experiences of black people in the UK and US. Black people in the UK are three times more likely to be arrested than their white counterparts, and 44 times more likely to be detained under the Mental Health Act. Racism is a fact in our everyday lives; from the justice system, to education, to employment - this is a crisis.
The day of action on 5 August marked just over five years since the execution of Mark Duggan by police in Tottenham, and the uprisings across London, Birmingham, and other cities in England that arose as a consequence. In those five years, the situation for black, racialised, and working-class communities has only deteriorated further. Even as the number of deaths following contact with police in England and Wales climbs to 1,563 since 1990, the number of police convicted for these killings remains at zero - and yet our very right to grieve is still denied as we are pitted against the oppression of our black siblings across the Atlantic.
The need for a global Black Lives Matter movement is clear, and the demands of the UK movement articulate a response which speaks to our experiences here, encompassing the particular ways black life is brutalised and minimised in the UK. In the words of Black Lives Matter UK, this means a response to the crisis of devaluing black lives - from black deaths in custody, structural poverty that restrains our progression in education, work, and society, to the violent policing of borders and the continuing rise of racism on British streets, which increases day by day.
Any discussion about state violence in the UK has to factor in the many ways the British state oppresses black people. This is a conversation that cannot be limited to how many of us have been killed at the hands of the police - or even just the police's role alone. The deaths at the hands of the British police have often lacked the visceral, visual, violent spectacle of public executions like Mike Brown, Philando Castile, and Korryn Gaines in the US. But the fates that have befallen black people killed behind closed doors in British police, mental health and immigration custody have been just as brutal - as have the long, painful silences that await their friends and families on their endless journeys to hold the state accountable.
From state violence, border oppression, and the everyday racism that characterises the lives of black people, Black Lives Matter is a movement the UK desperately needs. Because, until all black lives are held sacred here, until every self-proclaimed 'anti-racist' or 'anti-fascist' is speaking out about the daily violence inflicted on black people, and until this country redresses its long, long history of injustices against black people globally, we are not free.
Black Lives Matter protesters block major UK cities
Let it be clear - Black Lives Matter UK was not born out of a desire for imitation, but of a shared need for liberation. Yet, as the response to the movement and the day of action have shown, black people are always punished first by indifference, then by indignance. Those who failed to #SayHerName when Sarah Reed was killed at Holloway Prison this year didn't hesitate to demand we stick to tired, timid tactics of 'raising awareness'. Those who are able, yet unwilling, to join a demonstration in support of black lives or against anti-black racism, were more than happy to deride direct action as 'counterproductive' to the cause. Those who've never thought to support the United Families and Friends Campaign (UFFC) in their struggles for justice, were quickest to dismiss the issue of state violence as a US import; a distant phenomenon.
Ultimately, those who do not wish to trouble their consciences with the thought of black suffering would rather it remained just that for them - a quiet inconvenience, easily ignored. This is precisely why the actions on 5 August became necessary. Black Lives Matter in the US has sparked a global discussion on police violence and the measure of black life, and on that Friday, the movement in the UK became impossible to ignore.
I am proud to be part of that movement: as black students, we know all too well racism neither starts nor ends at the entrances of our campuses, and that being in education will not save us from the worst excesses of state brutality. It did not save Julian Cole; it did not save Mzee Mohammed.
Yet we are often told to not concern ourselves with the many facets of our oppression. As student activists, we are told to sideline our identities and concentrate only on the more popular concerns - on the 'normal issues' of 'ordinary students'. But the experiences of black people in this country have never been ordinary - our struggles and successes have always been extraordinary, and our rich history of resistance has shown that we will not allow for our oppression to be normalised.
As NUS black students' officer, I am part of a proud history of black students being involved in struggles against the injustices that plague our colleges, our communities, and our kinfolk across seas. I look forward to building the Black Lives Matter UK movement alongside black students in the year ahead - and for every black student activist, I hope we never forget that we are here because of our struggles, not in spite of them.
Aadam Muuse is black students' officer at NUS
Twitter: @AadamMuuse
Join our new commenting forum
Join thought-provoking conversations, follow other Independent readers and see their replies