Disabled Students' Allowances cuts: Britain needs to ensure disabled students have the same chances as able students
'Many students would question whether university was the right choice for them - and this shouldn't be an issue'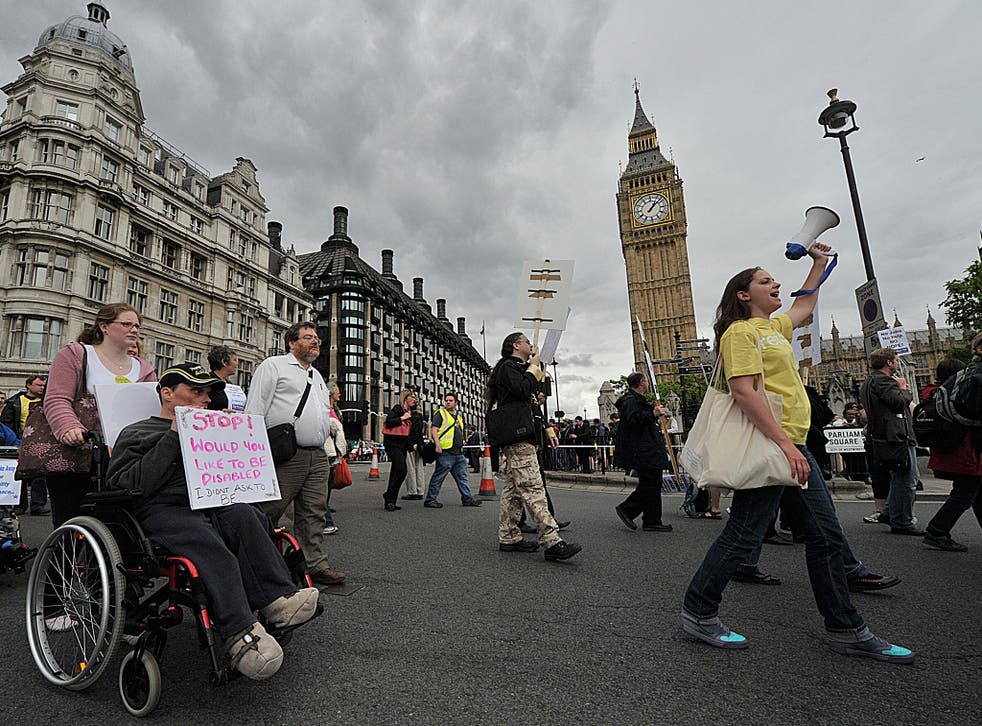 Cuts to Disabled Students Allowances (DSAs) were first proposed in 2014 in an announcement by David Willetts - the then Universities Minister - and were later deferred to the start of the academic year in September 2016, after protests by the National Union of Students (NUS) in June 2014. These cuts, according to most recent figures, would affect approximately 70,000 students. I, myself, am a student who benefits from DSA support. Not only do I have Asperger's syndrome, but I also have also mild cerebral palsy.
The main areas being targeted are funding for assistive technology, such as laptops with specialist software installed on them and, more specific assistive devices, such as digital voice recorders. My hands are weak, which affects my writing. I make use of an ergonomic pen and, for school exams, I used a computer. I have no problem typing, and so it makes a big difference to me to have both of these pieces of equipment.
The original announcement was quite vague with regards to what technological assistance would be cut, with David Willetts setting out a few proposals. "We will pay for higher specification or higher cost computers where a student needs one solely by virtue of their disability," he stated. I have, what he would presumably term, a 'higher specification computer' which includes assistive audio software that comes in conjunction with a voice recorder to record lectures.
Both the computer and voice recorder have been extremely helpful to me, as they minimise stress. The voice recorder ensures I always have a backup for my hastily typed notes, and I never have to be anxious if I mistype some of the lecture, I can always listen again.
It is possible many students who had similar arrangements to me in school or college might expect similar measures to be in place when they join university. However, while funding for higher-spec computers is continuing, my computer was given to me simply for notetaking, and because it has audio software on it that links to my voice recorder.
David Willetts, under the terms of the agreement made one thing clear: "We are changing our approach to the funding of a number of computer equipment, software and consumable items through DSAs that have become funded as 'standard' to most students." It is therefore possible that if I had been joining university in the new academic year, the voice recorder that is so helpful to me may have been considered 'standard' and therefore may not have been issued. This would mean students potentially having to buy a computer and specialist software for themselves, and be at risk of not keeping up with their work.
Even more worrying are the Government's plans to cut funding for student support workers. Willets stressed in his original announcement the fact that universities should provide the support that was once provided by the DSA. However, they were to receive no funding in order to cover the cost for this support.
Read the Government's latest consultation in full:
More than a year later, now the plans have been revived, The Department for Business, Innovation and Skills (BIS) is still strong on this point. It outlines in a consultation how the Government's preferred option is that "higher education providers have primary responsibility for providing certain non-medical help support with DSAs used for specialist support or by exception." For proofreaders and note takers, universities "will be expected to be the primary providers of this support" from next year. Bath Spa University, which I attend, are "making recommendations based on the DSA consultation, to ensure the University meets the needs of all the students in its community, including those who disclose a disability".
During my time at university, I have received support from two support workers (who assist with areas such as research and meeting deadlines), who fall into the category the Government outlines. This support has been invaluable to me and I have taken full advantage of the measures in place to help me. I completed my first year successfully, but without this support, I would have found the stress of university life and work overwhelming. If crucial support such as this was taken away, and not adequately replaced, many students would question whether university was the right choice for them - and this shouldn't be an issue which is in question.
I think it is vital students like me are supported. I wouldn't like to think I live in a world where disabled people and those with learning difficulties couldn't go to university, simply because the Government is cutting funds and limiting resources.
As a nation, we should make every attempt to ensure the cuts do not have a negative impact on students' lives - and that disabled students have as good a chance of succeeding as able students.
Twitter: @EdwardRouse3
Edward Rouse is a second-year creative writing and feature journalism student at Bath Spa University. He has also recently become a published poet
Register for free to continue reading
Registration is a free and easy way to support our truly independent journalism
By registering, you will also enjoy limited access to Premium articles, exclusive newsletters, commenting, and virtual events with our leading journalists
Already have an account? sign in
Register for free to continue reading
Registration is a free and easy way to support our truly independent journalism
By registering, you will also enjoy limited access to Premium articles, exclusive newsletters, commenting, and virtual events with our leading journalists
Already have an account? sign in
Join our new commenting forum
Join thought-provoking conversations, follow other Independent readers and see their replies