Almost 100% of students want to see the UK remain in the EU, vote at iDebate event in Leeds reveals
Green Party leader Natalie Bennett emerges as one of the debate's firm favourites and tells student audience: 'Don't have politics done to you - do politics'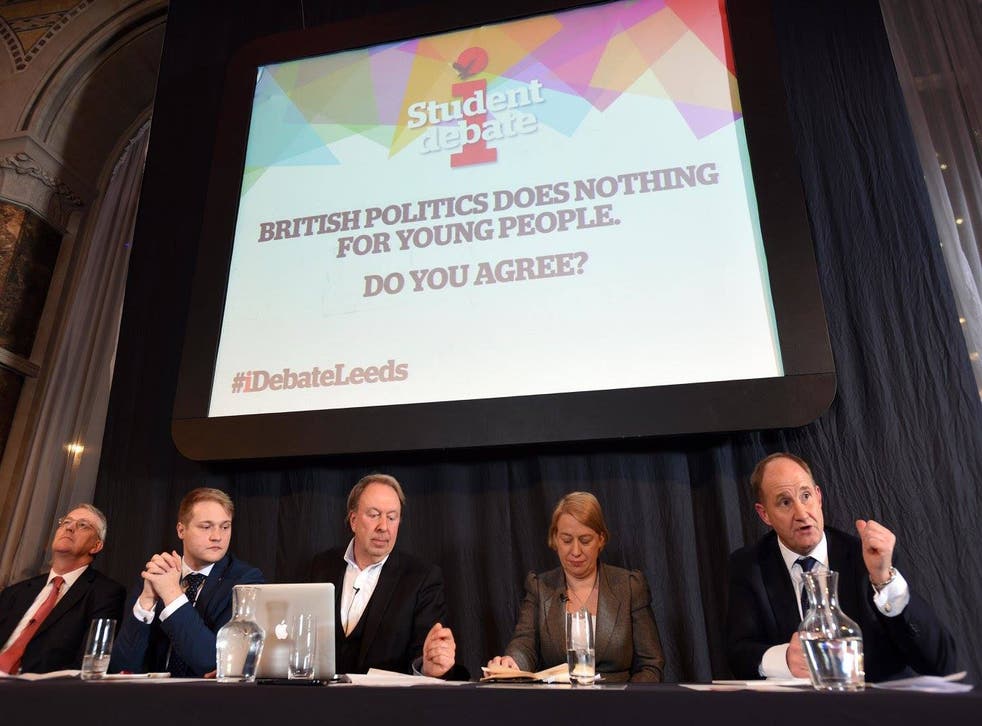 Almost 100 per cent of students have voted to see the United Kingdom remain part of the European Union in an evening of heated political debate in Leeds.
Organised by the i paper and sponsored by student loan specialist Future Finance, the iDebate - which sought to challenge the motion 'British politics does nothing for young people' - saw just two people from a 300-strong audience vote to see the UK break away from the 43-year-old union.
The free debate, held in the premier event venue Aspire on Tuesday, saw politicians from all major political parties in the UK take to the panel to battle out whether today's younger generation is reaping the benefits from the country politics or not.
Chaired by the Independent's chief political columnist, Steve Richards, the panel was comprised of Labour MP for Leeds Central and Shadow Foreign Secretary, Hilary Benn, SNP MP for West Aberdeenshire and Kincardine, Stuart Donaldson, Conservative MP for Thirsk and Malton, Kevin Hollinrake, and Green Party leader Natalie Bennett.
From the outset, Mr Benn described how he did not agree with the agenda of the night, while Mr Donaldson told of his first steps as an MP in the House of Commons at just 23-years-old last summer, an opportunity he said would have been "utterly irresponsible of me" not to take advantage of when asked by a member of the crowd why he chose to represent Scotland in Westminster and "not go down the same route as Sinn Fein."
Ms Bennett, though, emerged as a firm favourite with many among the crowd, some of whom said they felt her party's policies are the ones striking a chord with young people today, particularly the Green call to abolish all tuition fees.
One student, who identified herself as Lauren, told the panel of politicians she found it "completely disparaging and patronising" that 16 and 17-year-olds cannot vote in the upcoming EU referendum, asking: "Is exclusivity something to be proud of? Because it is exclusive, and it's not fair."
Mr Hollinrake replied: "It's the wrong time to change the rules on voting, and I think the age of consent is all over the place: you can go to war at 16, you can't drink until you're 18, and you can't vote until you're 18. We need to have a common position on it, but the status quo - where we are at the moment - is that it's 18 to vote.
"I have a major issue with changing it. The General Election should reflect the EU referendum, in my view."
Ms Bennett, however, challenged the Tory politician - who has only been an MP for eight months - and hit back: "The referendum is the point where you're making irrevocable decisions, effective for decades. If there's one case where there is an overwhelming argument for the long-term future, this is it."
Watch the full debate:
The Green Party leader drew applause from the audience when she added: "A General Election lasts for, at most, five years. The referendum and EU decision is potentially irrevocable, and that's exactly where it would be a great place to start with votes at 16."
Ms Bennett, again, received a warm reception when she said the mainstream right-wing media should be held to account for "doing massive damage to politics." She said: "Whether it's giving utterly unreasonable access to people who are climate change deniers, whether it's focusing on politics as being about how Ed Miliband eats a bacon sandwich, or how deeply Corbyn bows at the Cenotaph, the mainstream media is doing massive damage to politics."
On the whole, when the audience was asked at the end to put forward their views on the night's motion, an overwhelming majority voted against, therefore agreeing that British politics are, indeed, helping young people in Britain today.
Many attendees told the Independent after the debate they appreciated Ms Bennett's enthusiasm, passion, and her party's stance on looking out for young people.
Leader of the Green Party Society at Leeds University Union, Florence Scott, said she was surprised with the number of people who voted against the night's motion, while Josh Alston, 19, from Leeds University, added how he felt Natalie Bennett did "really, really well." He said: "I really like her policies, She was really good, incisive and articulate."
Jawad Khan, 18, a student at Heckmondwike Grammar School, described how he felt Ms Bennett had come a long way from her performance in the General Election, and said: "Today, she performed very strongly and spoke very firmly. Hilary Benn was very articulate and showed himself to be a very good speaker also."
If you want to help set the next iDebate agenda, please tweet all suggestions using the hashtag #iDebateTopics.
Register for free to continue reading
Registration is a free and easy way to support our truly independent journalism
By registering, you will also enjoy limited access to Premium articles, exclusive newsletters, commenting, and virtual events with our leading journalists
Already have an account? sign in
Join our new commenting forum
Join thought-provoking conversations, follow other Independent readers and see their replies