Almost a third of first-year students have either already dropped out of university or are thinking of leaving in the summer, survey finds
As well as citing the expense of university, many students say they feel 'disenchanted with further education'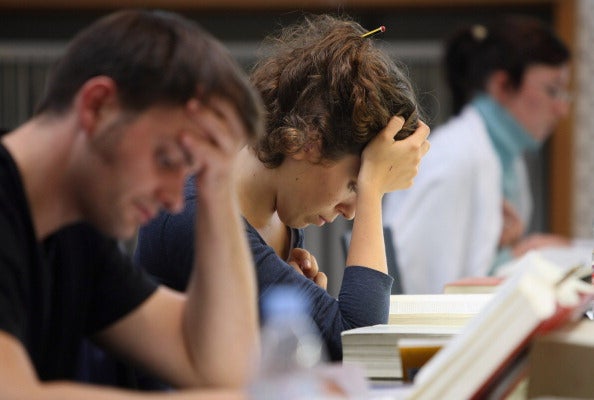 The festive break is meant to act as a breather, allowing for students to wind down and get ready for heading back to face lectures, seminars, assessments, and exams galore, all with a fresh mindset and new, resolution-filled attitude.
This though, it seems, has not applied for many of the students of 2016 as, according to new research, 27 per cent of freshers have seen in the new year by either dropping out of their course or revealed they are contemplating making the bold move come summer.
Online discount and voucher codes site, MyVoucherCodes, surveyed just over 1,200 students from across the UK over Christmas to find a little under a third were either not heading back this month - or were seriously thinking of not heading back - because of the expense, not liking the course they had chosen, or not liking the university they were at.
Other reasons cited were that they had either found full-time employment or felt they were "disenchanted with further education."
Psychotherapist and researcher in psychological wellbeing at the University of Derby, Gareth Hughes, offered some tips for students to help boost their second-term experience in order to ensure students make the decision that is right for them, including making as many new friends and getting involved in as many on and off-campus activities as possible.
He said: "No matter how many activities and events students cram into the first term, they will still benefit from trying new things and meeting new people. First-year students should try joining some new students' union clubs and societies. If they are worried about making friends, they can contact their university's student wellbeing service."
As well as adopt a healthier lifestyle, he also suggested students take control of time management by implementing a balanced timetable to ward off stress when deadlines approach, and added the importance of budgeting to keep anxiety at bay .
Hughes said: "Students should work out how much they're going to spend on food each week and stick to that budget. Otherwise, they could be eating like a king at the start of term, and recycling their teabags by the end."
Reflecting on the study's results, the discount site's founder, Mark Pearson, described how leaving home for the first time, and being surrounded by strangers and studying, can be "too much for some students."
Along with this, he said feelings of self-doubt and worries over finances can be too much pressure for some freshers too, and added: "For others, gaining a full-time job in the sector you wish to work in before you have finished your degree might be a prospect that's too good to turn down as well, especially with the rising costs associated with gaining a degree.
"For some students, the costs don't always outweigh the benefits, especially considering the current job market and issues young people in the UK face. This can leave many feeling discouraged with the whole further and higher education system."
Join our commenting forum
Join thought-provoking conversations, follow other Independent readers and see their replies