The Independent's journalism is supported by our readers. When you purchase through links on our site, we may earn commission.
Student nurses and midwives vow to 'defend our NHS' as health workers prepare to march on Downing Street following bursary scrap
Saturday's demonstration aims to be 'bigger and louder' than last month's as close to 151,000 people sign a petition, meaning a parliamentary debate will take place on January 11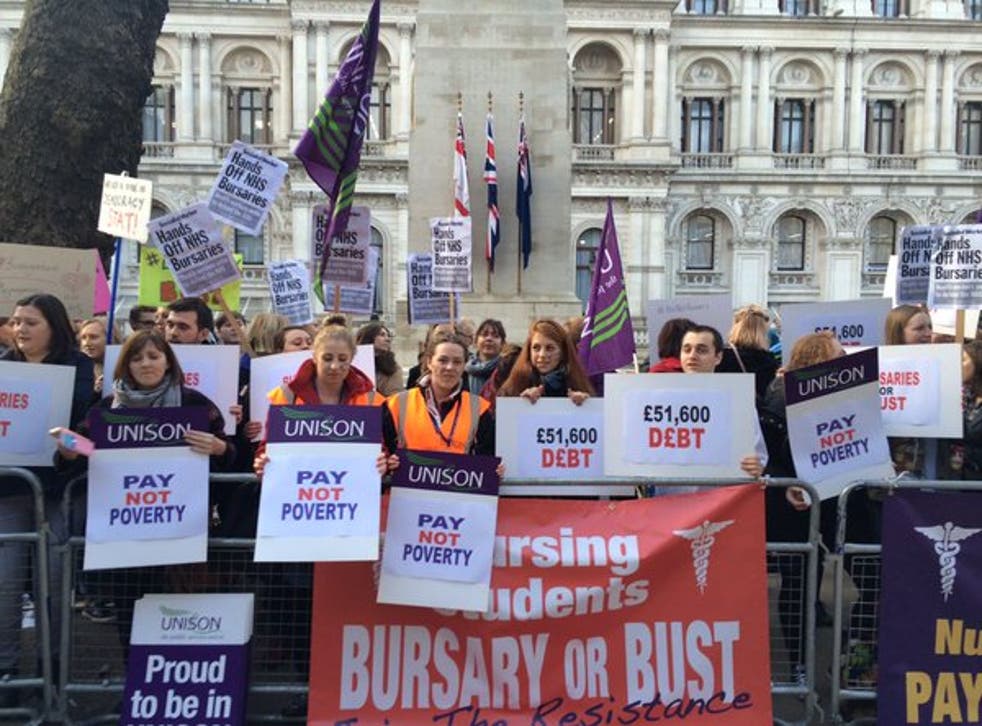 Student nurses, midwives, and other allied health professionals are to march on Downing Street on Saturday to "defend our NHS" after the Government announced plans to scrap the bursary for new student nurses in 2017, instead, turning it into a loan.
Organised by the student nurses of King's College London, the university's students' union (KCLSU) described how the new move means healthcare students could face over £50,000 debt for a three-year long degree course.
While some healthcare courses require students to work up to 2,300 clinical hours - in addition to course hours - the students' union said they don't have time to pick up additional jobs, therefore, affecting them financially. KCLSU added: "The change would mean they'd be paying to work."
Speaking with the National Union of Students (NUS), Gail Adams - who is head of nursing for Unison, Britain's largest public sector trade union - described the loss of money as "an enormous sum" for many in such professions. She said: "For example, the current starting salary for a nurse is £21,692. Loan repayments will mean a nurse, midwife, or allied health professional will lose over £900 a year."
The march on January 9 will begin at St Thomas' Hospital in Central London at 12pm and continue down York Road to Waterloo Bridge, across the Strand and Whitehall before finishing outside Downing Street, where a selection of speakers will talk about the impact of the NHS bursary.
Adams also added Unison Northern has organised a rally in Newcastle in protest at government plans to remove the NHS bursary on the same day, which will take place from 1pm at Grey's Monument in Newcastle's City Centre.
In an impassioned statement ahead of the demonstration, the team at KCLSU said: "We work in hospital as part of our training: we bath, feed, administer medication, tend wounds, manage extreme emotions, visit people in their homes, wear our heart on our sleeves, with a smile on our face every day that we go to work. We care: bringing hope to the most most troubled and in support of those most in need."
The team of students insisted how they need to learn in hospital under the supervision of "good, efficient nurses and midwives," but also said they need to learn from research which they called the "best practice."
It continued: "The Government funds research, it needs to start using it. As student nurses, midwives, and other allied health professionals, our bursary means we are paid roughly £3 for each hour we work in hospital. This does not cover our living costs, but it does offer some support in an increasingly money-driven society."
KCLSU's vice president for education (health), Sophia Koumi, said the union wants to see this rally be "bigger and louder" than the last which took place on December 2. Quoting Aneurin Bevan - founder of the NHS 0 Koumi said: "The NHS will last as long as there are folk left with the faith to fight for it."
December's demonstration saw more than 500 protesters turned out to rally near the Department of Health in the capital. As well as this, a petition against the changes has gathered close to 151,000 signatures, meaning a parliamentary debate will now be taking place January 11.
Supporters of the campaign are being urged to use the #BursaryorBust hashtag on social media.
Join our new commenting forum
Join thought-provoking conversations, follow other Independent readers and see their replies