The Independent's journalism is supported by our readers. When you purchase through links on our site, we may earn commission.
Sussex University students continue to occupy Bramber House, vowing to 'exert maximum financial leverage' against institution
Protesters call on supporters to come and back the occupation against Home Office's decision to deport former student Luqman Onikosi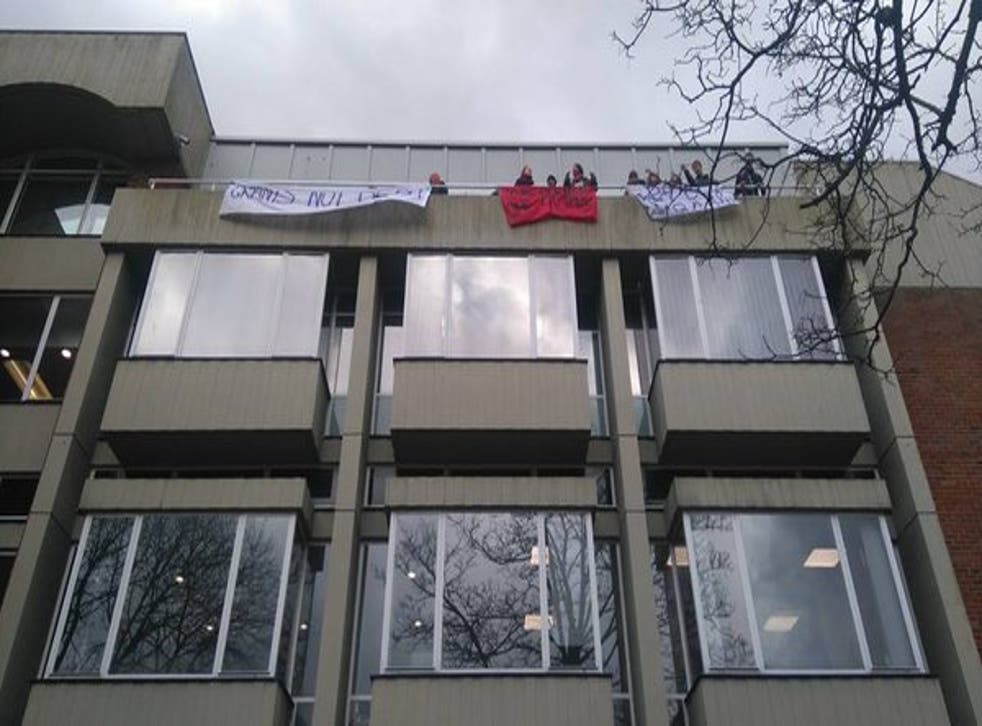 A group of demonstrators at the University of Sussex are continuing to occupy one of the institution's buildings in protest against the Home Office's decision to deport a sick student "back to his death" in Nigeria.
In a statement released through the National Campaign Against Fees and Cuts (NCAFC), the students have said they intend to "exert maximum financial leverage" against the university by denying management access to the Bramber House conference centre on the Falmer campus.
Students stormed the building on Wednesday afternoon chanting, 'Luqman is here to stay, let's deport Theresa May,' in support of Luqman Onikosi who looks set to be deported from the UK, despite suffering from a "chronic liver condition."
Speaking with the Independent last month, Mr Onikosi described how he had entered the UK in 2007 to study at the university after which he was subsequently diagnosed with a chronic liver condition brought on by Hepatitis B. He said: "In Nigeria, there is not the medical infrastructure required to keep me alive. My battle to stay in the UK on medical grounds, in other words, is a fight to stay alive."
Reflecting on the Home Office's decision at the time, Mr Onikosi said he was facing "a death sentence." He had added: "They have tried to do so once before, in 2012, but I managed to win the fight to stay in the country for the time being. This time, however, I am not hopeful that I will be so successful. Regardless, I am still determined to fight.
"In 2011, and then 2012, my two brothers in Nigeria died of complications brought on by the same illness. The same fate now awaits me, unless the Home Office reverses its decision to refuse me leave to remain in the UK. I believe it is barbaric to send a third member of my family, me, to my death."
After occupying the building, the protesters issued a set of demands aimed at university management. The NCAFC said: "We are demanding management award Luqman his MA and publicly state their opposition to Luqman's deportation, and end collaboration with the Home Office, including legally and politically challenging Prevent and International Student Licensing."
A spokesperson for the occupation said: "We're fighting to support Luqman against a racist border system and the state violence caused by the Home Office on campuses. The university is complicit in deporting him to his death - we have to oppose this."
Moment protesters stormed the building (Credit: Daniel Green/@DanGreen4114/Twitter):
In a statement to the Independent on Wednesday, however, the university said the status of Mr Onikosi's visa is a directive from the Home Office and the university is "not able to influence that decision in any way."
A spokesperson added: "We understand the group of students are supporters of Mr Onikosi, a former student of the university. The students are currently based in a conference room in one of our buildings. We are, and have always been, very sorry to know of Mr Onikosi's illness."
Reiterating its earlier statement to the Independent, a Home Office spokesperson said: "All cases are considered on their individual merits and in line with the immigration rules.
"The individual's application was fully considered and has been through the appeal process. An independent immigration judge found that he has no right to remain in the UK."
Free Education Sussex - a group of activists at the university who say they are fighting alongside workers for free education, fair working conditions, and against privatisation - have called on supporters of Mr Onikosi's cause to come along and back the occupation on Thursday afternoon.
The group said University and College Union (UCU) executive member, Sean Vernell, has also shown his solidarity for the occupation. Calling Mr Onikosi's deportation "a disgrace," he added in a statement: "The students at Sussex University are an inspiration to us all for taking such action in defence of one of their own.
"They are demonstrating what the old adage 'an injury to one is an injury to all' really means."
A petition has also been launched, urging the Government to stop the deportation.
Register for free to continue reading
Registration is a free and easy way to support our truly independent journalism
By registering, you will also enjoy limited access to Premium articles, exclusive newsletters, commenting, and virtual events with our leading journalists
Already have an account? sign in
Register for free to continue reading
Registration is a free and easy way to support our truly independent journalism
By registering, you will also enjoy limited access to Premium articles, exclusive newsletters, commenting, and virtual events with our leading journalists
Already have an account? sign in
Join our new commenting forum
Join thought-provoking conversations, follow other Independent readers and see their replies