Thousands of student nurses and midwives march in London, Manchester and Newcastle against government proposals to axe NHS bursary
Parliamentary debate to take place later today after, so far, over 154,300 people sign petition to save the bursary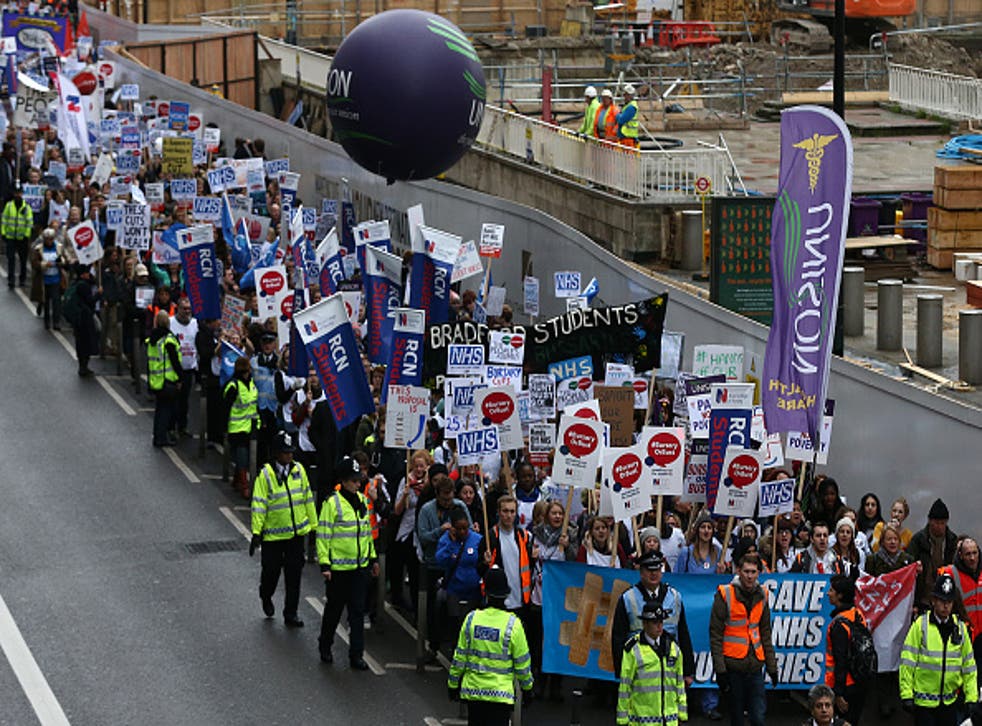 Thousands of student nurses, midwives, and allied health professionals have marched on the streets of London, Manchester, and Newcastle to highlight how they will be paying off their student loans almost until the day they retire following government plans to axe NHS bursaries.
Spearheaded by the student nurses of King's College London - with similar marches having taken place in Nottingham and Middlesbrough on the same day - the university's students' union (KCLSU) described how the new move means healthcare students could face over £50,000 debt for a three-year long degree course.
Leader of the Green Party of England and Wales, Natalie Bennett, was one of the many demonstrators to have voiced their support for health workers at the London event which took place at St Thomas' Hospital on Saturday.
Speaking at the march, she said "the Government has hit a new low" after chancellor George Osborne announced the changes as part of the Spending Review in November. Bennett added: "They are going to make student nurses pay to work for the NHS. This really is a new low in austerity."
The protest in the capital began outside St Thomas' Hospital at noon, then continued down York Road to Waterloo Bridge, across the Strand and down Whitehall. It finished outside Downing Street where a number of speeches took place from speakers including the Green Party leader, shadow health secretary Heidi Alexander MP, student nurses, and Unison's head of nursing Gail Adams.
Speaking to the large crowd at Downing Street, the Royal College of Nursing's (RCN) chief executive and general secretary, Janet Davies, described how RCN students have shown "just how worried they are" about the move and its potential effects.
She added: "Student nurses and midwives are the profession's future, and their voices and concerns must and should be listened to.
"Over our 100-year history, the RCN has a long track record in the education of nurses and the Government should listen to our knowledge and expertise. The future of nursing must be protected. Our patients deserve nothing less."
Unison's general secretary, Dave Prentis, described it as "wrong" to replace bursaries with loans and "force fees" on students, many of whom, he said, are likely to be put off careers in nursing for fear of graduating with "such huge debts".
He highlighted the chancellor's proposals as being "ill-thought out," and said: "It's madness when the health service is already struggling to fill so many vacancies. This is a political decision motivated by short-term financial savings and will do nothing to solve the country's nursing shortage.
"Many people will be forced to take second and third jobs, compromising their studies and health. Or they'll be priced out of a career in nursing completely, especially if their parents don't have the cash to subsidise them. The losers will be the NHS and patients."
Following on from the protest, a debate will be taking place in Parliament on Monday over the plans - which are expected to come into effect in 2017 - after an online petition gathered just over 154,300 signatures.
In response to the petition, the Government insisted it needs to move new students from grants and bursaries onto the standard student loans system from 1 August 2017 to be able to deliver more nurses, midwives and allied health professionals for the NHS, a better funding system for health students, and a sustainable model for universities.
The response added: "We expect this to enable up to 10,000 additional training places over this parliament. Rather than denying thousands of UK applicants a place to study the subjects at university, we will be boosting participation and securing the future supply of these professions to the NHS. This will mean more applicants will get the chance to become a health professional."
Join our new commenting forum
Join thought-provoking conversations, follow other Independent readers and see their replies