Twitter divided over 4-year-old's Assata Shakur chant at a UCLA anti-racism rally for Mizzou students
Rally's organisers say black students across the US are battling 'racist campus climates, discriminatory practices, insufficient resources, and dwindling numbers'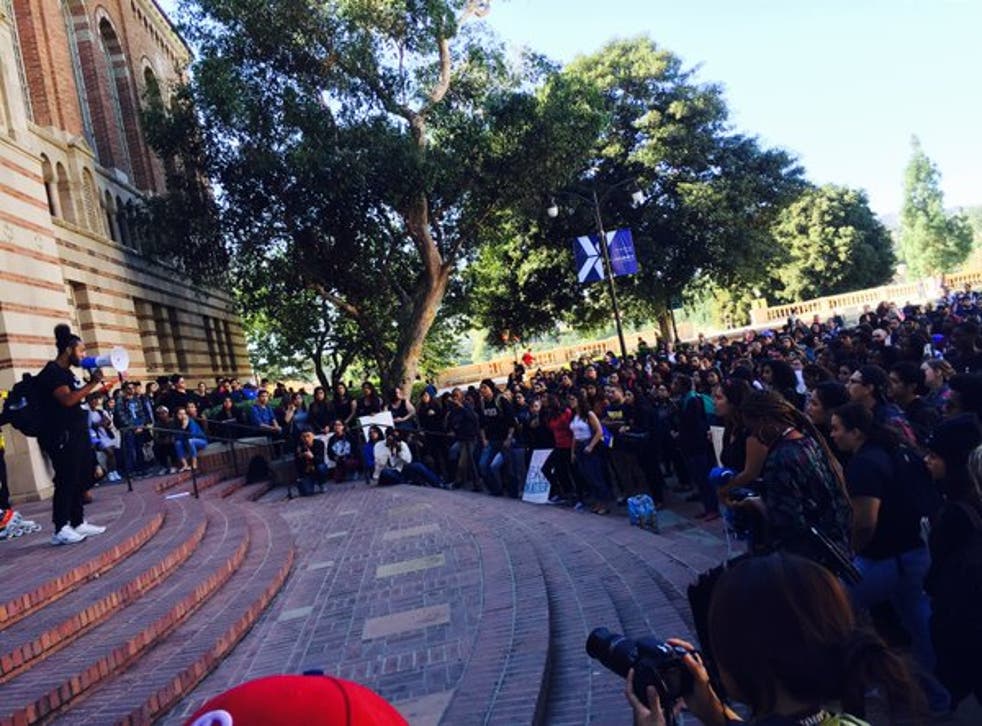 A four-year-old girl's appearance at an anti-racism student rally in the US seems to have left Twitter users divided after she was filmed apparently leading a chant made famous by a convicted murderer who has also been labelled 'a domestic terrorist' by the FBI.
Hundreds of staff, students, and alumni gathered at the University of California, Los Angeles (UCLA) to demonstrate in support of students at the University of Missouri (Mizzou) which has recently become embroiled in a race row, resulting in its president, Tim Wolfe, to resign from his post.
Organised by the Afrikan Student Union (ASU) at UCLA - which says it represents and advocates for the needs and interests of all UCLA students of Afrikan descent - the group posted a video of the youngster onto Twitter, identifying her as Seijani.
In the video, Seijani can be heard at the end of the rally, echoing the words made famous by the activist Assata Shakur into a megaphone: "It is our duty to fight for our freedom. It is our duty to win. We must love each other and support each other. We have nothing to lose but our chains."
Watch the video clip:
According to special agent with the FBI Newark Division, Andy Ford, Shakur - real name JoAnne Deborah Chesimard - is 'a domestic terrorist who murdered a law enforcement officer execution-style'.
Having been imprisoned, she escaped in 1979 and fled to Cuba in 1984 where she received political asylum and has been living there ever since. The FBI continues to offer a $2m (£1.3m) reward for her capture as her supporters continue to protest her innocence and fight to clear her name.
Some Twitter users supported the young Seijani's appearance at the rally:
However, others took an entirely different stance:
One senior at UCLA told Campus Reform how she thought 'glorifying a violent person is inappropriate in any situation'. The student added: "As a Black Panther, Shakur was an irrational and out-of-line individual which, if anything, reflects poorly on the black community."
Reflecting on the UCLA rally as a whole, the ASU released 'a letter in solidarity' with Mizzou, describing how black students at the institution have been 'receiving death threats in response to their activism'. It added: "This further illustrates the ingrained, insidious nature of anti blackness and racism that exists at Mizzou, and across the nation.
"Black students are at constant war. They battle racist campus climates, discriminatory practices, insufficient resources, and dwindling numbers. UCLA is no different."
Register for free to continue reading
Registration is a free and easy way to support our truly independent journalism
By registering, you will also enjoy limited access to Premium articles, exclusive newsletters, commenting, and virtual events with our leading journalists
Already have an account? sign in
Register for free to continue reading
Registration is a free and easy way to support our truly independent journalism
By registering, you will also enjoy limited access to Premium articles, exclusive newsletters, commenting, and virtual events with our leading journalists
Already have an account? sign in
Join our new commenting forum
Join thought-provoking conversations, follow other Independent readers and see their replies