Israeli ex-soldier's freedom of speech breached by pro-Palestinian student protest, university investigation finds
Report says the majority of protestors and attendees were non-violent 
Rachael Pells
Education Correspondent
Thursday 02 February 2017 13:00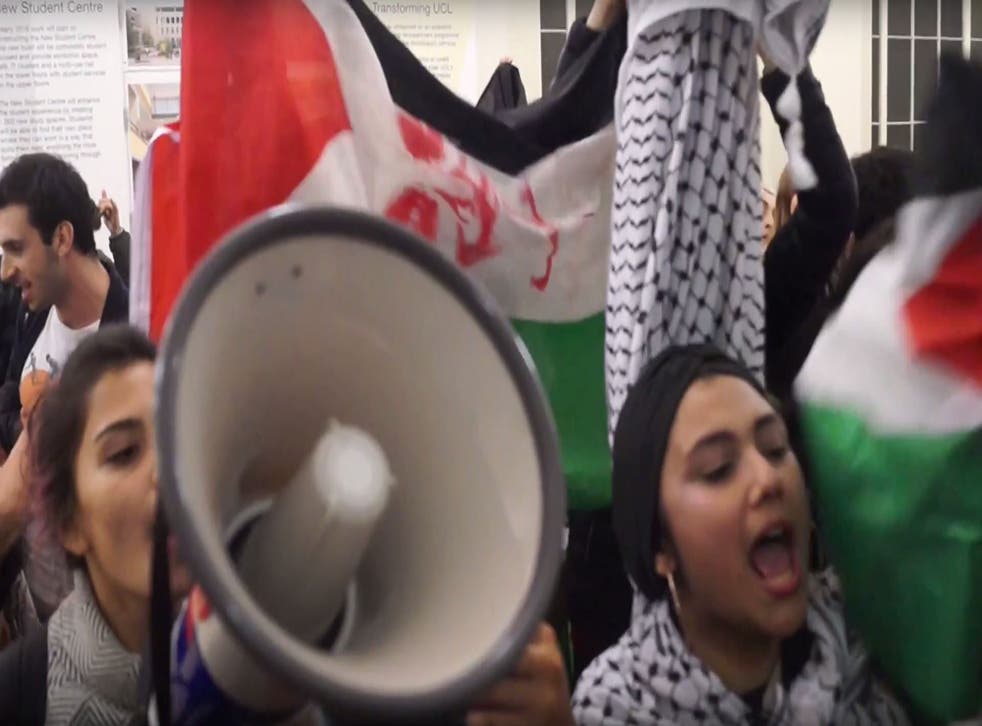 A former Israeli soldier had his freedom of speech "intentionally disrupted" after a protest sparked clashes and police were called, a university investigation has concluded.
Five unnamed students from University College London (UCL) are to face a disciplinary panel after a talk given by former Israeli Defence Force intelligence officer Hen Mazzig was interrupted by protesters on 27 October.
Footage taken of the event, hosted by UCL's Friends of Israel society, shows crowds of pro-Palestinian demonstrators at the university venue voicing anger over the society's decision to invite Mr Mazzig to speak.
An investigatory report released by UCL said the disruption represented a failure of the institution's own Code of Practice on freedom of speech to adequately protect freedom of expression on campus.
Speaking to The Independent, Mr Mazzig – who now describes himself as a pro-Israel activist, said he appreciated the university's efforts to take the protest seriously.
"The fact that they investigated the incident is a blessing," he said, "but it's unfortunate that it took three months to happen."
Mr Mazzig spoke of the incident as "one of the worst" he had experienced, adding: "I was afraid for the safety of students and myself."
Student members reported that UCL's student union (UCLU) had made the decision to "no platform" Mr Mazzig earlier that week, as his views were deemed controversial and potentially offensive.
Pro-Palestine protest turns violent at UCL student Israeli society
UCL management overruled the decision, however, leading some protesters to complain the judgement was "anti-democratic and illegitimate".
Two hours before the event, those with tickets were sent an email by the Friends of Israel society stipulating a last-minute change of location in an attempt to avoid friction.
About 60 protesters filled the new venue to oppose the talk, and police were called to the scene.
Publishing an internal report into the events this week, Professor Geraint Rees, Dean of the UCL Faculty of Life Sciences, said the majority of protestors and attendees were non-violent and that most of the UCL students acted in accordance with UCL's code of conduct for students.
However, it said evidence suggested a "smaller group of protestors intentionally disrupted the rights of others to exercise freedom of speech within the law, and that their behaviour caused stress and anxiety to students and staff at UCL".
While the event took place, the report states that it did so "in a highly disruptive and intimidatory atmosphere and in an abbreviated form".
"Loudspeakers, loud shouting, chanting (including chants that could be interpreted as anti-Semitic) and banging on the windows of the venue continued to disrupt attempts to conduct the event," it was stated.
The report concluded that fault was found on both sides of the clash, as verbally hostile behaviour "was not confined to protesters, with a small minority of attendees also engaging in aggressive and physically intimidatory behaviour".
Top 10 universities in the UK according to the Times Higher Education

Show all 10
Serving in the IDF for five years as an openly gay commander, Mr Mazzig is a former lieutenant who worked as an intermediary between the IDF and the Palestinian Authority, United Nations and other groups in the West Bank.
He has been the subject of past contention on campus – students at King's College London (KCL) staged a walk-out during one of his previous talks in 2014.
Commenting on the October incident, he said: "While I appreciate the fact that at some point [UCL] refer to the clash as potentially anti-Semitic, I wish they'd also mentioned the fact [the protestors] called me a war criminal and a liar."
Mr Mazzig said he had yet to receive any formal apology from the university, and that he had not been contacted on the issue until the day the report was released.
He said: "Since they had taken the active step to address the problem and investigate what happened on the night, I would expect UCL to reach out to the speaker – but not even an apology. That bothered me.
"They haven't used the word anti-Semitism strongly enough – they need to call that out in the same way they call out sexism, homophobia and all other forms of hate".
The clash followed a similar incident at KCL last year when a talk given by Ami Ayalon, former head of the Israeli secret service, was stormed by pro-Palestinian protestors.
Organisers reported that the student group KCL Action Palestine threw chairs, smashed windows and set off fire alarms in objection of the talk.
Commenting on recent parliamentary discussions over a perceived rise in anti-Semitic behaviour on campus, Mr Mazzig said he had seen an active increase in discriminatory attitudes over the past few years.
"I do see a change in the language," he said. "What used to be not politically correct, what should be addressed as anti-Semitism is not always being seen as that.
"If universities want to change this anti-Semitic culture they need to call it out for what it is. I've experienced other protests, including a staged walkout at King's College when I gave a talk – but that was quiet. It was not respectful, but it wasn't as violent as the mob."
Responding to the report, Professor Michael Arthur, UCL's Provost, hinted at inviting Mr Mazzig back to the university, but it was an offer the speaker said he would "have to take time to consider".
"I'm still shaken after that night," he said.
"If the Jewish students tell me they want me back and that it will help them I will do so, but it's something I need to think about."
Shortly after the Friends of Israel event, Metropolitan Police said they were investigating an alleged assault on one woman during the dispute, but UCL investigators said they understood the allegations had either been withdrawn or were not being pursued as a line of inquiry.
The investigation found no evidence that any of these actions were planned or pre-meditated and reported no damage to property.
"This failure of the UCL Code of Practice on Freedom of Speech is very rare – several hundred events are routinely organised and occur every term, including high risk and high profile events – but affords an important opportunity to identify and remedy the key factors that led to this failure," the report concluded.
The investigation called for a review of the operational protocol and training for "high-risk events" at the university, and made the recommendation that UCL should take steps to "pro-actively promote racial and religious tolerance in university culture".
The Union of Jewish Students welcomed the report, and said members had met with the UCL Provost alongside Jewish students "as part of ongoing efforts to ensure violence and intimidation of Jewish students has no place on UK campuses".
In a statement, Professor Arthur said: "We are a university that is clear in its support both of freedom of speech and of the right to protest.
"After a full investigation we have concluded that on the night of 27 October, we were not fully able to make good on our commitment to freedom of speech to Hen Mazzig, a speaker invited by the UCLU Friends of Israel.
"While I welcome the investigation's conclusion that the majority of protestors and attendees were non-violent and that no police action is planned as a result of the evening's events, we recognise too the finding that there was a deliberate attempt by some to disrupt the rights of others to exercise their freedom of speech.
"We will act upon the recommendations in the report, which I believe will strengthen our ability to deliver on that commitment when hosting events and speakers likely to attract protestors with opposing beliefs.
"We remain steadfast in our commitment to freedom of speech for all within the law, and I intend to explore the potential for a return visit by Hen Mazzig, as a tangible sign of that commitment."
The Independent has made contact with UCL's Friends of Palestine Society for comment.
Register for free to continue reading
Registration is a free and easy way to support our truly independent journalism
By registering, you will also enjoy limited access to Premium articles, exclusive newsletters, commenting, and virtual events with our leading journalists
Already have an account? sign in
Register for free to continue reading
Registration is a free and easy way to support our truly independent journalism
By registering, you will also enjoy limited access to Premium articles, exclusive newsletters, commenting, and virtual events with our leading journalists
Already have an account? sign in