University College London Union reverses decision to ban Macer Gifford from speaking about fighting Isis in Syria
Despite acknowledging a 'cause for celebration', the event's organiser says: 'It's a shame we still find ourselves trapped in an undemocratic university of censorship'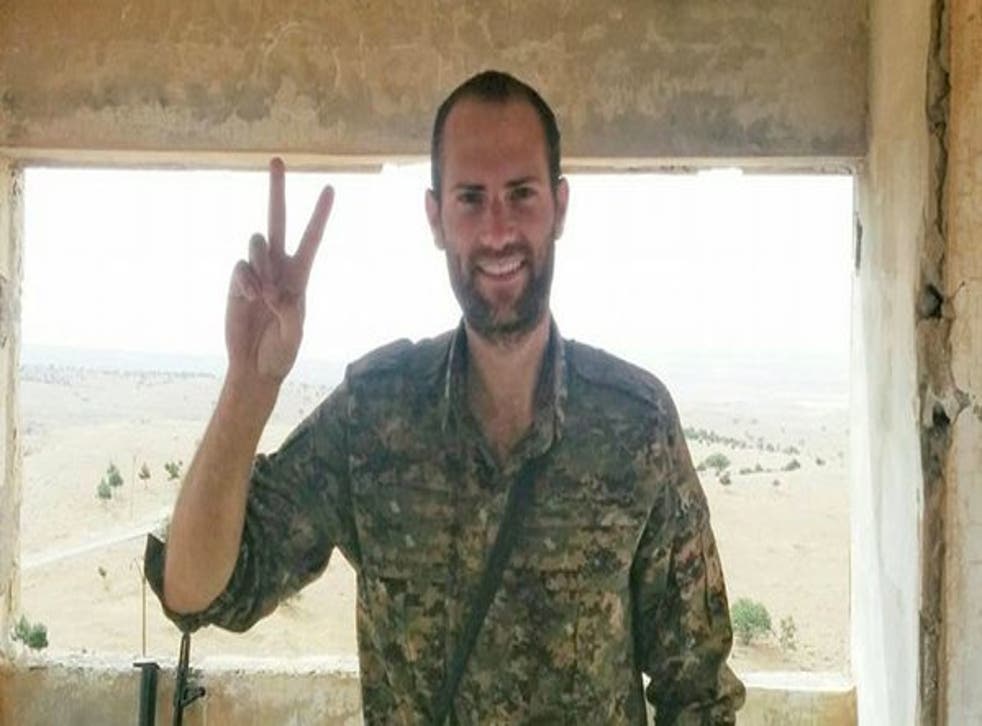 A students' union that controversially banned a graduate from speaking about his five-month long fight against Isis in the Middle East has reversed its decision, saying it is now 'able to provide him a platform'.
The University College London Union's (UCLU) activities and events officer Asad Khan recently provoked the fury of the event's organiser - Kavar Kurda of the UCL Kurdish Society - who had accused Khan and the university of displaying 'horrible prejudice against the Kurdish cause and the freedom of speech'.
Khan and the UCLU had said they were blocking 28-year-old ex-student Macer Gifford from speaking about his experiences fighting the extremist group with the Kurdish group Yekîneyên Parastina Gel (YPG) - or Kurdish People's Protection Units - with students at a UCL event.
Khan had expressed concern over YPG's alleged human rights abuses and ultimately banned Gifford from speaking amid concerns that 'an event with a person speaking about their experiences fighting in Syria could lead to others going and fighting in the conflict'.
Now, though, despite over 1,400 people having supported Kurda's petition to 'let Macer speak' - and with some hailing the U-turn as a 'win for free speech' - Kurda said that, while the decision was a cause for celebration, UCLU should 'in no way be praised for their actions'.
He said: "Needless to say, the union and Asad Khan still lack and have a disregard for freedom of speech."
According to online student publication, The Tab, Khan said to Kurda in an email that, following a response from the police - who stated it is now 'legally acceptable for UCL and UCLU to host Macer Gifford on campus' - the union would be able to provide a platform for the speaker.
However, Khan added: "Although UCLU continues to be concerned about the alleged human rights abuses associated with YPG, we do realise freedom of speech is of paramount importance on any university campus and, in particular, on the UCL campus."
The world mourns Paris attacks - in pictures

Show all 25
Despite Kurda expressing disappointment over the fact that the union has not apologised for its original comments - or for banning Gifford from speaking in the first place - he said he is looking forward to the speech.
Kurda also said: "It's a shame we still find ourselves trapped in an undemocratic university of censorship."
Gifford, not his real name, first made headlines earlier this year when it was reported he had told his parents he was travelling to Turkey for a holiday - but instead headed for Syria to join in the fight against Isis.
Speaking with The Tab on the union's new decision, Gifford described the fight against Isis as being 'a defining moment of our generation'. He said: "This isn't a religious war - this is a fight against fascism and fanaticism.
"I look forward to sharing my story with the students at UCL and I can't wait to answer any questions they level at me."
Register for free to continue reading
Registration is a free and easy way to support our truly independent journalism
By registering, you will also enjoy limited access to Premium articles, exclusive newsletters, commenting, and virtual events with our leading journalists
Already have an account? sign in
Register for free to continue reading
Registration is a free and easy way to support our truly independent journalism
By registering, you will also enjoy limited access to Premium articles, exclusive newsletters, commenting, and virtual events with our leading journalists
Already have an account? sign in
Join our new commenting forum
Join thought-provoking conversations, follow other Independent readers and see their replies