University vice-chancellors should pay 'every penny' from docked staff wages into student hardship fund, says UCU
UCU and NUS to begin planning for a national demonstration in defence of education this autumn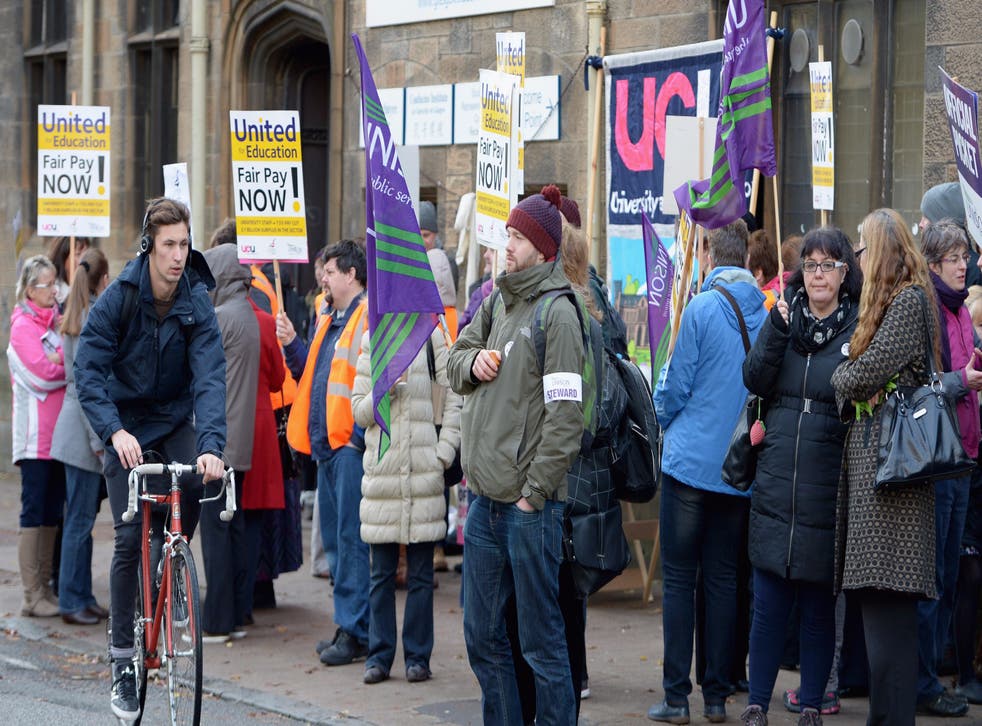 University vice-chancellors and principals are being urged to "do the right thing" and pay back "every penny" docked from academic staff wages into student hardship funds, a union says.
Sally Hunt, general secretary of the University and College Union (UCU), is set to make the comments on Wednesday at the UCU's annual congress just days after lecturers across the UK staged a two-day walkout over a pay dispute.
Speaking at the event in Liverpool, Hunt will say: "As our students have given us terrific backing over the past year, it is time for us to return the compliment.
"Vice-chancellors and principals are so busy defending their own exorbitant pay that they have forgotten universities and colleges are nothing without students and staff.
"Not so long ago, most institutions would give money docked from striking staff to their student hardship funds, these days it is far less likely.
"I want to thank students up and down the country for their support last week, and to let them know this fight is their fight - we will support them when they defend education."
Student news in pictures

Show all 34
Putting students and staff at the heart of her speech, Hunt will criticise the Government that, since 2010, "couldn't be less interested in our views." She will add: "They have tripled fees in higher education (HE), removed grants and introduced loans for students across further education and HE, and introduced legislation which encourages teachers to spy on their students.
"The Government claims teaching in HE is 'lamentable', yet their own figures show 85 per cent of students disagree.
"The Government claims teaching quality can best be determined by looking at what jobs our students get and how much they earn, yet the research shows what that actually measures is how rich our students' parents are."
Emphasising the importance of quality in the country's universities, primarily the conditions under which teaching staff are employed, Hunt will say: "A teacher's working conditions are the conditions a student learns in and, if you want to see what we can do when we bury our tactical differences, look no further than that magnificent unity that was the two days of strike action in HE last week.
"A union looking outwards, engaging with our students and with the media in pursuit of one message: fair pay."
Following on from discussions with the National Union of Students (NUS), Hunt will also announce that both the UCU and NUS will begin planning for a national demonstration in defence of education this autumn. She will add: "Now we really must build on that."
University staff across the UK staged the walkout on 25 and 26 May over a 1.1 per cent pay rise from the Universities and Colleges Employers Association (UCEA).
Hunt had called the pay offer "an insult to hardworking staff," particularly in light of the "five per cent pay rise vice-chancellors have enjoyed while holding down staff pay."
UCEA, however, insisted the offer was "fair and final" and said the strike had "minimal impact on students." A spokesperson added: "Seeing any industrial action is, naturally, disappointing given the very good pay offer, plus the joint work on gender pay and casual employment that is on the table.
"The student experience is a primary concern for all HE institutions and so staff [did] their very best to protect students from any disruption."
Register for free to continue reading
Registration is a free and easy way to support our truly independent journalism
By registering, you will also enjoy limited access to Premium articles, exclusive newsletters, commenting, and virtual events with our leading journalists
Already have an account? sign in
Join our new commenting forum
Join thought-provoking conversations, follow other Independent readers and see their replies