US high school substitute teacher, Kondwani Fidel, filmed giving class inspirational spoken word performance
The poet tells the class he will 'fight until the death, until I'm the lone victim who remains'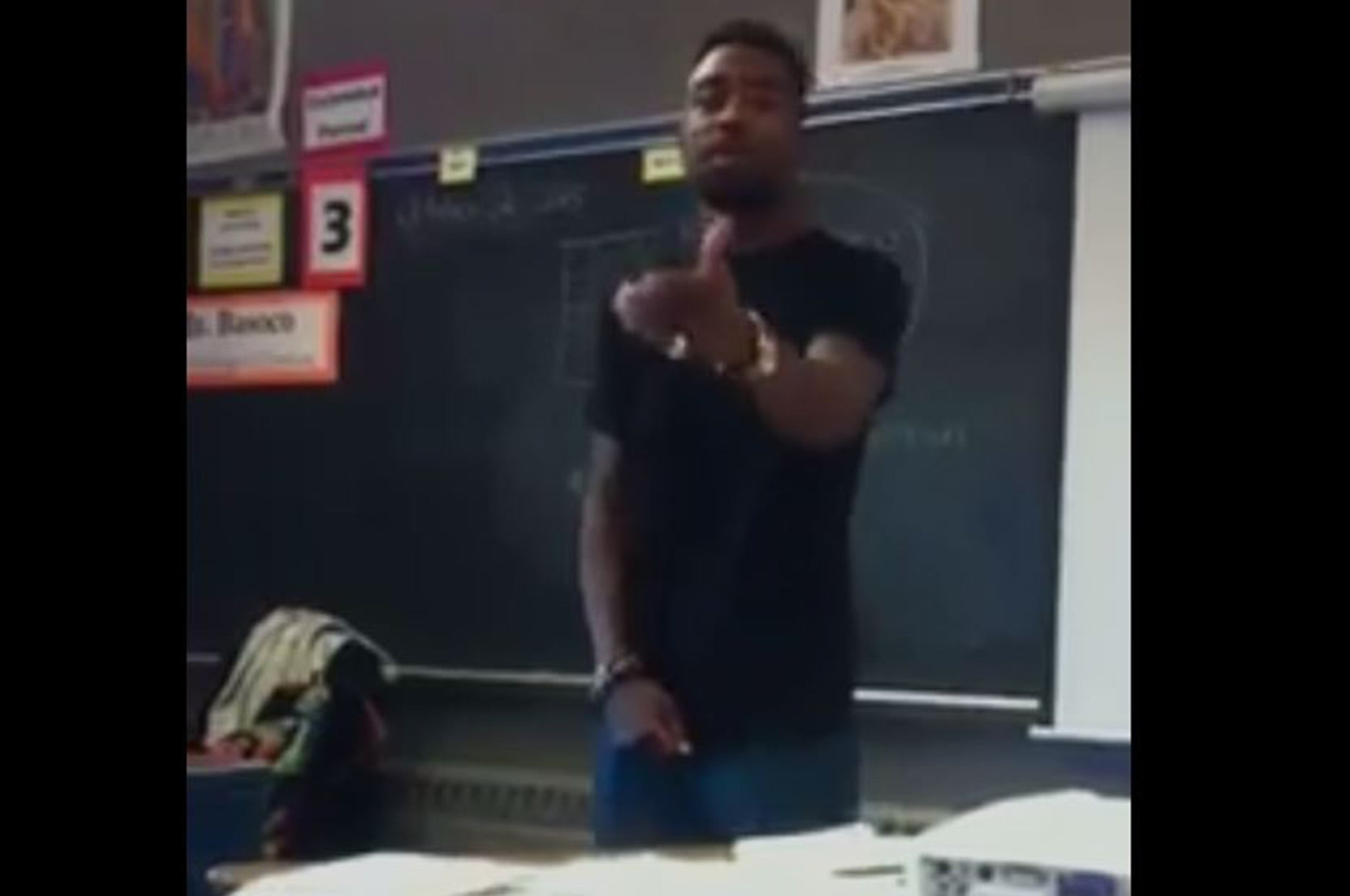 Those days at school when a substitute teacher would appear to take the place of the usual teacher have long been remembered as being the best, as pupils revelled in speaking over the sub, spending the class catching up with friends, or relaxed as a film was put on to replace the usual teaching.
However, one high school class in the US has gotten to see the power a sub can wield after teacher and poet Kondwani Fidel had students engrossed – long after the bell sounded – in a spoken word performance, seemingly depicting his challenging childhood.
Having been caught on a student's camera phone, the clip has been uploaded onto Tumblr, becoming an instant hit with users, simply captioned: 'When you ask your substitute to spit something, and he hits you with nothing but the realness. And he's from my home town'.
Fidel begins off by saying: "Memories can be beautiful, memories can be ugly. Sometimes I ask my memories, 'Why didn't you love me?' Memories on memories, they bring me much sorrow. But all I can do now is root for a better tomorrow."
Watch the powerful video clip here:
When you ask your substitute to spit som...
Despite being interrupted by the school bell, the pupils are already too engrossed in the story which has barely started as the sub teacher then seems to go on to recall, as a young child, having a drug addict and alcoholic father, adding: "I remember these memories just like that, laying [sic] on the living room floor watching Hey Arnold! and Rugrats. Six-deep the police came and burst through the back."
He goes on to say: "I remember my grandmother bought me a bike on my 13th birthday. My mother then stole and sold it the next day, so she can go and buy some drugs from Ray-Ray. If I could just steal one wish from Ray-Jay, it would be to spend to spend Christmas with both of my parents like Craig and Day-Day."
Heartwarming news stories from around the world
Show all 30
Making reference to an abused character in Alice Walker's novel The Color Purple, Fidel describes how 'just like Sofia, all my life I had to fight', adding: "So, I'll fight until the death, until I'm the lone victim who remains. That's why I volunteer and contribute to this life what you all call The Hunger Games."
At just under five minutes long, the sub teacher's story undoubtedly seems to strike a chord with the students who are completely silent throughout, yet burst into rapturous applause in admiration for the author and poet at the end.
Join our commenting forum
Join thought-provoking conversations, follow other Independent readers and see their replies