Plagiarism and PhDs: how to deal with copying
The Independent has uncovered data that links postgraduates with plagiarism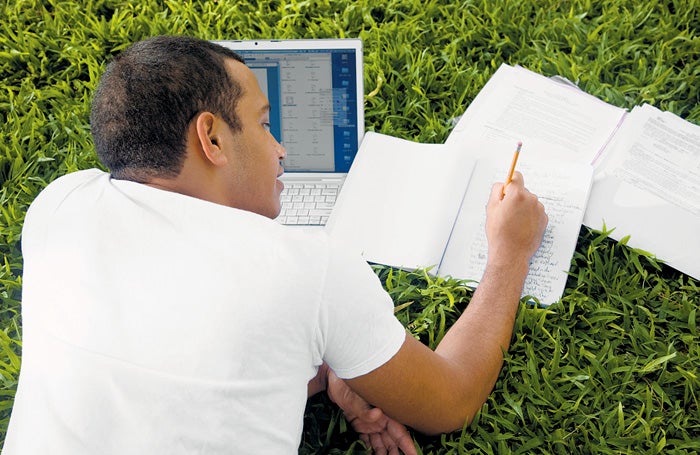 It may seem counter-intuitive but postgraduates are more likely to commit plagiarism than undergraduates, according to information obtained by The Independent under the Freedom of Information Act.
Twice as many postgraduates were guilty of plagiarism at the University of Glasgow as undergraduates in the academic year 2008/9. Figures released by the university show that 0.26 per cent of undergraduate students committed plagiarism compared to 0.57 per cent of all postgraduates.
Other research supports this. A report by the JISC (Joint Information System Committee) estimated in 2008 that an average of 1.19 per cent of postgraduate students are involved in cases of plagiarism, compared to 0.67 per cent of undergraduates.
The JISC report suggested this was because "plagiarism is simply treated as a more serious issue at postgraduate level", resulting in more cases being recorded formally. Although this may be the case, our statistics suggest that there may be more to the disparity.
It seems that, in the Glasgow figures, a higher proportion of international students commit plagiarism and, when compared to undergraduates, a larger percentage of the postgraduate population is made up of international students, resulting in a larger proportion of postgraduate students being found to have committed plagiarism.
The figures from the University of Glasgow show that 1.76 per cent of all overseas postgraduate students from outside the EU committed plagiarism, compared to 0.11 per cent of all postgraduate students from the UK. Furthermore, around 25 per cent of the postgraduate population at the University of Glasgow came from outside the EU, compared to 3.5 per cent of their undergraduate population.
According to Aled Dilwyn Fisher, the Students' Union general secretary at the London School of Economics, cultural background influences the way that students approach the question of copying material.
"Many cases involve students who have experience in other countries' educational and cultural environments where different referencing systems are used – or, indeed, where no referencing systems are used at all," says Fisher who sits on the college's board that judges plagiarism cases. "These candidates often have absolutely no intention to deceive. There are usually language difficulties involved."
He remembers advising one student who was looking up the definition of "plagiarism" in their native language when he met them. "They had no idea that they had done something wrong," he says.
Since 2004, an independent body, The Office of the Independent Adjudicator (OIA), has been established to receive complaints from students, and has found itself getting a lot of complaints about plagiarism.
"More than one-half the plagiarism-related postgraduate complaints come from international students with citizenship outside the European Union, whereas less than one-third of undergraduate complaints about plagiarism come from this source," says Rob Behrens, who is head of the OIA.
Alison Bone, a principal lecturer at the University of Brighton, who has published many articles on plagiarism and assessment practices, says: "A great many Asian students have been taught very differently to British students. Their perception of education is that you sit and listen to the teacher and replicate what was said. That's just their view. They think the more you reproduce the work of experts, the better it is."
With this in mind, you might expect that Asian students would receive less advice about plagiarism from their own universities than British students do. But that is not necessarily the case.
The University of Tokyo, for example, strictly prohibits plagiarism in much the same way as British universities. The National University of Singapore has extensive plagiarism regulations. It states on its website: "No student shall represent the work of another person as his/her own in any academic assignment, thesis or project even if the material so represented constitutes only a part of the work submitted."
Henry Loh, a Malaysian student who studies in London, says that the South-east Asian view of plagiarism is developed before students reach university. "Students do know about plagiarism, but it's not enforced as strictly," he says. "The local school system teaches you that there is just one right answer. Most students see this as the textbook answer, so they are quite happy to just memorise the textbook, because that's what you get marks for. There is a much greater emphasis on repetition."
This view is endorsed by Jude Carroll, an expert on the subject and a principal lecturer at Oxford Brookes University. International students, before enrolling in UK universities, may have been very successful in systems that required them to find and reproduce answers, she says. Many have never attempted a piece of independent writing in any language, let alone an unfamiliar one such as English.
Sometimes these difficulties go ignored by academic institutions. Howard Green, senior partner of the consultancy Postgraduate Directions, believes that it is very difficult for British people to understand the struggles that many overseas students have with the UK approach to teaching and learning.
"What to us is straightforward and obvious is not necessarily so to them," he says. "I would suggest that for many overseas students coming from very different learning cultures, it is very difficult to differentiate between plagiarism, quoting and just using the professor's words."
Carroll suggests that the problems seen among international students might be similar for anyone who is re-entering education or changing disciplines, because these groups might also be unaware of the "rules of the game".
Another factor is that the amount of time spent assessing an individual postgraduate's work is far greater than the amount of time spent on an individual undergraduate's work, thereby increasing scrutiny and the likelihood of catching a postgraduate plagiarising, Green points out. Furthermore, the sheer pressure to do well is greater at postgraduate level, and this, coupled with the significant financial cost of studying for a postgraduate qualification, leads students to be more inclined to copy the work of others. Finally, the emphasis on essays and dissertations is usually greater at postgraduate level and it is in this type of written work that problems of referencing and attribution crop up.
For example, over the past three years every instance of plagiarism at the London School of Economics (LSE) has come from a postgraduate course. An LSE spokesman attributed this to the fact that most undergraduate courses are assessed by written examinations, whereas all postgraduate courses include a dissertation or other large written project.
The National Union of Students feels something needs to be done. Aaron Porter, vice-president (higher education) of the NUS, says: "These statistics give cause for concern as they suggest that not all postgraduate students are given the early-stages orientation and support with mastering higher-level study that would equip them to recognise plagiaristic behaviour.
"Institutions may assume that all postgraduate students are fully apprised of good practice in citation, without recognising that some postgraduates may have switched institutions, be unfamiliar with norms and good practice in their subject or need their citation skills brought up to date following a period spent out of higher education."
In Behrens' view, it is only by ensuring that students, including postgraduate students, understand the rules about plagiarism that improvements will be seen. "Effective handling of plagiarism requires action on a number of levels," he says.
"There must be clarity about the definitions and university regulations dealing with plagiarism, and easy access to them. There must be strict adherence by universities to these regulations in dealing with individual cases to ensure fair practice. This does not always happen."
There needs to be an understanding of the cultural dimensions of this issue, Behrens believes. Academic practices in other countries are not identical to those in the UK and expectations need to be clearly communicated at the beginning of every degree course. This is not just about international students. UK students coming from school or industry need to be clear about the rules and conventions of academic life so that they have the opportunity to learn good practice at the start of their university education.
The diversity of the student population will continue to grow, says Carroll, through widening participation, increases in the international population and more distance or work-based learning.
While the undergraduate population will still be dominated by students who have come through the British education system, the postgraduate population will be influenced by diverse groups. This diversity could give rise to more plagiarism cases. It will mean that experts will continue to call for greater awareness about the problem among postgraduates, because the assumption that they all know how to avoid it is clearly not the case.
Join our commenting forum
Join thought-provoking conversations, follow other Independent readers and see their replies