Universities bridge the Gulf between Middle East and West
Foreign universities are expanding into Arab countries, on the condition that standards stay high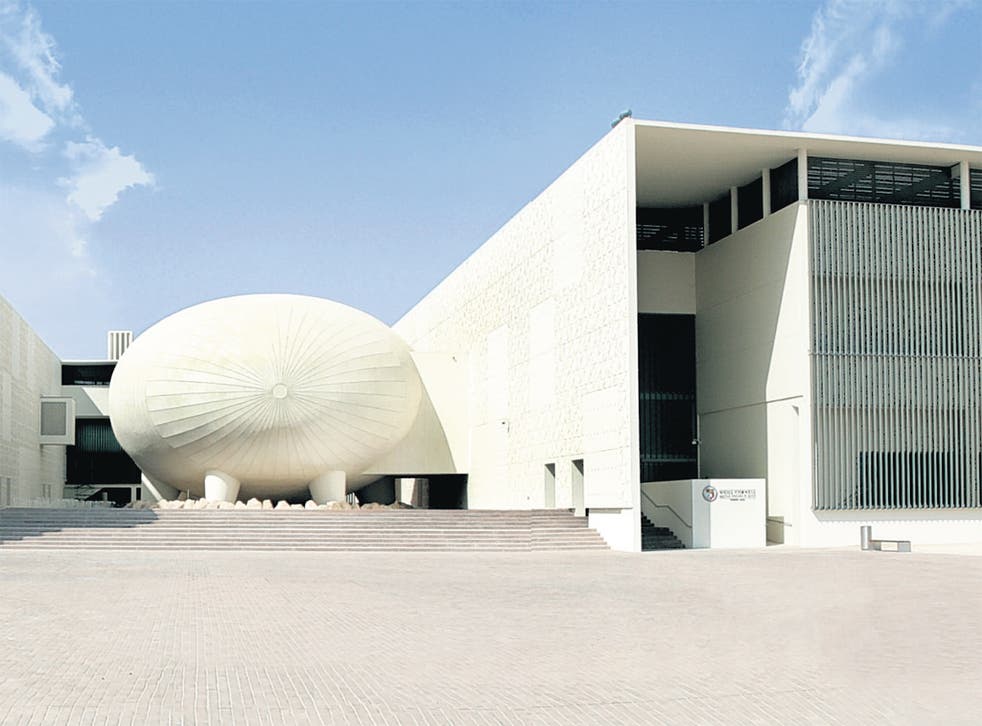 Winning its bid to host the 2022 Fifa World Cup in Doha, the Gulf emirate of Qatar showed the rising power of the Middle East. Its landmark football stadium will cool summer temperatures of around 40 degrees with solar panel-powered air-conditioning as the international teams play to crowded stands.
However, an even more amazing transformation has already taken place on the arid outskirts of Doha, where branch campuses of international universities have clustered to create Education City, a new learning hub for the region.
Commissioning top world architects and offering building grants, tax incentives and guaranteed student numbers, the state-owned Qatar Foundation began building Grand Designs university campuses with a vision to transform Qatar's education system and build a knowledge economy.
Education City hosts US universities Northwestern, Carnegie Mellon, Weill Cornell Medical College, Georgetown University, Virginia Commonwealth University and Texas A&M, which teach accredited degrees to the same syllabus and standards as in the US using expatriate or visiting faculty. Unlike higher education in many Islamic countries which tends to segregate the sexes, mixed classes are the norm.
Last year, the Qatar Foundation linked these branch campuses to create an overarching institution, the Hamad Bin Khalifa University, run along the lines of an Oxbridge college system. Universities have a semi-autonomous status but will employ increasing numbers of Qatari faculty and the integration of academic provision is ongoing.
"At Education City we are creating an umbrella organisation with four multi-disciplinary schools, each run by a dean," says Dr Abdulla bin Ali Al-Thani, the university's president and vice president of the Qatar Foundation. "We are also creating a faculty of Islamic studies offering Islamic finance, architecture, art and foreign policy, taught in Arabic and English."
Postgraduate provision is increasing as undergraduate programmes mature. The limited range of degrees is a reflection of the region's economic priorities: business, finance, medicine and petro-chemical engineering. Weill Cornell, for example, offers a four-year programme leading to a doctor of medicine degree, while Texas A&M, sponsored by Qatar Petroleum and the Qatar Petrochemical Company (QAPCO), specialises in chemical engineering and started recruiting postgraduates this year.
The arts are represented by Virginia Commonwealth University's master's in fine art and design, while University College London, which arrived in Doha last year, offers postgraduate studies in archaeology, museum studies and conservation. From next year, UCL's new master's programmes, in museums and conservation practice and in Arab and Islamic archaeology, will build on strong links with Qatar's Museum of Islamic Art. By 2015, the university aims to have 150 postgraduates, contributing to the Qatar Foundation's aim of making Doha a centre for Islamic culture.
Business is an even more recent postgraduate arrival. HEC Paris established a branch campus in Doha in February and immediately recruited 32 part-time MBA students, a mix of Qatari and expatriate business managers. The move means Doha joins St Petersburg, Shanghai and Beijing as locations for HEC's global executive MBA.
Travelling between locations, MBA students benefit from modules that offer a flavour of the local business conditions in developing economies. "Along with the influx of foreign direct investment, we see ourselves as contributing to the sustainable growth of the Gulf region," says Antoine Hyafil, HEC associate professor of economics and finance.
Much larger numbers of overseas universities are based in the neighbouring United Arab Emirates, notably Dubai and Abu Dhabi. More than 40 international universities are licensed to operate in the UAE by the Commission for Academic Accreditation (CAA). Dubai has set up inward investment "free zones", including two for higher education, Knowledge Village and Academic City, where universities can operate without government intervention. Dubai free zones host 20 international universities, including Manchester Business School, Hult International, London Business School and Cass Business School.
Paradoxically, tighter standards apply to the free zones and universities have to be accredited by Dubai's Knowledge and Human Development Authority KHDA. The chief condition is that universities offer the same standards and syllabuses as at their home campuses.
Based in Knowledge Village, the University of Wollongong in Dubai (UOWD) runs 40 per cent of all postgraduate programmes taught in Dubai. It is licensed by the CAA and accredited by the KHDA so can attract a mix of Emirati and expatriate students. Established in 1993, UOWD has expanded to teach 3,500 students including 1,500 postgraduates. "All of our master's programmes run from 5.30 in the evening and a high proportion study part-time while working," says David Rome, UOWD president. "Over a third of our students are Emiratis, mainly from the government and state-owned enterprise."
Although some Gulf-based universities, such as Strathclyde and Heriot-Watt, offer online distance learning degrees in areas like business and engineering, face-to-face teaching is still preferred.
Middlesex University in Dubai is in its seventh year in Knowledge Village. Of a student population of 2,050, 400 are studying postgraduate degrees. As at UOWD, the biggest programme is the MBA but Middlesex has been creating niche markets overlooked by the UAE's biggest local providers. "We've introduced master's programmes in education, teaching English as a second language (Tesol) and psychology," says Raed Awamleh, director of Middlesex's Dubai campus. "We're attracting Emiratis and expatriate professionals."
Join our new commenting forum
Join thought-provoking conversations, follow other Independent readers and see their replies