Student's refugee crisis book for children wins V&A Illustration Award
Author says book asks young children 'from a safe, comfortable background' to think about what it must be like to 'leave your home and make a journey into the unknown'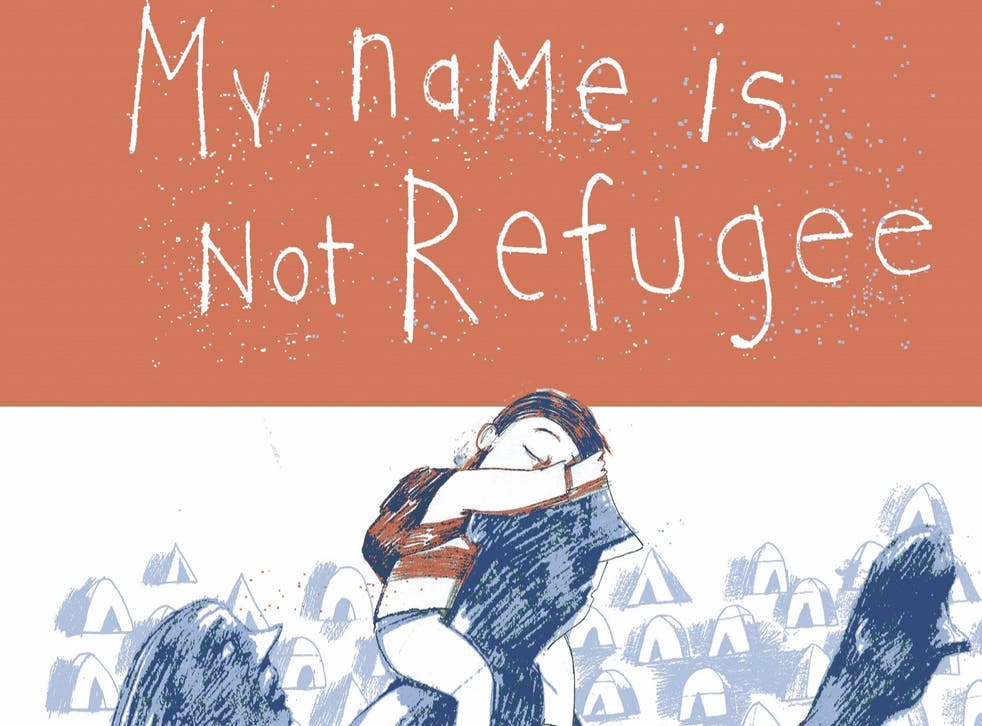 A Cambridge student who created a picture book to help young children understand more about the refugee crisis has won a prestigious award at the world's leading museum of art and design.
Kate Milner received the £3,000 Student Illustrator of the Year prize at the V&A Museum's Illustration Awards 2016 in London for her book My Name is Not Refugee which follows a mother telling her son a story about what is going to happen once they are forced to leave their home country.
The mature student, who will graduate with an MA in children's book illustration from Anglia Ruskin University in October, said the idea for the book came about when her daughter, a schoolteacher, said the children in her class were asking about the refugee crisis.
Milner said: "They didn't understand what was being discussed in the news and she had nothing to show them. The book is a story which asks children from a safe, comfortable background to think about what it must be like to leave your home and make a journey into the unknown."
Children's author Dame Jacqueline Wilson was one of several judges to feature on the panel who, above all, were unanimously impressed by Milner's bold attempt to tackle a subject outside the prevailing conventions of commercial children's publishing.
Speaking to the Independent about the mother-son relationship in the book, Milner said: "She gives him a positive view, like we all would with our children. She tells him things will probably be a bit boring - even a bit frightening - but, as long as they keep hold of each others' hand, they will be alright and that, in the end, they will reach a place where they can feel safe again.
"It doesn't include the fear, the hunger, and the exhaustion which must be part of a refugee child's real experience. You wouldn't, though, would you?"
As a parent herself, Milner said that, throughout the book's creation, she felt sympathy with the mothers because she could imagine what it must be like to not know how they were going to feed their children, or keep them warm.
Milner added that she was also affected by a series on BBC Radio 4 about a family trying to get from Syria to Germany. She said: "The mother said her children had been eating crisps for days because there was nothing else. All she wanted to do was cook her family a proper meal. I could really understand that - it's such a basic thing."
Speaking more about her hopes for the book's message, and describing how it will most likely be used in classrooms to educate children about the crisis, she said it's mainly aimed at children in European countries who might meet a refugee child in their school, or their street.
Milner continued: "It asks them to think what it must be like to leave your home with only what you can carry. It's about imagination and empathy. It asks questions like: 'If you could only take one thing to remind you of home, what would it be?', or: 'If you had to sleep in a railway station, where would you brush your teeth or change your pants?'.
"It concentrates on the everyday details of a child's life, not on the big political question about this current crisis. However, if there is anything I can do to counteract the prevailing view of refugees as 'invading hoards' trying to destroy our way of life, then I'm not sorry.
The refugee crisis - in pictures

Show all 70
"A child is just a child, whether they start their lives in Syria or Britain, Libya or Germany. They're optimistic, energetic, and open-minded and, for whatever reason we got into this current mess, it's surely not their fault."
In her 50s, Milner said she was "very privileged" to be getting a student award at this stage of her life having lost her job in a library due to cuts. She said: "Doing a Masters felt like taking a tremendous risk, but I had wanted to do the course for years, and this seemed the right time.
"I used to imagine what it would feel like if I could see a book I had written and illustrated in the library where I had issued and tidied away so many books by other people - now it looks like this will probably happen.
"I intend to make the most of this second go at a career and write and illustrate as many books for children as I possibly can."
All of the award-winning artwork from this year's V&A Illustration Awards will be displayed outside the museum's National Art Library until 21 August. My Name is Not Refugee is set to be published by Barrington Stoke.
Register for free to continue reading
Registration is a free and easy way to support our truly independent journalism
By registering, you will also enjoy limited access to Premium articles, exclusive newsletters, commenting, and virtual events with our leading journalists
Already have an account? sign in
Join our new commenting forum
Join thought-provoking conversations, follow other Independent readers and see their replies