Changing student finance system in England causing confusion and undoing financial education efforts, charity warns
Warning comes on the day Tories confirm tuition fees will be upped to £9,250 a year from 2017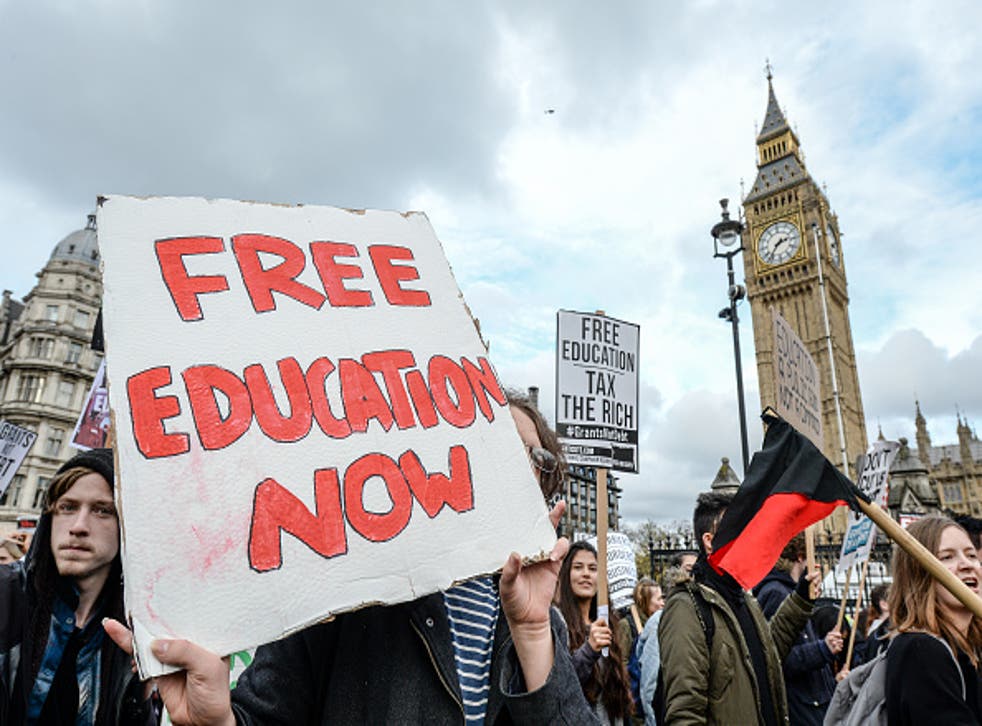 The ever-changing student finance system in England is causing confusion among young people, undoing financial education efforts, and possibly putting them off applying for university, a charity has warned.
Student finance and budgeting are not compulsory on the National Curriculum for sixth formers, MyBnk said, with many teachers lacking the expertise to even teach it, meaning many of the young students the charity comes across are unsure if university is for them, with "costs and confusion on fees abound."
The charity's warning comes amid mass outrage over the Government's decision to retrospectively hike student loan repayments by freezing the threshold at £21,000 until at least 2020, despite originally promising the threshold would rise in line with inflation.
The U-turn, which was debated in Parliament this week, means some two million graduates are now being forced to pay back more of their loan than what they had signed up to.
Changes to loan terms risks damaging the efforts the charity has put into educating young people, something which could also reverse efforts to teach young people how to manage money and make informed decisions, said MyBnk CEO, Guy Rigden. He added: "In sixth form classrooms across the UK, we told young people the terms of repayment and this played a role in their eventual choice to take a student loan.
"We do not blame or point fingers. We teach young people how to navigate the system and the Government has done great work by making money lessons compulsory in the secondary National Curriculum. But, by changing the terms, it makes our job harder, harms trust, and could dissuade many from engaging with products and contracts, causing financial exclusion."
The charity has also joined in the criticism of the Government on Thursday after Universities Minister Jo Johnson confirmed tuition fees in England will rise to £9,250 a year from 2017, with the increase possible applying to students who have already started their courses.
Labour MP and Shadow Minister for Higher Education, Gordon Marsden, said the Government's behaviour has been "disgraceful" and that it has used a "cynical last day of Parliament manoeuvre" before the summer recess to "sneak out." He said: "It fully justifies what we have said repeatedly about the Government abusing the concept of a Teaching Excellence Framework and using it as a Trojan horse for fee increases."
Social mobility charity, the Sutton Trust, said the move was "unfair" and will only add to student debts it has already shown in recent research to be by far the highest in the English-speaking world. The charity's chairman, Sir Peter Lampl, said: "This announcement does nothing to address the crisis in mature and part-time students, whose numbers have fallen dramatically since the 2012 fees rise. Adding to their fees and debts can only act as a further deterrent to this important 'second chance' route to social mobility."
The Liberal Democrats' spokesperson for universities, Lorely Burt, said the move is "a kick in the teeth" to students to tell them fees are going to rise at the same time as freezing the point at which they have to pay them back. She added: "The Government is reneging on the deal reached in 2010 - and that means poorer students paying back more and for longer. We will fight them every step of the way."
MyBnk said money management education is only compulsory for maintained secondary schools up to GCSE level, but not compulsory for academies, free schools, primary or sixth forms. Overall, just 26 per cent of teachers taught it last year, leading the charity to further push its Uni Dosh workshops into schools, colleges, and universities.
Register for free to continue reading
Registration is a free and easy way to support our truly independent journalism
By registering, you will also enjoy limited access to Premium articles, exclusive newsletters, commenting, and virtual events with our leading journalists
Already have an account? sign in
Join our new commenting forum
Join thought-provoking conversations, follow other Independent readers and see their replies