Oxford Brookes student paid almost £3,000 to be infected with typhoid as part of vaccine study
Student also took part in Ebola study last year in which she says earned £500 to be injected with a 'dead form' of the virus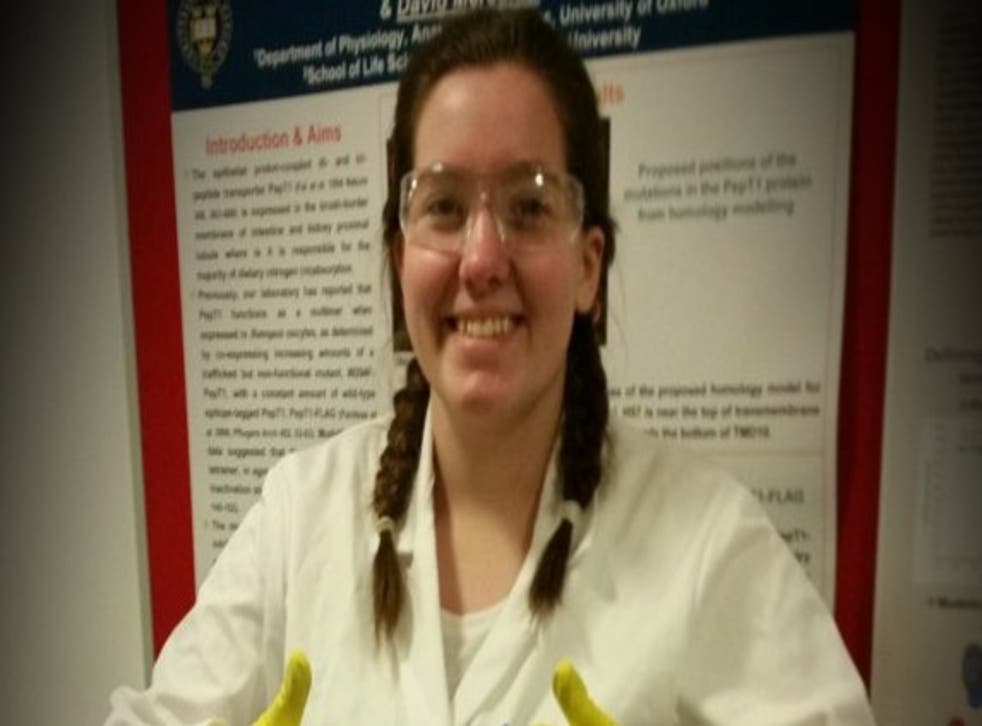 A law student has spoken out about her experiences of voluntarily being infected with typhoid as part of a vaccine study for which she has been paid almost £3,000.
Writing about her experiences in The Tab, third-year law student at Oxford Brookes University, Siân Rogers, revealed how she has been taking part in Salmonella Typhi vaccine tests for the Oxford Vaccine Group (OVG), which conducts studies of new and improved vaccines for adults and children at Oxford University.
Having been infected with the bacteria - as well as being given one of three new vaccines to trial between now and next January - the 22-year-old described how, in the second week, she fell ill, and wrote: "I started feeling woozy on the Monday and I just put it down to a busy day and having blood taken. But, by Tuesday, I could barely get out of bed."
After being prescribed antibiotics, Miss Rogers was back to feeling herself and, despite struggling to attend early-morning lectures, said being paid £2,900 made it "definitely worth it."
Ebola nurse back in hospital
On the whole, Miss Rogers cautioned others who are considering participating: "If anyone was thinking of doing a study, make sure you know exactly what you're signing up for."
However, seemingly unfazed by an experience which may have many other people thinking twice about making the move, speaking with the Independent, Miss Rogers said, despite the fact she may be coming across as being "unfazed," she feels safe because OVG "tells you everything about what's going to happen" beforehand.
She said: "I think a lot of people are scared about getting sick but, I used to get tonsillitis so badly I'd been hospitalised, so it didn't seem too big a deal.
"I've also seen the good that medical research does first-hand, so I think helping research outweighs the risks."
This isn't the first time the student has taken part in such a trial. Last year, Miss Rogers said she was paid £500 to take part in an Ebola virus study for which she was injected with a small amount of the "dead virus." She said: "It was modified not to spread through my body. Similar to the way the MMR vaccine works, my body still builds up the immunity, but I don't get sick."
Highlighting how seeing the Scottish nurse, Pauline Cafferkey, being admitted to hospital for the third time since contracting Ebola made her think, 'What if we had this vaccine sooner?' Miss Rogers added: "People may be scared but if everyone was too scared to try something new then nothing would happen. Progress would stop."
Dr Matthew Snape, who led the Ebola trial, said the participation of the hundreds of volunteers was "a crucial component" of the global response to the Ebola crisis. He added: "Participants received vaccines based on inactivated, non-Ebola, viruses modified so they express a key Ebola protein. These have been designed to be a safe way to teach the immune system how to respond to the Ebola virus, without any exposure to it.
"The results from numerous studies in Oxford have been very encouraging, and allowed the rapid progression to further studies of these vaccines in Africa."
However, acknowledging how typhoid can be serious, Miss Rogers insisted her experience was "definitely not fun." She said: "I just felt like I had really bad flu and my temperature was 38.9 at its highest."
Doctor: Ebola is a challenge
Even though the money received may seem like an added bonus, Miss Rogers said it was necessary because staff at OVG know there's the likely possibility participants involved in their studies may have to miss work. However, the student said she was given an emergency number to call if she felt too ill or was hospitalised. In that case, she said she would have been given antibiotics "as soon as possible."
Miss Rogers concluded: "I was actually given them before the lab officially diagnosed me because I had such a high temperature. The way they work it out means you get paid for attending visits, giving blood, and missing work."
In an email to the Independent, Oxford University and OVG said the symptoms Miss Rogers experienced "were expected" and said all volunteers are given a detailed information booklet which explains what they might expect and what OVG would do should participants have any concerns.
A trial information booklet, which is written by the research team and approved before the trial starts, says: "Severe problems are unlikely, as we would treat participants very early on in the course of illness. Severe complications are rare and mainly occur when typhoid fever is not treated properly or immediately. It is for these reasons it would be crucial for participants to take the full course of antibiotics, stay in contact with the study team, and let a study doctor know as soon as they develop a temperature or feel unwell."
Carefully managed, an Oxford University spokesperson added how "this is a safe process" and said exposing people to the live bacteria is known as "a challenge," but that around 2,000 people in the US and in Oxford have had a typhoid challenge safely, in the process, providing "vital information" about the disease and how to beat it.
In pictures: Ebola virus

Show all 62
Describing how typhoid still kills more than 200,000 people each year - mainly in developing countries - the spokesperson explained: "It is a highly effective way to test whether a possible vaccine can provide protection against infection and, if this vaccine is shown to work well in the challenge studies, it could be rolled out to prevent infection and save lives in some of the poorest communities in the world."
Daily hospital visits for participants are part of the design for this trial, said the university, both ensuring volunteers are safe and gathering information about the efficacy of the trial vaccines. They take place at Oxford's vaccine research centre - based on the Churchill Hospital site in the city - and the amount paid to participants reflects "the inconvenience of these frequent visits" and is "not an indication of risk."
Dr Celina Jin, who is leading the typhoid study, said: "This is a carefully designed trial, using a technique shown to be safe in previous trials with around 2,000 people. The design minimises risk to volunteers, an essential requirement for the study to receive ethical approval.
"We explain the process and the risks to all volunteers, who can stop the trial at any time. Regular appointments ensure we can spot any adverse effects and begin treatment immediately if required - which it has not been. At the end of the trial, all volunteers receive a course of antibiotics to remove the typhoid bacteria in their body."
Dr Jin said the Oxford Vaccine Group is grateful to all volunteers who "knowingly and willingly take these small risks" in order to help the team develop life-saving vaccines which could see thousands of people be saved each year.
Join our new commenting forum
Join thought-provoking conversations, follow other Independent readers and see their replies