The Independent's journalism is supported by our readers. When you purchase through links on our site, we may earn commission.
Student suicides: Life for young people 'fraught with loneliness and anxiety', says academic
Professor's comments come just weeks after ONS figures show student suicides are at an all-time high since 2007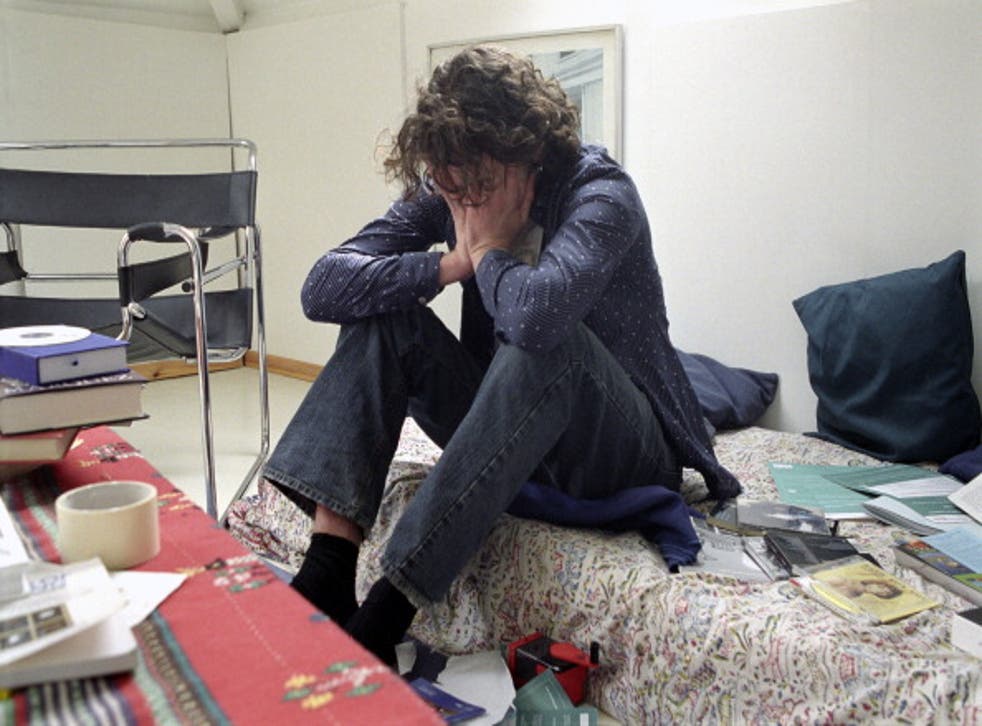 The growing problem of suicide among students has been highlighted again, this time by a professor who has described how student life can be "fraught with loneliness and anxiety."
Speaking at a conference on student wellbeing in Belfast, Ulster University's Professor Siobhan O'Neill addressed the issues of self-harm, alcohol, and suicide, presenting, for the first time, findings from a study of 355 suicides in young people aged under 25 years in Northern Ireland.
She described how young people who die by suicide are "somewhat different" from the older age groups, and explained: "Over half will have had a prior attempt; around 64 per cent of the males will have used alcohol at the time of death, and a third of females who die by suicide in this group are students.
"Furthermore, our studies show around 60 per cent of students have anxiety difficulties, around one in five have self-harmed, and as many as one in ten have planned or attempted suicide in the year prior to going to university."
The academic also described how the competitive academic environment, along with additional life challenges, mean that, for many, student life can be "fraught with loneliness and anxiety." She continued: "Without proper support, damaging patterns of stress management behaviours can take hold. Alcohol, drug abuse, and self-harm behaviours are incredibly common and powerfully addictive. There is lots of evidence that these are illnesses that can be treated."
Professor Peter McBride, chief executive of the Northern Ireland Association for Mental Health (Niamh), said mental health is "rising on the health agenda," adding: "More needs to be done to tackle the stigma which still hangs over us and makes it hard to talk about.
"Our research has clearly demonstrated those who have sought help really benefit from it. They key is to ask for help and the challenge for us all is to work together to offer the support that is needed."
Alistair Sweet, head of clinical services at Addiction NI, described how young people may turn to alcohol or drugs to try to avoid problems and to cope with study pressures. However, he said: "Unfortunately, this kind of 'self-medication' may lead to serious physical or psychological problems of dependency and actually make it harder to cope."
The conference has come just weeks after data from the Office for National Statistics showed the number of student suicides across England and Wales have soared to their highest level since 2007.
The figures highlighted how there were 130 suicides among both nations' full-time students aged 18 and over in 2014, with the number considerably higher among men (97). In 2007, there were 75 suicides.
A spokesperson for Samaritans told the Independent it is "a tragedy" that at university - a time when the world and opportunities should be opening up to young people - some find their problems overwhelming.
The spokesperson added: "We need to start early in secondary schools getting the message across to young people that asking for help is okay, and supporting others is too. We need to reach young people who are not on the radar of the mental health services, and who slip through the net."
At the same time the ONS figures surfaced, a separate report for the University of York found 80 per cent of UK universities highlighted a noticeable increase in complex mental health crises among their student population from 2014 to 2015.
The report added how NHS mental health services are "regularly failing" to meet the needs of vulnerable people, including students, and warned: "Within the higher education sector, evidence from student services leaders points to serious gaps in mental health provision, with delayed and inappropriate NHS support for students in need of care."
If you've been affected by any of the issues in this article, please call Samaritans at any time from any phone on 116 123 for help, support, and advice. It is free and will not appear on your phone bill
Join our new commenting forum
Join thought-provoking conversations, follow other Independent readers and see their replies