The Independent's journalism is supported by our readers. When you purchase through links on our site, we may earn commission.
Star Wars actor and BAFTA Rising Star Award hopeful, John Boyega, appears as young student in old stock images at Nebraska university
'The force is strong with this one', says startled photographer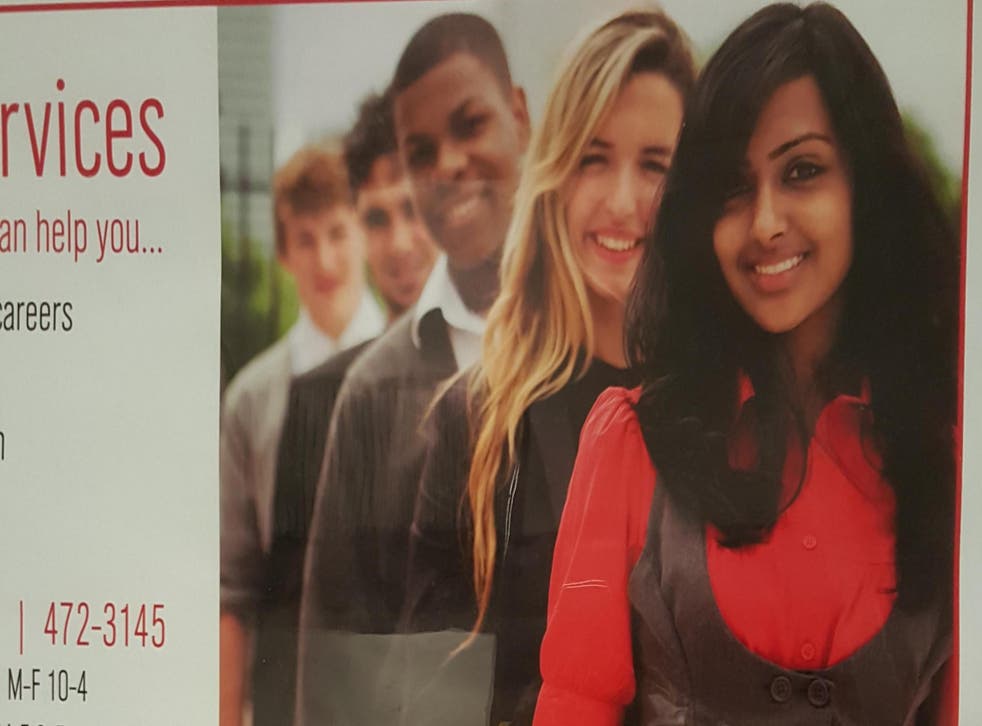 His expression is rather cool, calm, and collected - it's almost as if he knows what the future holds. Little did the other students in the photograph know who he was to become: a star in the legendary space film series that is Star Wars.
A new post on image-sharing site Imgur is beginning to do the rounds after a student at the University of Nebraska-Lincoln in the US spotted something different in a seemingly standard education poster featuring a row of smiling students - one of them is none other than a teenage John Boyega.
Boyega, who recently shot to super-fame after playing the character of as Finn in Star Wars: The Force Awakens, was, this week, named as one of the five faces lined up to be in the running for the Rising Star Award at the Bafta Film Awards next month.
It is unclear exactly when the image was uploaded onto the stock agency site Getty. However, titled 'Further education: school friends', the picture's accompanying caption reads: "A group of 5 late-teenage school friends in a line with bright smiles and eye contact for the camera."
The student who uploaded the image probably had to look twice and rub his eyes when he spotted the actor, and wrote: "I was a bit surprised to see Finn from Star Wars on a poster at my university."
Star Wars: The Force Awakens London premiere

Show all 24
Even the photographer, Chris Schmidt, was taken aback after the discovery came to light, and took to his Facebook to write: "A long time ago in a galaxy far, far away... I did an education themed stock photo shoot with a bunch of teenage students; it turns out John Boyega did quite well afterwards.
John Boyega surprises fans at Brixton's Ritzy
"The force is strong with this one…"
That it is, Chris. That it is.
Prior to Star Wars, the 23-year-old from Peckham in London had only received one major film role as Moses in 2011's British sci-fi comedy Attack the Block, and also featured in the supernatural webisode series Becoming Human, a spin-off from BBC Three's Being Human.
Later this year, though, the young Brit looks set to move onto bigger things as he stars opposite Tom Hanks and Emma Watson in the film adaptation of The Circle, an adaptation of the Dave Eggers' novel of the same name.
Register for free to continue reading
Registration is a free and easy way to support our truly independent journalism
By registering, you will also enjoy limited access to Premium articles, exclusive newsletters, commenting, and virtual events with our leading journalists
Already have an account? sign in
Join our new commenting forum
Join thought-provoking conversations, follow other Independent readers and see their replies