I faked a student pregnancy, and I was horrified by the reaction
With the birth of the royal baby, the world has gone pregnancy mad. But as Ellie House found, pregnant students do not experience nearly so much goodwill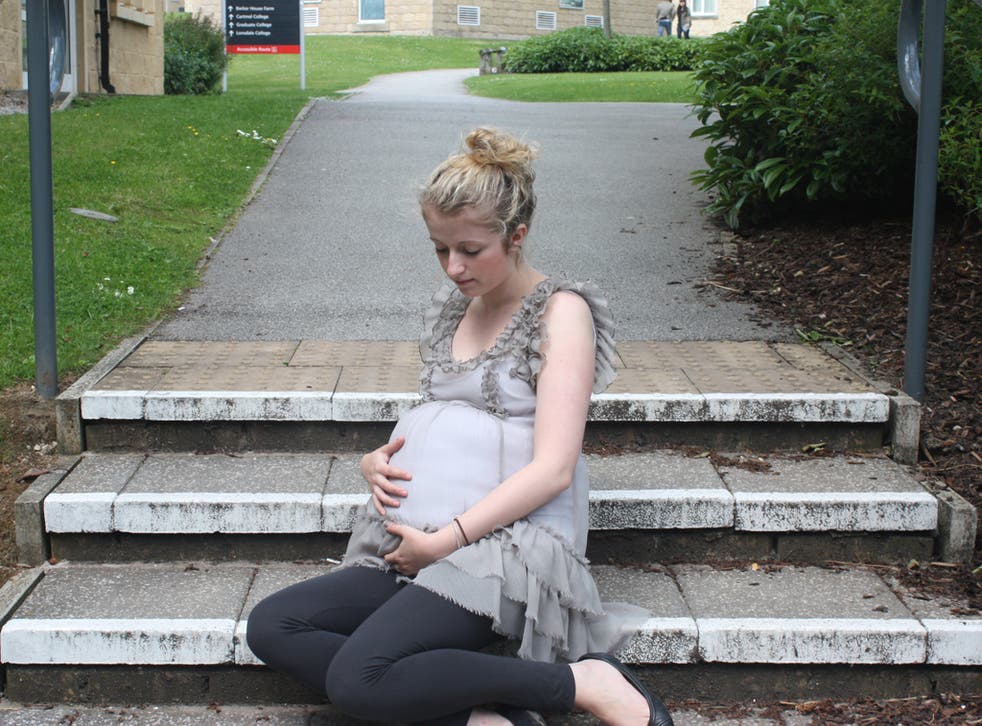 Like thousands of people around the country, I waited eagerly for news of the royal arrival this week. There is no denying that Kate's pregnancy has been the most celebrated bump in the UK, much scrutinised over the past nine months. And yet not so long ago, a bump of an altogether different kind was examined, and many an unwelcome eyebrow was raised.
I made, shall we say, an experimental stumble into the world of pregnancy, by strapping on a fake belly for a few days at university to see what would happen. The results were eye-opening. As students, we study, we shag, but we do not have babies. We all know the story of the broken condom, yet in my three years at university pregnancy simply wasn't spoken about, except in worried whispers. But why is society uncomfortable with the image of a pregnant student, when a mother outside of education would not warrant a glance? I wanted to find out.
On day one of the experiment, it was abundantly clear that although Kate's bump could do no wrong, mine would never be right. We as a society love pregnancy, but only in picture-perfect conditions. My bump did not belong in the library, or anywhere else on campus for that matter; I came up against a wall of stereotyping. Outlandish or frequent sex at university is no problem – there are no barriers when it comes to body fluids or fetishes, but pregnancy is strictly out of bounds.
Bumps are public property; mothers-to-be Instagram their growing bellies, and they are usually patted by everyone but the family dog. Mine, on the other hand, was clearly unwelcome from the moment I walked into the campus library. As I returned some books, a gaggle of girls stared at me from their revision corner, nudging each other and pretending to study. Indeed it was girls who looked at my bump as if it might explode any minute, avoiding all contact with me. Another, impeccably groomed with an armful full of files, raised her eyebrows before neatly sidestepping me on the stairs. As a student, I had every right to be in the library, but my bump certainly did not.
Walking round campus was no better. My cheeks burnt as a group of lads walked past, dribbling a football. They gave me sidelong glances, and stopped their conversation entirely as I walked past. And when it came to taking the photographs for this piece, I wished for the ground to swallow me up. Curtains twitched, and some students didn't even bother to hide their fascination. I could not have attracted more attention had I stripped and danced the Can-Can, such was the need to stare at my bump.
The majority of students are perfectly happy to talk about their sex lives, but the topic of contraception is skimmed. We're doing degrees, so of course we use protection, runs the argument. This is true to a certain extent, yet I have been privy to many a whispered conversation concerning missed tablets during a stressful week, the lack of a condom, or all caution thrown to the wind in a moment of vodka-fuelled lust. Students are expected to drink, party, but most important of all, have sex. I was given condoms in my fresher's pack; they're even lobbed around in clubs.
This could be said to encourage safe sex, but there is also the presumption that we're having sex in the first place. The media would have you believe that uni is practically an orgy, and few students discourage this conception. The idea that such antics are always protected is ludicrous, yet we seem horrified at the thought of new life emerging from the standard bonk.
Esmee Thomas is one student who found herself pregnant, just before starting her second year at Lancaster University. Two years on, and she has become a qualified child minder, which enables her to work while taking care of her young daughter.
"Becoming pregnant was certainly a surprise," she explained. "I had been with my partner for five years, and I had the dream of getting married and starting a family, but not for a long time."
While she certainly did not find herself pregnant as a result of a one night stand, she was met with veiled hostility from those around her. Having decided to go ahead with the pregnancy, she quickly became overwhelmed by the lack of support she received from university, and left when she was six months pregnant.
"My family and friends were happy for me, and I really wanted to continue with my studies. I underestimated how tiring it would be to try and cram my course in while I was pregnant though."
Struggling with coursework deadlines was just one of the many issues that Esmee faced, especially when her pregnancy became more prominent.
"At first it was okay, because my closest friends didn't judge me in the slightest. But as my bump grew, I felt more and more out of place walking around campus. I even felt too self conscious to go to clubs.
"I felt very lonely, not so much because I was pregnant but because there was no understanding. I didn't feel like I had a right to complain, when I was under so much stress. I didn't have a right to moan, because I had chosen to stay at University."
Many universities do have some form of support in order. Under the Equality Act of 2010, they have a legal responsibility to prevent those who are pregnant from discrimination. This includes not penalising students who may miss exams or coursework due to pregnancy. This all sounds fine, but there are plenty of universities who would rather remain tight-lipped about pregnancy, only becoming involved if they absolutely have too.
I was expecting the very worst when I ventured into town for the standard food shop, only to find that nobody gave a damn outside of the university environment. The bus driver barely glanced at me, nor did my fellow shoppers. Students clearly viewed my bump as an encroachment upon everything university stood for, independence, academia, and a hedonistic lifestyle. The locals of Lancaster on the other hand, did not see anything unusual about a young mother to be, and so I was awarded a brief hour of normality. I did not dare venture out to clubs that night, in the belief I would be ridiculed, and even prevented from entering. It is ironic that we have more freedom than ever before, indulging in whacky societies and proclaiming acceptance for people of all sexualities. Pregnancy it would seem is the final hurdle, which could potentially never be overcome.
One thing quickly became apparent. The majority of people knew of someone who had an abortion, only to quickly say 'but I'm not meant to know about it'. Abortion is of course a sensitive and deeply personal topic, but also one that is shrouded in secrecy.
Maddie Howard, president of Lancaster University feminist society, shone some light as to why pregnancy is such a taboo topic at university, and believes that there is a 'silent acceptance' surrounding abortion.
"Sex is genially presented as inconsequential, especially if you consider the wide range of contraception available. There's no shame in talking about contraception anymore, but so much more needs to be done in facing up the consequences without judgement or reserve," she said. "It's ok to have sex, but an unwanted pregnancy is still considered shameful."
LIFE, a pro-life group, currently banned at many campuses across the UK, offered pregnancy support to students in 2011, and even had their own freshers' stall at several universities. Without wading into an abortion debate, why should such a group feel the need to target students in particular? This sort of behaviour demonstrates the range of confusing and even ill-informed attitudes towards student pregnancy, in an era where women no longer need risk their life to perform an abortion, and yet a bump of any size, belonging to any person, is judged.
So as Kate settles into motherhood, I was more than happy to unstrap my bump and return to normality. But what has my brief fling with pregnancy revealed, other than a confusing relationship between sex, academia, and reality? While students are happy to reveal pillow talk, pregnancy is taboo despite the fact that the student lifestyle can ultimately lead to it. Kate and William fulfil our image of baby bliss, whereas the pregnant student faces Tumble Tots alone. You know what else? When speaking with friends, family and lecturers, the role of the student father was repeatedly avoided. Therein lies a whole other pregnant truth.
Join our new commenting forum
Join thought-provoking conversations, follow other Independent readers and see their replies