Summer adventure on a student budget? Festivals in Europe may be your ideal retreat
Trudy Williams
Tuesday 15 April 2014 13:29 Comments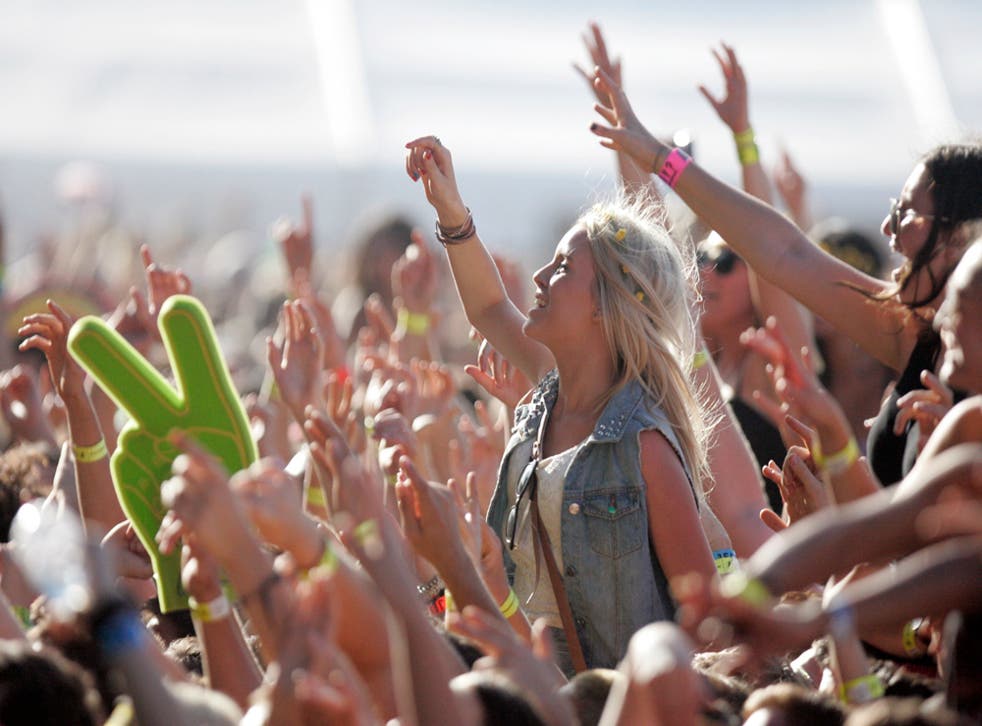 As summer fast approaches and student budgets dwindle, you find yourself stuck in a dilemma when planning your summer getaway. Festival or holiday? Your poor party-animal heart, torn between hearing this year's best live music, or jetting off to a new, exciting country to unwind and let go. But what if you could do both without breaking the bank? It's easier and more affordable than you think.
Matthew, a 21-year-old student at Bath, attended the Heineken Open'er Festival in Poland in July 2013: "Not only did we see some great music, we saw a lot of the country on our travels and the people we met were really friendly. I hadn't considered going abroad for a festival before, but I would recommend it to anyone."
Along with a group of 10 other students, Matthew travelled through Europe, staying in Poland for a total of nine days. The admission to the festival (including five days camping) was just £80 per person. And with flights priced at under £100, their overall expense (minus the alcohol fund, of course) came to less than the price for most major UK festivals, which range from £170-£250 for camping and admission. And that's without adding travel costs.
"We managed to see some of our favourite bands like Blur, Arctic Monkeys, Kings of Leon, Alt-J, Editors..." Matthew says.
Many of the bands that played last year's Open'er festival have been announced on the line-up for Reading and Leeds 2014 this coming August. The Open'er festival is also situated right on the beach-front, so the lads even had the pleasure of swimming whilst enjoying the festival atmosphere.
The local people were very welcoming towards the British group and invited them to join in with their activities. "One night, after the festival music had wrapped up, we were asked by some of the locals to go along to a nearby beach party that lasted until the morning, we got a great taste of their culture - and lots of their spiced meat!"
Companies online offer package deals to keep all your bookings in one place. Matt, from musicfestivalholidays.co.uk, says: "This year, Croatia is our most popular destination for festival holidays, particularly for students looking for a reasonably priced music and party experience." This year, over 10,000 Brits have booked to attend festivals in Croatia such as Hideout, Outlook and Dimension, some of the hottest dance music festivals in the world. But not only the music attracts party-goers.
"The drink prices are still really cheap in Croatia, and the fact that it's not as commercialised as other party areas such as Ibiza means that it's not too overcrowded, or overpriced."
But if Croatia isn't on your list of destinations, Matt assures that there are many more options out there. They also run trips to events such as Snowbombing, an Austrian festival dedicated to a weekend of skiing, snowboarding and music. This year, Snowbombing will play host to great acts like The Prodigy, Chase and Status and The Chemical Brothers. Who knew there were festivals on ski slopes? 
How to get the most out of your festival experience
Plan your days ahead: to guarantee you don't miss your favourite artists, get a festival programme and plan what acts you'll watch. Note when they start and what stage they will be performing on. Don't be afraid to split from the group and arrange to meet later so that everyone gets the most of their money.
Try new things: Never heard of the band? So what! Eww, what's that food? Try it! You never know, that little bit extra could make your festival complete.
Enjoy yourself! Of course, safety considered, but have fun and let go! The daily grind will be back before you know it...
Register for free to continue reading
Registration is a free and easy way to support our truly independent journalism
By registering, you will also enjoy limited access to Premium articles, exclusive newsletters, commenting, and virtual events with our leading journalists
Already have an account? sign in
Join our new commenting forum
Join thought-provoking conversations, follow other Independent readers and see their replies