Conspiracy theorists spread '5G Covid' mind-control chip diagram that is actually a guitar pedal
Conspiracy theorists claimed the chip could control people's minds, despite the diagram being for a Boss Metal Zone MT-2 pedal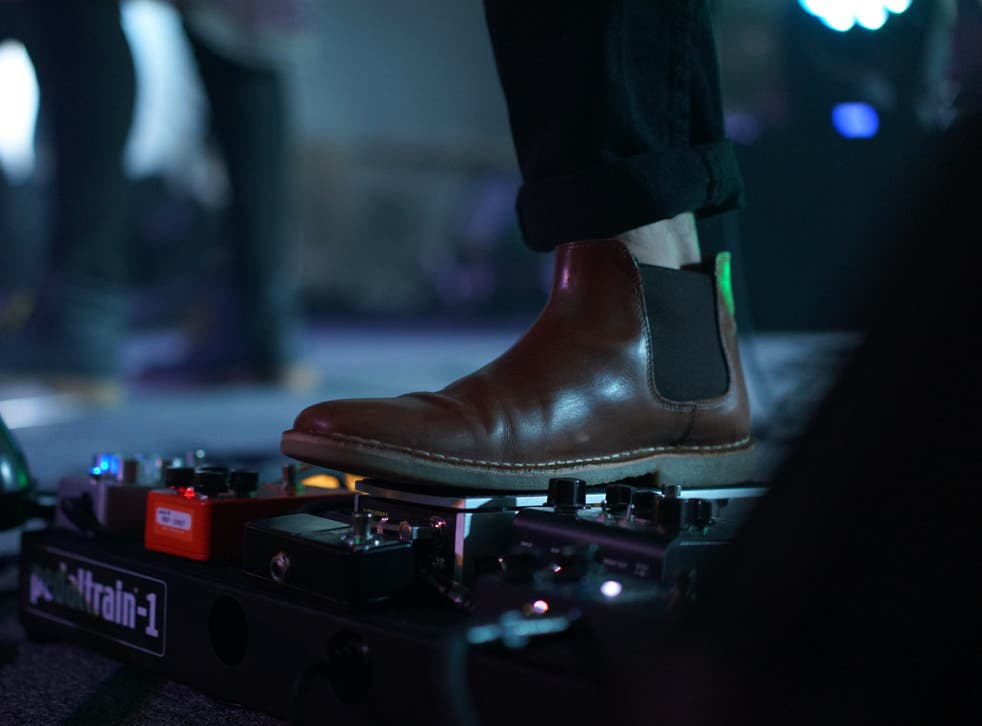 Leer en Español
A viral image of what is purportedly a diagram the 5G chip conspiracy theorists believe to be part of the coronavirus vaccine is actually a circuit for a guitar pedal.
The schematic, which was shared by software engineer Mario Fusco on Twitter, reportedly went viral in Italy and Romania through various sources, including self-publishing platforms like Telegraph.  
"The Russians have managed to remove the nanochips from the Pfizer vaccine and have published a function diagram!", posts sharing the diagram claim.
They go on to say that the bass and treble elements control instructions that can be heard in the recipient's brain, as well as a controls to overwhelm the immune system.
"The VOLUME control is used for the overall power of the chip, which is sometimes sensitive to your frequency. from personal vibrations, it depends on whether you are at the stage of happiness or generosity or sadness", it continues, without any justification.
However, the image is in fact the plans for a Boss Metal Zone MT-2 guitar pedal, which would explain the mention of "MT-2 Gain," "Footswitch," "Treble," and "Bass," in the diagram – as well as a "5G frequency".
That section that seems to be the root of the conspiracy theorists' misunderstanding, as well as the obvious editing that adds "Covid 5G Chip Diagram" and "Confidential" to the diagram.
The relationship between 5G connectivity and the coronavirus has been a favourite of conspiracists despite no actual evidence.
Coronavirus conspiracy theorists in the UK believe a "whirlwind of disparate reference points" that includes paedophilia, protests in Belarus, Northern Rail's face covering policy that all lead back to a shadowy cabal.
False rumours about Bill Gates' malevolent relationship to the vaccine hold in March when Mr Gates said that there may be some "digital certificates" to track who had recovered, been tested and received a vaccine for the coronavirus, the BBC reports.
In the United States, scaremongers have hyped the influence of laptops and wireless networks and 5G towers have been destroyed in the UK as a result.
Some of the more ridiculous claims include that such towers suck the oxygen out of the atmosphere and disrupt the regular functioning of the human body.
In May, conspiracy theorists managed to market a £300 USB stick called the 5GBioShield which claims to use a "wearable holographic nano-layer catalyser" to protect people from "disturbing frequencies". 
These were was, in fact, regular USB stick which cost approximately £5 and provided no other function.
The only difference appears to be a circular sticker attached to the device. "We're not 5G quantum experts but said sticker looks remarkably like one available in sheets from stationery suppliers for less than a penny each," Ken Munro from Pen Test Partners, a company which dismantles consumer electronics to detect security vulnerabilities, said at the time.
Register for free to continue reading
Registration is a free and easy way to support our truly independent journalism
By registering, you will also enjoy limited access to Premium articles, exclusive newsletters, commenting, and virtual events with our leading journalists
Already have an account? sign in
Register for free to continue reading
Registration is a free and easy way to support our truly independent journalism
By registering, you will also enjoy limited access to Premium articles, exclusive newsletters, commenting, and virtual events with our leading journalists
Already have an account? sign in
Join our new commenting forum
Join thought-provoking conversations, follow other Independent readers and see their replies