Apple's Tim Cook: Business isn't just about making profit
Apple's chief executive was responding to conservative think tank National Centre for Public Policy Research that has challenged the company's sustainability goals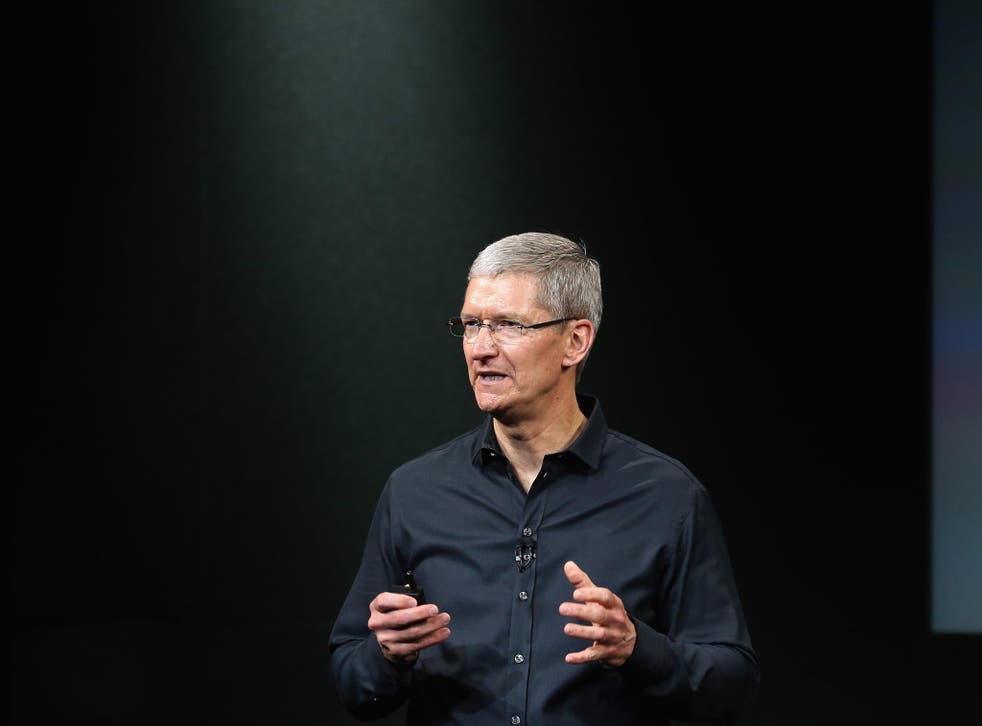 He leads a company that some would consider the epitome of ruthless global capitalism. But Apple chief executive Tim Cook has shocked some in the US with an impassioned attack on the single-minded pursuit of profit – and a direct appeal to climate-change deniers not to buy shares in his firm.
Eyewitnesses said Cook, who succeeded Steve Jobs as boss of the technology giant in 2011, was visibly angry as he took on a group of right-wing investors during a question-and-answer session at a shareholders' meeting.
Responding to calls from the National Centre for Public Policy Research (NCPPR), a conservative think tank and investor, for Apple to refrain from putting money in green energy projects that were not profitable, he shot back that Apple did "a lot of things for reasons besides profit motive". The chief executive added: "We want to leave the world better than we found it."
Addressing he NCPPR representative directly, he said: "If you want me to do things only for ROI [return on investment] reasons, you should get out of this stock."
Cook, who is generally known for his level-headed demeanour, also insisted that he places more importance on helping people and the environment than on pure profit, saying: "When we work on making our devices accessible to the blind, I don't consider bloody ROI."
Bryan Chaffin, a technology writer at The Mac Observer who attended the meeting on Friday, said it was: "The only time I can recall seeing Tim Cook angry."
More than a business: How the iPhone became an icon over 7 years

Show all 7
He added: "His body language changed and he spoke in rapid-fire sentences compared to the usual controlled way he speaks."
The NCPPR had challenged Apple's sustainability goals, one of which is eventually to have 100 per cent of its power come from green resources, and asked what effects such measures, along with investing in green initiatives, would have on the firm's bottom line.
The think tank's shareholder proposal was voted down at the meeting, which would have required Apple to declare the costs of any sustainability programmes it invested in.
Since taking the helm at Apple in 2011, Cook has made notable improvements to the company's use of renewable energy, increasing the use of solar, wind and geothermal resources used to power Apple's offices from around a quarter of its total energy use to more than 75 per cent.
The 53-year-old has also committed millions of dollars of Apple's money to various good causes – in contrast to his predecessor Jobs, who reportedly once told colleagues that giving money to charity was a waste of time.
Cook has also taken action to improve the conditions at the Foxconn plants in China where iPhones and iPads are made, after widespread criticism about high rates of worker suicide and claims of exploitation.
"We believe that workers everywhere have the right to a safe and fair work environment," he has said.
Register for free to continue reading
Registration is a free and easy way to support our truly independent journalism
By registering, you will also enjoy limited access to Premium articles, exclusive newsletters, commenting, and virtual events with our leading journalists
Already have an account? sign in
Register for free to continue reading
Registration is a free and easy way to support our truly independent journalism
By registering, you will also enjoy limited access to Premium articles, exclusive newsletters, commenting, and virtual events with our leading journalists
Already have an account? sign in
Join our new commenting forum
Join thought-provoking conversations, follow other Independent readers and see their replies