Apple CEO Tim Cook: As Brexit hangs over UK, 'times are not really awful, there's some great things happening'
Exclusive: The most important talks about the app economy, the importance of coding and Augmented Reality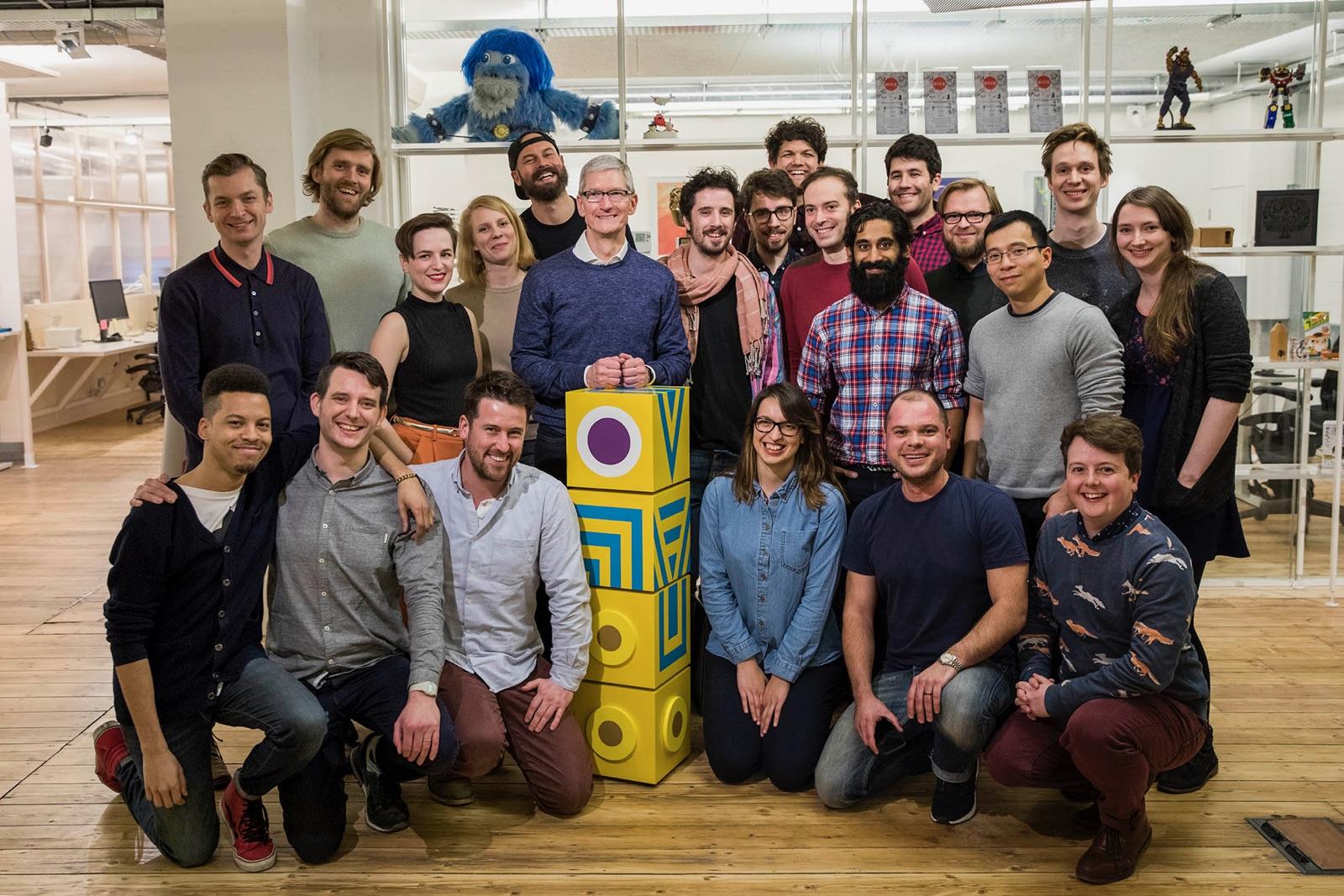 It's said that the Queen must think everywhere smells of paint, as a fresh coat is usually applied to spruce up places just before she visits.
In which case, Tim Cook must think everyone he meets is very excitable, because there's nothing like a visit from the Apple CEO to create the feeling of A Special Event. Every person he meets is quietly fizzing with anticipation.
Tim Cook has been having quite the week. On Monday and Tuesday he was whistlestopping round France and Germany, arriving in the UK on Wednesday.
After receiving an honorary doctorate from the University of Glasgow on Wednesday night, he answered questions in a fireside chat with 1,100 students.
Gadget and tech news: In pictures
Show all 25
On Thursday morning, he met the Prime Minister in Downing Street, then the Mayor of London. He visited a school and then on to south London to ustwo, makers of video games including Whale Trail and the remarkable Monument Valley. It's one of the most successful developers in the UK and beyond: Monument Valley has earned $15 million and counting. Cook had come to see their current and future projects.
The co-founders of ustwo, known to everyone as Mills and Sinx, plus the Head of Studio (who unusually, it seems for the company, has the luxury of two names) Dan Gray, guided Cook around, showing storyboards, colour palette samples and more.
I asked them about the history of Monument Valley. Mills (Matt Miller) explained: "We'd previously been doing client services work, we still do. When the App Store arrived in 2008 we thought, maybe we could make some money from it, and at the very least we were going to have some fun. We've always been a company that was a community of people with a passion for making things and as a byproduct of that hopefully we'd make some money. We realised that thanks to the App Store, even though we had no background in games until we brought Dan in, we could have a distribution channel and put something out there."
I'll be profiling the company and its work separately in more detail, but their infectious enthusiasm wasn't lost on Cook, who was intrigued by every detail and clearly engrossed as he played the game.
Having hosted the fireside chat in Glasgow the night before, I caught up with Tim Cook in the gaudy comfort of ustwo's new offices – a former pickle factory.
How did you find Wednesday night's fireside chat?
It was great. The students were very engaged. I was impressed by both the quality and quantity of questions.
It's been a busy week. Where do you get the stamina?
The people I meet, they give me energy. At the last stop I went to a school called Woodberry Down. Young kids with iPads in the classes. The teachers have thought through how they're integrated so it's a part of the class and doesn't just become kids staring at the screen. You never see kids as engaged as when technology is integrated in. One group was learning coding, they were teaching Swift. They were teaching a game and the kids were all-in on it. The teacher would have them code for a few minutes, then talk about it and go to the next step. These kids, their faces lighting up – and many of these kids would not have technology at home at all because they came from disadvantaged areas. It's a levelling of the playing field. Things like that feed my energy.
Apple chief Tim Cook on Trump's travel ban
Are you a fan of ustwo and Monument Valley?
I love what they're doing. It's unique. Most games are shoot-em-up or that kind of stuff. This one feels like there's more of a core purpose kind of game. I was thinking about the arc of the story, it feels like a Disney story it has that kind of a pull on the heart string. It clearly appeals to a non-gamer.
You've had a week with app developers, among others, showing what the App Store and Apple hardware can make possible. How have these encounters been?
They've been incredibly uplifting. To come to a developer like this and meet young entrepreneurs who started with their passion in mind and then together with mobile apps all of a sudden they're entrepreneurs. Prior to the App Store, the chances of that happening, of somebody really young forming a company and in a period of no time really becoming a global provider of a game or something else, it really didn't happen. Now there are these success stories popping up everywhere. There's now about a quarter of a million app developers in the UK working on apps for iPad and iPhone. So far they've already created over 100,000 apps. There is something great happening here.
You can really see the start-up community gaining momentum. That's important any time but with Brexit hanging over – from some people's point of view – it's even more important that these stories get out where people have something to look at and say "You know, times are not really awful, there's some great things happening." It gives me a lot of energy to talk to developers, or meet students in classrooms who are using our technology to help learn faster and better. Watching them pursue their passion.
The iPad succeeded when it came out because it was a perfect storm of desirable hardware, software that was intuitive and supple and a third element, the ingenuity of developers. Apple's job includes making the hardware for the right blank canvas for the developers. How difficult is it to stay ahead of the curve, to put the right hardware in for the next developers' needs?
We try to continually push ourselves to do more and more, not just on the hardware side but also in terms of developers' tools so they can take advantage of the hardware that's there, in the best way. That's the heart of what the coding software Swift is about. We've created the language and our hope was that you can get a lot more people coding, and then secondly have people push more to take advantage of the latest hardware.
As I look at the road map in the future, we're going to continue to push the hardware. We of course have the ability from the silicon point of view to design our own stuff which has been important for a while but arguably the importance is rising exponentially with things like machine learning and us wanting to maintain a level of privacy, which means we'll do more on the device itself that others might be taking outside the device to do. And so, yes, we want to keep giving them more and more capability and we have the faith that if we do, that they will take advantage of it. With the size of the developer population around the world – the number of registered developers is comfortably into the double-digit millions – there's a lot of innovation that comes out of developers, like what I've seen this afternoon.
You've mentioned that Augmented Reality, the technology that allows data from the web to be overlaid on a view of the physical world, is exciting. Tell me why.
I'm excited about Augmented Reality because unlike Virtual Reality which closes the world out, AR allows individuals to be present in the world but hopefully allows an improvement on what's happening presently. Most people don't want to lock themselves out from the world for a long period of time and today you can't do that because you get sick from it. With AR you can, not be engrossed in something, but have it be a part of your world, of your conversation. That has resonance.
I regard it as a big idea like the smartphone. The smartphone is for everyone, we don't have to think the iPhone is about a certain demographic, or country or vertical market: it's for everyone. I think AR is that big, it's huge. I get excited because of the things that could be done that could improve a lot of lives. And be entertaining. I view AR like I view the silicon here in my iPhone, it's not a product per se, it's a core technology. But there are things to discover before that technology is good enough for the mainstream. I do think there can be a lot of things that really help people out in daily life, real-life things, that's why I get so excited about it.
Join our commenting forum
Join thought-provoking conversations, follow other Independent readers and see their replies