As it happened
ended
1568139921
Apple Watch: New model finally brings screen that will never turn off and other features
Andrew Griffin
Tuesday 10 September 2019 19:40 Comments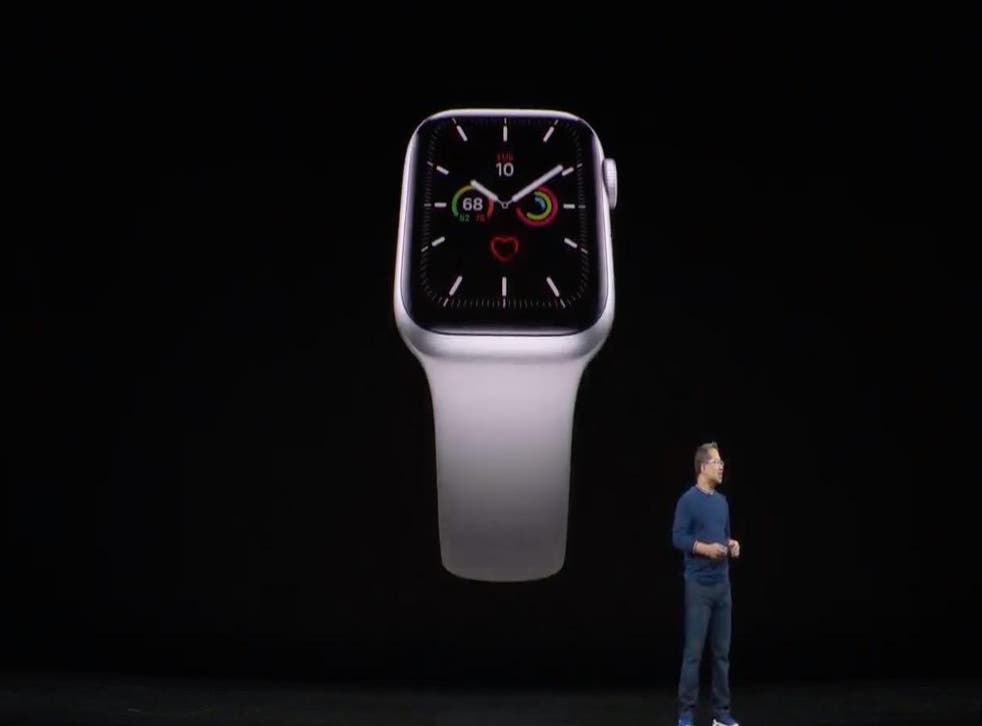 Apple has revealed a new Watch, which includes a display that will never turn off.
Until now, users had to dramatically whip their hand up, or tap the display, to make the screen turn on. That meant that the Watch did not show the time, most of the time.
Now it will be always-on, letting people see the time whenever they want.
The Watch will still have a battery that will last all day, Apple said. Using new screen technology, it will be able to last just as long as the existing model.
As well as the new display, it will have a compass and new features that will allow it to call the emergency services wherever it is, Apple said.
Gadget and tech news: In pictures

Show all 25
The GPS model of the Watch will cost $399, Apple said, and the cellular version will cost $499. Orders open today and will be available in shops from 20 September.
Apple will also keep the older Watch around, selling it for $199.
Apple also introduced new looks for the Watch, including a titanium model.
Follow our live coverage below:
Please allow a moment for the live blog to load.
1568107507
Even with hours left to go until the event, last-minute rumours are revealing what the new iPhone 11 might look like. Or, specifically, what it won't look like: according to numerous reports, the long-rumoured feature that would allow the back of the iPhone to work like a charger is not actually going to arrive with this phone.
The feature appeared to make sense: competitors like Samsung already have it, and it could be a useful way to charge up devices like AirPods or even other people's iPhones.
But according to reporters including the usually reliable Mark Gurman, that's not coming. And the reason why could be a little worrying and embarrassing for Apple:
"Have heard as well Apple has been having some issues with the reverse wireless charging for AirPods/Watch on back of the new high-end iPhones, despite it being planned," he wrote on Twitter. "This is a feature Samsung has had for months and would be Apple's second miss on charging (AirPower) if true."
Andrew Griffin
10 September 2019 10:25
1568109135
This is the iPhone event, of course – it's too important for it to be anything else. But that doesn't mean the iPhone will be the most interesting or telling thing about today's proceedings.
In fact, plenty of other things could be more interesting. So here's what else to watch for, and why those things might matter more.
Andrew Griffin
10 September 2019 10:52
1568112142
Some more last-minute rumours from usually reliable Apple reporter Mark Gurman, who has suggested new names for all three of those new phones:
(This is worth taking with a pinch of salt, however: names of devices, like prices, are known only by a very limited number of people with Apple and so leak less often. They're also not usually actually written on the boxes or anything, which means that they can be changed at the very last moment.)
Andrew Griffin
10 September 2019 11:42
1568112388
And yet another rumour from Mark Gurman: there will be one iPad revealed on stage today, too.
At the moment, the entry-level iPad is 9.7-inches, so presumably this would replace that. It hasn't been updated since last year, so a refresh would make sense, and Apple has been gradually making its tablets bigger so an upgrade in screen real estate would also make sense.
iPads had been expected to be pushed into another event in October, however. So it's not clear whether one being announced would mean there are more to come next month, that something else will be coming at that October event – or that it simply won't happen at all, and today's show is the last we'll see from Apple this year.
Andrew Griffin
10 September 2019 11:46
1568113266
One of the things we'll get to hear today is the release date for iOS 13. It brings a whole set of features – probably most obvious among them is the dark mode – but it also makes some smaller changes, too.
One of them is the way that it tries to protect your privacy. On the new operating system, the phone tries to alert you if an app is tracking your location, and asks you whether you really want to share that data with the app. (Android 10 also has a similar feature.)
That's probably going to be difficult for apps like Facebook, which have been criticised for the wealth of data they gather on things like location. Which is why the company has published a blog post ahead of the release, explaining why it does that.
"Facebook is better with location," the post, written by engineering director Paul McDonald, reads. "It powers features like check-ins and makes planning events easier. It helps improve ads and keep you and the Facebook community safe. Features like Find Wi-Fi and Nearby Friends use precise location even when you're not using the app to make sure that alerts and tools are accurate and personalized for you."
Andrew Griffin
10 September 2019 12:01
1568116419
Apple is not expected to include 5G support for the iPhone 11, meaning it will fall a step behind rivals like Samsung.
This may not matter for markets like the US and the UK, where 5G coverage is very limited, but it could have an impact on certain Asian markets.
Peter Jarich, head of mobile data firm GSMA Intelligence has been in touch to share his views on this:
Apple can't rest on its laurels; its business success depends on it. 

 

A lack of 5G support in the new iPhone won't surprise anyone, though it will still disappoint operators looking for 5G devices to help them drive traffic to new 5G networks. At the same time, new features that are expected – improved camera functionality, improved processor, upgrade to Wi-Fi 6 – may all seem incremental rather than revolutionary, particularly if the product line and form factor line-ups remain relatively constant. In reality, form factor (and pricing) diversity, combined with a compelling case for customers to upgrade, is an important strategy for keeping the iPhone relevant for a broad set of smartphone users, while keeping sales robust. And as services continue to grow as a revenue source for Apple, it's increasingly important for Apple to get iPhones into the hands of consumers.
anthony.cuthbertson
10 September 2019 12:53
1568117134
As is customary, the Apple Store has gone down ahead of today's event. 
Next time it's back, it should be filled with new iPhones, and maybe Apple Watches and iPads too.
anthony.cuthbertson
10 September 2019 13:05
1568119556
anthony.cuthbertson
10 September 2019 13:45
1568119567
If you want to reminisce on where it all began, you can watch Steve Jobs introduce the original iPhone in full below. 
Every once in a while, a revolutionary product comes along that changes everything...
anthony.cuthbertson
10 September 2019 13:46
Register for free to continue reading
Registration is a free and easy way to support our truly independent journalism
By registering, you will also enjoy limited access to Premium articles, exclusive newsletters, commenting, and virtual events with our leading journalists
Already have an account? sign in
Register for free to continue reading
Registration is a free and easy way to support our truly independent journalism
By registering, you will also enjoy limited access to Premium articles, exclusive newsletters, commenting, and virtual events with our leading journalists
Already have an account? sign in
Join our new commenting forum
Join thought-provoking conversations, follow other Independent readers and see their replies