Dancing Birmingham binmen become latest stars of Google Street View
Local councillor Lisa Trickett said the picture was a 'very important reminder that bin men are human.'
Doug Bolton
Tuesday 09 February 2016 13:38 Comments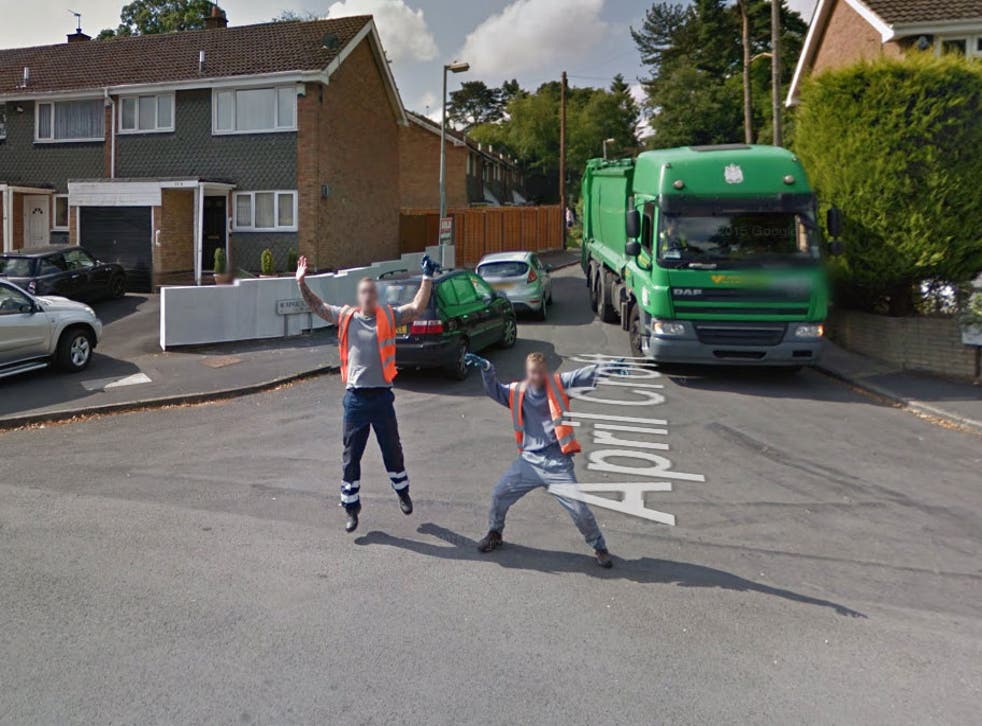 Two binmen from Birmingham have been spotted performing for the camera on Google Street View.
The two workers were immortalised online after they noticed a passing Street View car and decided to liven up the work day by busting some moves.
The image, taken on the corner of Highfield Road and April Croft in the Moseley area of Birmingham, was spotted by 36-year-old John Campbell, who was looking at the area on Street View while house-hunting.
Speaking to the Birmingham Mail, Campbell said one of the houses he was thinking of viewing was on April Croft. While checking out the road, he spotted one of the men looking at the camera, and decided to move closer.
"As I clicked forward they just had these weird poses captured. One is completely off the ground and the other looks in the middle of a dance routine," he said.
Local councillor Lisa Trickett told the paper that the picture was "lovely", and said it was a "very important reminder that binmen are human."
"When I saw the image, I thought it was sweet, they do a fantastic job," she said.
Moving down Highfield Road on Street View, users can watch the entire scene unfold - the binmen spot the car, start dancing, finish their routine, and then head back to their lorry to continue their shift.
The images were taken in July 2014, and the identities of the mystery dancers are not known. However, the Birmingham Mail is urging readers to get in touch if they think they recognise the men.
While their impromptu performance is funny, they've got nothing on Connecticut Street View star Matthew Ferruci, who recreated the famous William Tell apple shot outside his house with a friend when a Google car drove past in August 2013.
Register for free to continue reading
Registration is a free and easy way to support our truly independent journalism
By registering, you will also enjoy limited access to Premium articles, exclusive newsletters, commenting, and virtual events with our leading journalists
Already have an account? sign in
Join our new commenting forum
Join thought-provoking conversations, follow other Independent readers and see their replies