Tesla has made $1 billion from its bitcoin investment in just 10 weeks
Elon Musk's firm made more from cryptocurrency since January than the profits it made from selling cars in all of 2020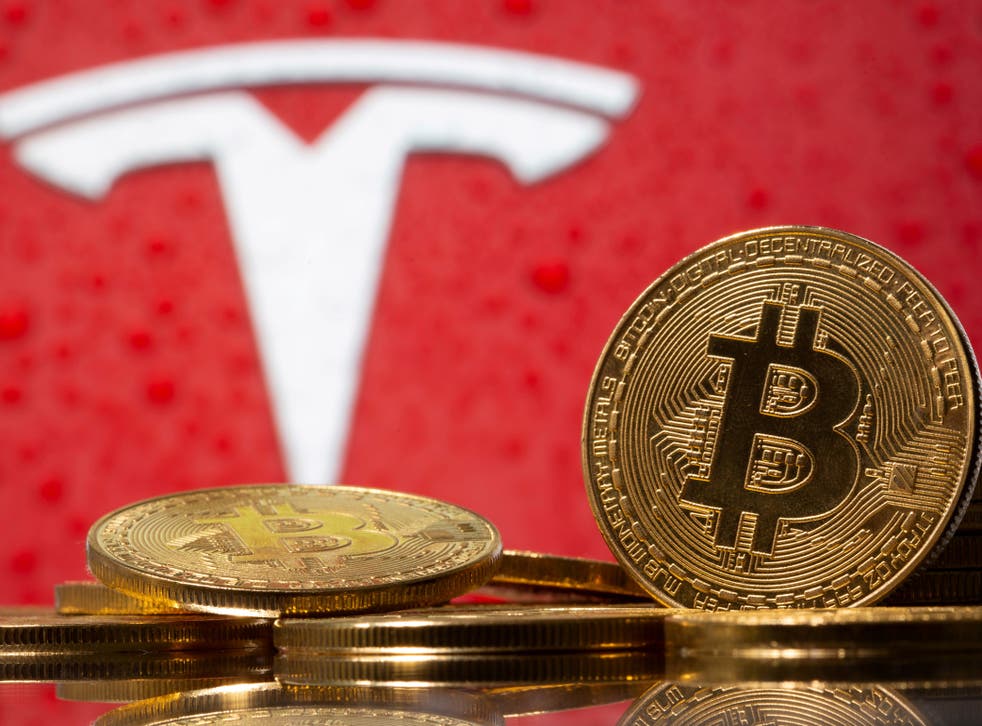 Tesla has already made more than $1 billion (£727 million) from the bitcoin investment it made in January, thanks to the cryptocurrency nearly doubling in price over the last 10 weeks.
The electric car maker used $1.5bn of its cash reserves to buy an estimated 48,000 bitcoins earlier this year, when the cryptocurrency was trading between $30,000 and $40,000.
When bitcoin hit a new all-time high of $64,863 this week, Tesla's bitcoin holdings were briefly worth more than $3bn, though this has since retreated as the asset's price dropped slightly. At the time of writing, bitcoin was trading at around $61,700.
When Tesla first announced the investment on 8 February, the price of bitcoin surged by 14 per cent in the space of just a few minutes.
The gains made since are now greater than the $721m in profits that Tesla made from selling cars in the whole of 2020.
Tesla's initial bitcoin holdings have also been bolstered by CEO Elon Musk's decision to accept payments in cryptocurrency and store it rather than convert it.
"Bitcoin paid to Tesla will be retained as bitcoin, not converted to fiat currency," he tweeted in March.
This approach by one of the world's largest companies could ultimately contribute to bitcoin's rising price through the law of supply and demand.
When bitcoin was created 12 years ago, its underlying technology limited the number of bitcoins that could ever exist to just 21 million.
"In terms of market dynamics, as more companies hold bitcoin on their balance sheets, so the finite supply is depleted even more, and this is likely to cause a supply-side squeeze and boost prices over the longer term," said Simon Peters, a market analyst at the online trading platform eToro.
"Tesla and other companies are showing that crypto is here to stay, and its mainstream adoption is only going to increase."
Other companies that have already invested heavily in bitcoin include the payments platform Square and software firm Microstrategy. Both have increased their holdings in recent months, partly prompted by the economic turmoil of the last year and bitcoin's growing reputation as a safe-haven asset.
"The company now holds over 90,000 bitcoins, reaffirming our belief that bitcoin, as the world's most widely-adopted cryptocurrency, can serve as a dependable store of value," Microstrategy CEO Michael Saylor said in February after announcing its latest purchase of $1bn worth of bitcoin.
"We will continue to pursue our strategy of acquiring bitcoin with excess cash."
Register for free to continue reading
Registration is a free and easy way to support our truly independent journalism
By registering, you will also enjoy limited access to Premium articles, exclusive newsletters, commenting, and virtual events with our leading journalists
Already have an account? sign in
Register for free to continue reading
Registration is a free and easy way to support our truly independent journalism
By registering, you will also enjoy limited access to Premium articles, exclusive newsletters, commenting, and virtual events with our leading journalists
Already have an account? sign in
Join our new commenting forum
Join thought-provoking conversations, follow other Independent readers and see their replies