Uber London: Black cab drivers to bring capital to a standstill in protest at app driving them out of business
Drivers say Uber is bending the rules and threatens their jobs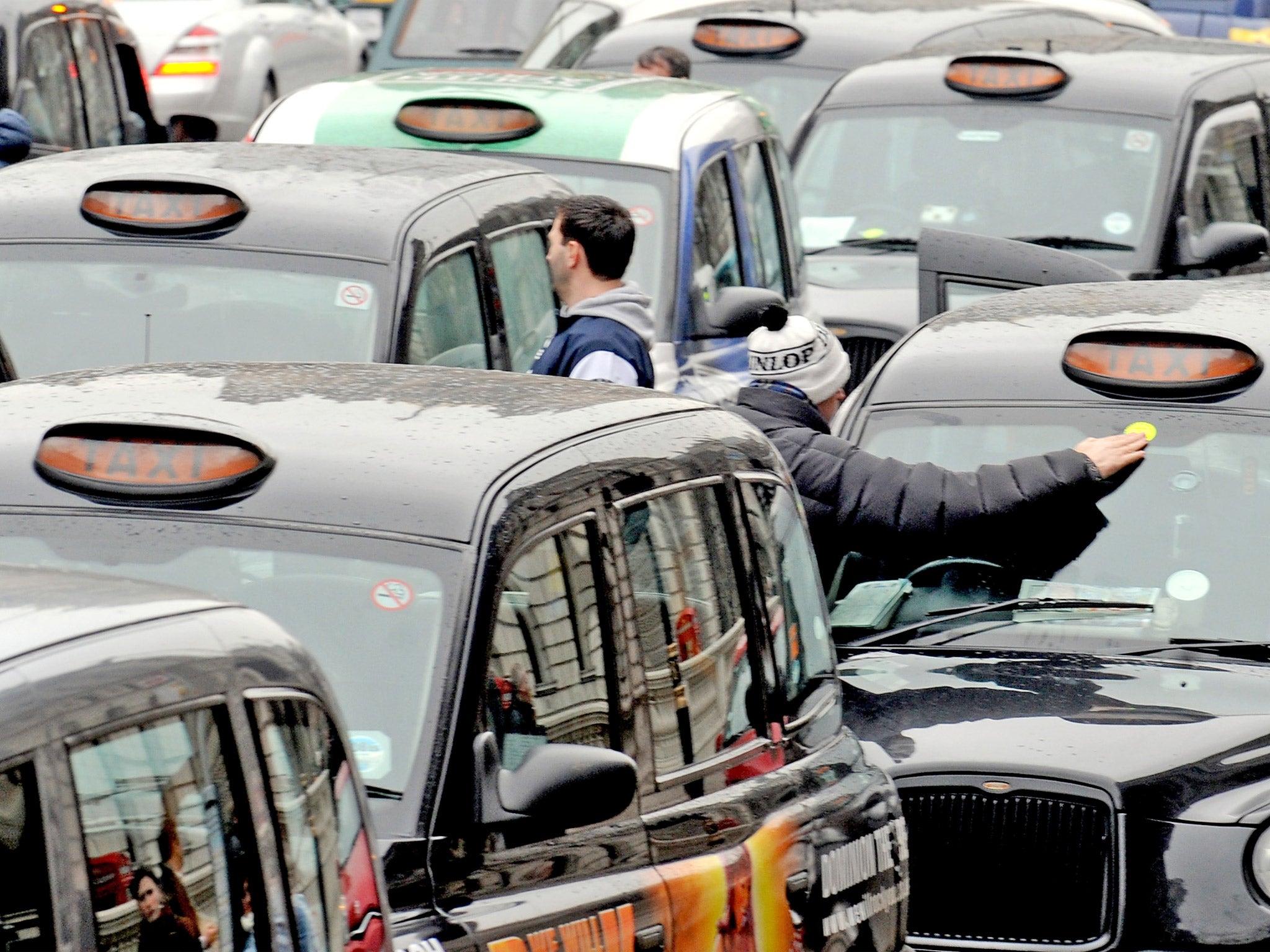 A group of tech wizards in an office in San Francisco will bring London's traffic to a total standstill on Wednesday, using nothing more than an iPhone app.
It sounds like the sort of unlikely computer-hacking scenario dreamt up by a Hollywood studio, but tomorrow it will become reality as thousands of furious black cab drivers blockade the capital in protest against Uber, the American taxi-hailing app, which they say is driving them out of existence.
Up to 10,000 licenced cab drivers are due to stage a drive-slow through the centre of the city, beginning at Trafalgar Square, before lining up their vehicles across key roads and bringing all traffic to a stop. For Londoners who have slowly grown accustomed to Tube strikes, it will be a novel new form of transport chaos – but it is also a vivid illustration of how rapidly an established industry can find itself outpaced by technology.
Uber, which was founded in 2009 and has its headquarters in San Francisco, allows users to locate and book nearby taxis with their smartphones. It has built up a vast number of cars very quickly by allowing anyone with a Private Hire Vehicle licence to sign up as a driver.
This casual arrangement has infuriated metered taxi operators, who claim it amounts to the deregulation of their industry and is unsafe, as Uber drivers are not subject to the same checks as those who operate black cabs.
The London Taxi Drivers Association has already launched private prosecutions against six minicab drivers who use Uber, claiming that the app is the equivalent of a black cab's meter, which private-hire vehicles are not allowed to use. Transport for London has been criticised for licensing Uber, but has defended itself by saying the law about what constitutes a meter is "unclear". It is now seeking clarification from the High Court and has dismissed the protest as "pointless".
Some argue that Uber offers customers more choice and that taxi drivers should not be allowed to stand in the way of technological advances. Simon Walker, director general of the Institute of Directors, said: "The cab drivers protesting this week will not be able to prevent technological innovation any more than the machine-breakers of the 19th century could stop the spread of the power loom."
Uber now operates in more than 100 cities in 30 countries and last week was valued at $18.2 billion, a fivefold increase in the space of a year. If the valuation is to be believed, an app launched five years ago is now worth more than the global car hire firm Hertz, which was founded in 1918.
Similar taxi driver protests will take place today in Madrid, Milan, Berlin and Paris. An Uber spokesperson said the company was "committed to keeping people moving across all the impacted European cities", adding: "Wednesday will be treated like any other busy period for us."
Join our commenting forum
Join thought-provoking conversations, follow other Independent readers and see their replies