Businesses are turning to shredding companies to help them destroy incriminating documents
Getting rid of those old bank statements can be a chore. But as firms get savvy to protecting their confidential material, Big Shredder is thriving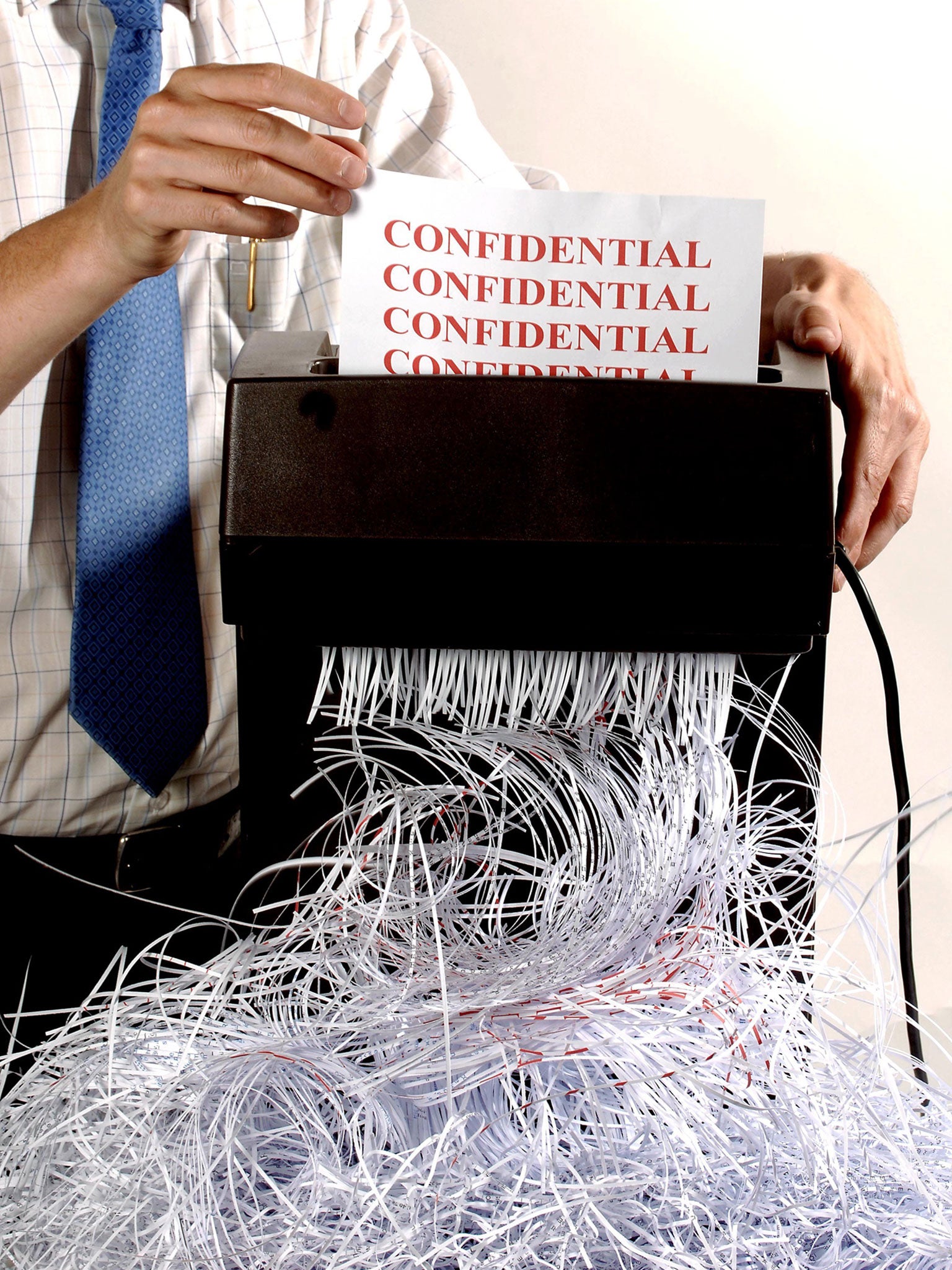 Paper shredding can be time consuming. If you've been ordered by a sweating line manager to destroy a load of paperwork in a hurry, things can get a bit stressful – particularly if you're stuffing it into a Fellowes PowerShred P-20 (£17.49, plus VAT) which only handles five sheets at once and pushes them out at the rate of 2.5 metres per minute.
This week, staff at Kids Company claimed that they were told to shred client files just before the beleaguered charity's collapse; it's unlikely that they'll have been using a feature-packed Rexel RLWSFM9 (£6,600, plus VAT, nine sheets at once, 4 metres per minute) but even if they had, it would still have felt too slow. Anyone with shredding experience will confirm that: a) it's laborious; and b) they wished someone else would do it. "You've generally got to have a member of staff standing over the machine," says Daniel Hawtin, managing director of The Shredding Alliance. "But we can shred in 15 minutes what would take someone five hours on an office shredder."
That's a proud boast, and it's one that shred-weary businesses are becoming increasingly seduced by. "There are six companies in The Shredding Alliance," says Hawtin, "and we have a network of independent companies that work with us – but it's impossible to put a number on what the industry is worth. The problem is that it's not regulated in the UK. You could literally go off this afternoon and start your own shredding business."
To provide peace of mind to customers, reputable organisations such as PHS, Shred-it and The Shredding Alliance boast of stringent security measures and their close adherence to the BS EN 15713 standard. "It's the dummies' guide to confidential shredding," says Hawtin, "covering everything from how the person collecting the paper is vetted to how it's transported, shredded and what happens to it after that."
Of course, our need to annihilate all trace of confidential (or incriminating) pieces of paper goes back millennia, but it took a German toolmaker to turn it into a thriving business.
Adolf Ehinger was quietly printing and distributing anti-Nazi material in the mid-1930s. But when a neighbour spotted some in his dustbin and threatened to report him, he took inspiration from the pasta machine in his kitchen and built a hand-cranked paper shredder, later adding an electric motor. When he first took it to trade shows, people laughed. But during wartime it caught on, and by the 1950s the company EBA Maschinenfabrik had become huge – particularly in America.
"Yes, this industry is massive in the USA," says Hawtin. "The regulations are a lot more stringent – six or seven decent-sized businesses out of 10 will use a shredding service. Over here it's more like two or three."
Mounting corporate anxiety might well drive that number upwards; Shred-it's list of document security pitfalls is enough to provoke hyperventilation – failure to secure waste bins, unsecured printers, taking work home, leaving stuff on whiteboards...
"You've got to be careful," says Hawtin. "In this office, no paper leaves without being shredded. Junk mail, everything. If you're not shredding and you're hoping for the best, you've got a whole host of problems on your hands."
Weirdly, as business security concerns increase, the younger generation appears to be less likely to give a hoot; in one survey 34 per cent of "millennials" described data theft as a victimless crime. But as we move to being paper-free, shredding services are moving with the times. "We do media destruction too," says Hawtin.
However, before you go into a shredding frenzy, be careful; any attempt to reassemble the "micro-cut confetti" produced by modern shredders will be very long, very tearful – and ultimately futile.
Join our commenting forum
Join thought-provoking conversations, follow other Independent readers and see their replies