CES 2015: the best TVs, audio, mobile phones, wearables and transport gadgets
CES is packed with gadgets. David Phelan picks the best of this year's crop
David Phelan
Thursday 08 January 2015 11:29 Comments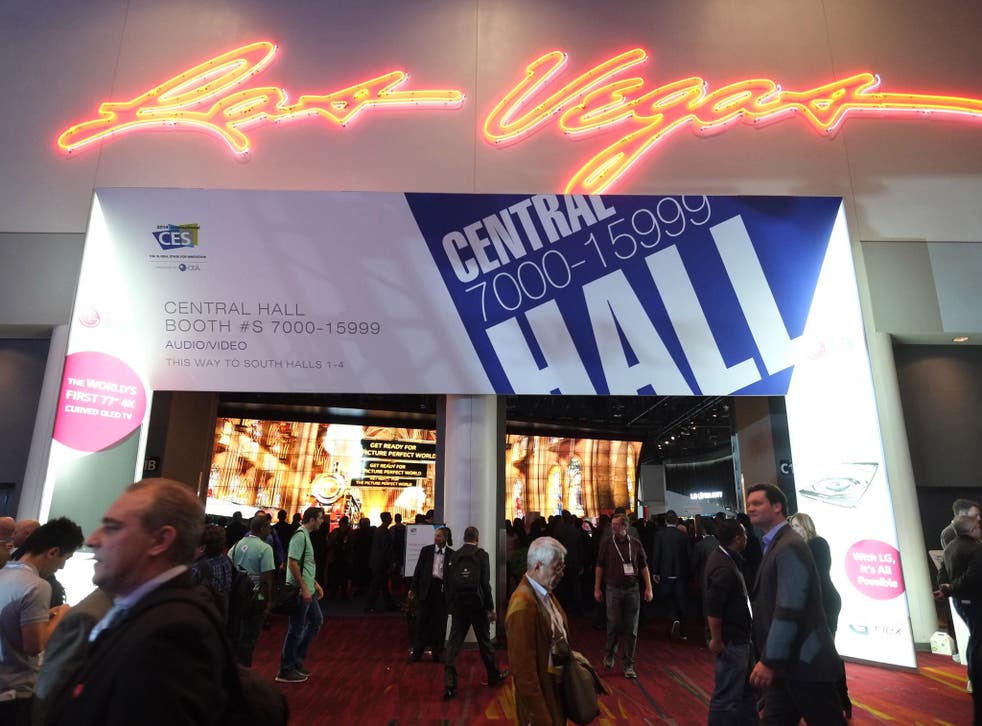 Technology changes everything.
In the Las Vegas hotel where I'm staying for the massive CES trade show, alongside check-in desks there's a permanent station dedicated to keys – a reminder that putting yours too near your smartphone may demagnetise it and render it useless when you're trying to get into your room at the end of a long night.
The range of gadgetry at CES gets wider every year – CES is officially no longer an abbreviation for Consumer Electronics Show, just a name in itself. That's because washing machines, business devices and cars take up as much floor space as TVs and music players.
I've traipsed the too-soft carpets and braved the crowds – 150,000 visitors, all of them walking unbelievably slowly right in my path it seemed – to scare up the standout gadgets.
TVs
Most years, CES is an endless succession of near-identical televisions, distinguished from each other only by thinner bezels or hideous table stands. But this year, the variety of technologies on offer helped to differentiate them.
The best screen I saw was Panasonic's 65-inch OLED telly, due out later in the year. OLED (Organic LED) has long been a desirable TV type thanks to its exceptional contrast, deep black levels and keen responsiveness which reduces motion blur massively – so you don't see multiple footballs flying into that goal mouth, say. But it's always been very pricey, not least thanks to poor yield rates that meant eight out of ten panels coming off the production line were no good. That's largely been fixed, so prices will come down, though they'll still carry a price premium. Panasonic's model looked staggeringly sharp – maybe no surprise given the company routinely made the best plasma screens.
Other contenders were Samsung's gorgeous S UHD models, likely to be the first to market with High Dynamic Range with its rich shadow details and great colour fidelity.
And the emphasis on curved TVs, which also began with Samsung, continues. LG has a model which bends so you can convert it at the touch of a remote from flat to curvy. Curved is meant to be more immersive, matching the eye's curvature more exactly, though it's really a matter of taste rather than tech as to which is better. LG's stunning webOS smart TV operating system remains the most advanced –though other manufacturers are upping their games. Sony's Android TV system is immaculately easy to use. If 2015 turns out to be the year Apple releases its much-rumoured TV, though, everything changes.
Audio
The thinness of flatpanel tellies – and some are now ridiculously anorexic – has led to poor TV audio. So soundbars are increasingly important. LG has built one in to the bottom of its TV and Samsung has a model designed by Yves Behar with a cube speaker underneath. Turn it on and the top edge of the cube stand rises up to let all the audio out.
And you'll remember the industry's clever trick where you replaced vinyl and tape with CD and then digital audio? Now it's time to upgrade to hi-res audio. Sony released the ZX2 Walkman which has a huge storage capacity (128GB) and can deliver arrestingly high-quality sound. It'll be expensive when it's released and there's still the problem that not enough music is available in the format, but it's an attractive and capable machine.
Samsung's multi-room audio set-up has been refined to offer elegant design and 360-degree music. Really, it'll be harder avoid your music than to hear it.
Mobile phones
CES has never been a phone show – the dedicated Mobile World Congress in Barcelona in March is the one for that – but it saw announcements from Samsung, LG and HTC. LG's G Flex 2 was the most interesting, with a curved screen that you could withstand being accidentally straightened out, a bit. Its Qualcomm Snapdragon 810 processor is a first and is optimised to work well for gaming as well as offering longer battery life.
Wearables
Oh my, there were a lot of wearable gadgets at the show this year. It's almost like somebody know Apple was about to launch a watch or something. Standout among the fitness trackers was the Withings Activité Pop, a cheaper version (around £120) of the excellent Activité which is on sale already. Both offer a handsome analogue watch that actually shows the time – you don't have to tap a display to turn it on – alongside another dial which reveals how close you are to your daily target of 10,000 steps. Sony's SmartWatch 3, already on sale, has been updated with a much cooler stainless steel version.
Beyond watches, there was the chance to stick a Bluetooth-equipped thermometer to your skin. Well, not yours. TempTraq is meant for infants and it transmits the littl'un's temperature to the parent's smartphone every two minutes, to save you waking the baby up. If your doctor has told you to watch out for a key temperature to be reached, you can set it to notify you when that happens. Very clever.
Sony's new headband Walkman promises to help you get fit. The Smart-B Trainer is a waterproof running device that uses an optical heart rate sensor in one earpiece to see if you need encouragement to speed up or slow down. Built-in GPS can track your run.
Transport
Connected cars were everywhere at CES, offering tempting glimpses of driverless vehicles, electric cars that parked themselves flawlessly and sophisticated apps. There was also a bike pedal that reveals your cycle's location and monitors speed, distance covered and more. But the most interesting development was Gogoro. I'll be writing about it in more detail separately but it's an electric scooter that's lightweight, fast and deeply snazzy. It will be sold at an accessible price with buyers subscribing to a battery rental system to get around.
Off-the-wall
There's no end of nutty gadgets at CES. Some are solving a problem that has never existed but others are genuinely useful, at least for the lazy. So Parrot's flower pot comes with a water reservoir. Sensors in the soil detect when the plant needs watering and the pot obliges. Or Baby Glgl (a name that's almost impossible to say but is sort of short for Glug Glug) which is a milk feeding bottle that works out what angle you should be using to feed your baby. Whatever will they think of next, as CES constantly leaves you thinking…
Register for free to continue reading
Registration is a free and easy way to support our truly independent journalism
By registering, you will also enjoy limited access to Premium articles, exclusive newsletters, commenting, and virtual events with our leading journalists
Already have an account? sign in
Join our new commenting forum
Join thought-provoking conversations, follow other Independent readers and see their replies