Apple's Tim Cook slams Trump for scrapping DACA and says he is 'deeply dismayed'
The iPhone maker will pressure politicians to reverse Mr Trump's decision, its CEO said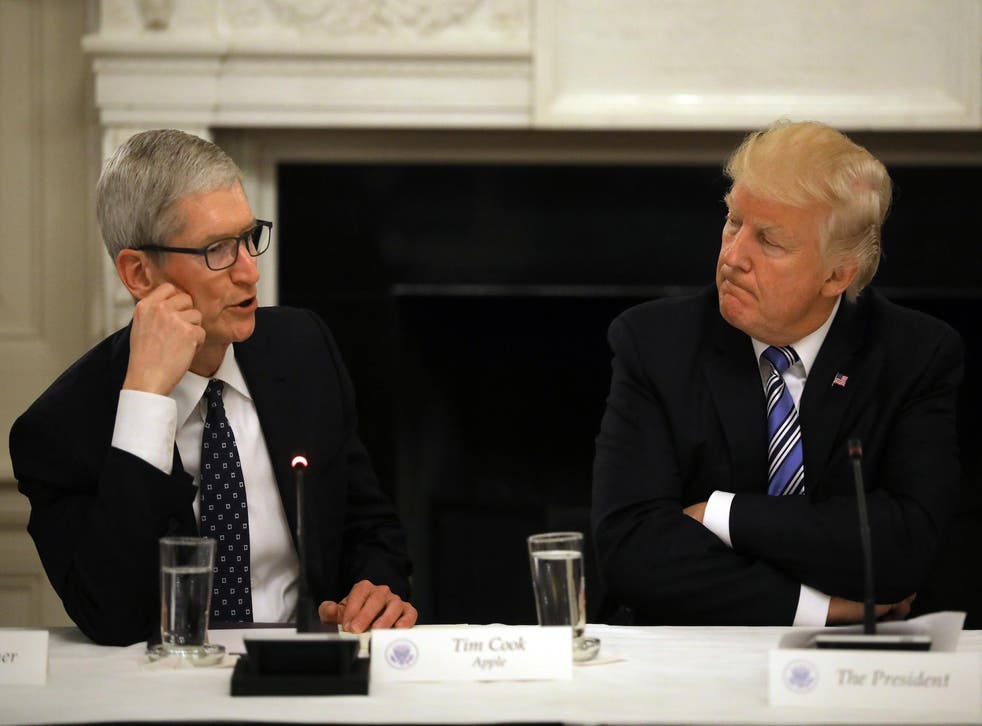 Apple's Tim Cook has attacked Donald Trump's decision to potentially kick hundreds of thousands of people out of the country.
The President has said he will end the Deferred Action for Childhood Arrivals program, which allows young people who grow up in the US to avoid being punished to do so. That will mean that the "Dreamers" who came to the country without the right documentation may be sent back to the country of their birth.
Mr Cook hit back at the President's decision in perhaps his fiercest political statement yet, sending a strongly worded letter to Apple staff. In it, he says that he is "deeply dismayed" by Mr Trump's announcement and promises that the company will do what it can to support Dreamers and their families and to try and have politicians secure the future of the programme, according to a copy obtained by The Independent.
World news in pictures

Show all 50
He notes that 800,000 people will be affected by the President's decision, more than 250 of whom work at Apple. All of those people may find themselves "cast out of the only country they've ever called home", he says, if Congress doesn't push for a new solution.
Mr Cook concludes with his belief that "despite this setback for our nation, I'm confident that American values will prevail and we will continue our tradition of welcoming immigrants from all nations. I'll do whatever I can to assure this outcome."
Mr Cook's letter to staff can be read in full below.
It follows his public urging of Mr Trump not to cancel the plan, during the build-up to the decision. He tweeted from his personal account that he hoped the US government would come up with a solution "rooted in American values".
Apple has been relatively active in politics in recent years, and especially since Mr Cook has taken the helm of the company. That has included a vocal support of organisations and events like Pride, as well as publicly opposing a US government to demand to help unlock an iPhone.
Mr Trump's decision to cancel the plan – presented by the White House as necessary to force respect for immigration laws – has been criticised by Democrat politicians, business leaders and civil liberties advocates alongside Mr Cook.
In a statement issued by the White House, Trump said, "I do not favor punishing children, most of whom are now adults, for the actions of their parents. But we must also recognise that we are nation of opportunity because we are a nation of laws."
Mr Trump's order deferred the actual end of the program and effectively leaves responsibility for the fate of the Dreamers to his fellow Republicans who control Congress.
But Congress has been unable since the president took office in January to pass any major legislation and has been bitterly divided over immigration in the past.
Obama bypassed Congress and created DACA through an executive order in 2012. Sessions said the Trump administration concluded that Obama exceeded his authority in setting up the program, which has long been the target of conservative hard-liners on the issue of immigration.
Elaine Duke, acting head of the Homeland Security Department, issued a memo rescinding DACA. The department will provide a limited window - until Oct. 5 - for some DACA recipients whose work permits expire before March 5 to apply to renew those permits. This would mean that some beneficiaries of DACA could be in the country through 2019.
DACA recipients whose work permits expire will be considered to be in the country and eligible for deportation, but will be a low priority for immigration enforcement, administration officials said.
Register for free to continue reading
Registration is a free and easy way to support our truly independent journalism
By registering, you will also enjoy limited access to Premium articles, exclusive newsletters, commenting, and virtual events with our leading journalists
Already have an account? sign in
Register for free to continue reading
Registration is a free and easy way to support our truly independent journalism
By registering, you will also enjoy limited access to Premium articles, exclusive newsletters, commenting, and virtual events with our leading journalists
Already have an account? sign in
Join our new commenting forum
Join thought-provoking conversations, follow other Independent readers and see their replies