Dyson Supersonic review: Dyson's first hairdryer is set to be a flyaway success
At £299, the Supersonic isn't cheap - but it oozes quality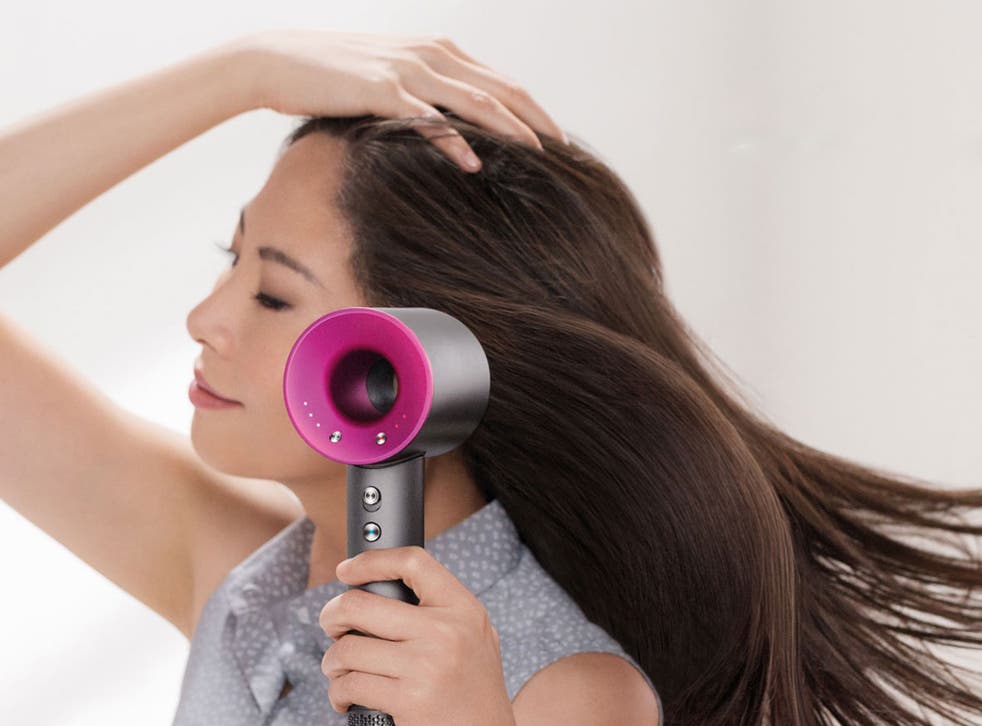 Taking a break from vacuum cleaners, Dyson has launched a new product, a hairdryer called the Supersonic. The Independent had early access to it last month for our hands-on, and hair-on, review.
The Supersonic looks strikingly different from any other hairdryer, so much so that if you weren't told what it was you might not instantly know. It looks stylish and elegant with a surprisingly small nozzle to dry the hair. That's down to some of that superior technology, including the motor, the all-new V9. It is tiny enough to fit into the base of the hairdryer's handle – most motors sit in the hairdryer's head – but powerful enough to shift a lot of air.
The Supersonic looks remarkable enough, but it's when you pick it up that you realise how different it is. The small head means it's designed for perfect balance in the hand, where most hairdryers feel top-heavy. It's light but solid, and highly tactile.
The motor sits a little below where your hand rests, though it doesn't matter, the company says, if your hand covers part of it while you're using it. I deliberately put my hand round at least half of it, with no effect on the blow power.
So what was so wrong with current hairdryers that caught Dyson's eye as something that needs to be reborn? Apart from that feeling of imbalance, other dryers are noisy, heavy and inefficient, James Dyson says. Not to mention the way the extreme heat some hairdryers generate can harm your hair. This product solves all these problems, it's claimed. It's certainly light enough to manipulate easily and for a long time.
The Supersonic uses Air Multiplier technology – like the Dyson hand dryers, for instance. This means it amplifies the volume of air three times as it passes through the dryer, so you should be able to dry your hair in a shorter time, which seems to address the inefficiency issue.
Gadget and tech news: In pictures

Show all 25
As for noise, it's pretty darned quiet. All the time I was testing the Dyson hairdryer, I was able to maintain a conversation easily without raising my voice. So, be warned, if your hairdresser is chatty and has a Supersonic, there'll be no respite. And as there is a special model designed for professional use you can expect to see it in classy salons soon.
The lower volume of the Supersonic is down to extra blades which make the tone of the motor's sound less annoying. And it has acoustic silencers which it was possible to introduce thanks to the positioning in the handle. Whatever, it's quieter than rivals and the noise it makes is less unpleasant.
Dyson says the hairdryer uses intelligent heat control. The temperature of the air being powered into your hair is checked 20 times a second to ensure it never gets so hot it can damage your follicles. Again, no matter what I did, the temperature never became too hot.
Every element of the hairdryer has been rethought, including the nozzle attachments which attach magnetically and which, thanks to the way the hot air is contained within a sandwich of cold air, remain cool to the touch at all times.
Dyson products are never budget options, though they arguably offer strong value thanks to the superior technology inside, and this is no exception – it costs £299.
Overall, though, this is a dazzling-looking appliance that has everything going for it. It sure isn't cheap, but the Supersonic oozes quality in every way, from its efficiency to its build. It goes on sale in June and looks likely to be as flyaway a success as the hair it's aiming to tame.
Register for free to continue reading
Registration is a free and easy way to support our truly independent journalism
By registering, you will also enjoy limited access to Premium articles, exclusive newsletters, commenting, and virtual events with our leading journalists
Already have an account? sign in
Register for free to continue reading
Registration is a free and easy way to support our truly independent journalism
By registering, you will also enjoy limited access to Premium articles, exclusive newsletters, commenting, and virtual events with our leading journalists
Already have an account? sign in
Join our new commenting forum
Join thought-provoking conversations, follow other Independent readers and see their replies