E-cigarettes could be prescribed on the NHS as study finds they 'help smokers quit'
E-cigarettes were more effective than nicotine gum and patches, but some experts warn they will 'renormalise' smoking, especially among the young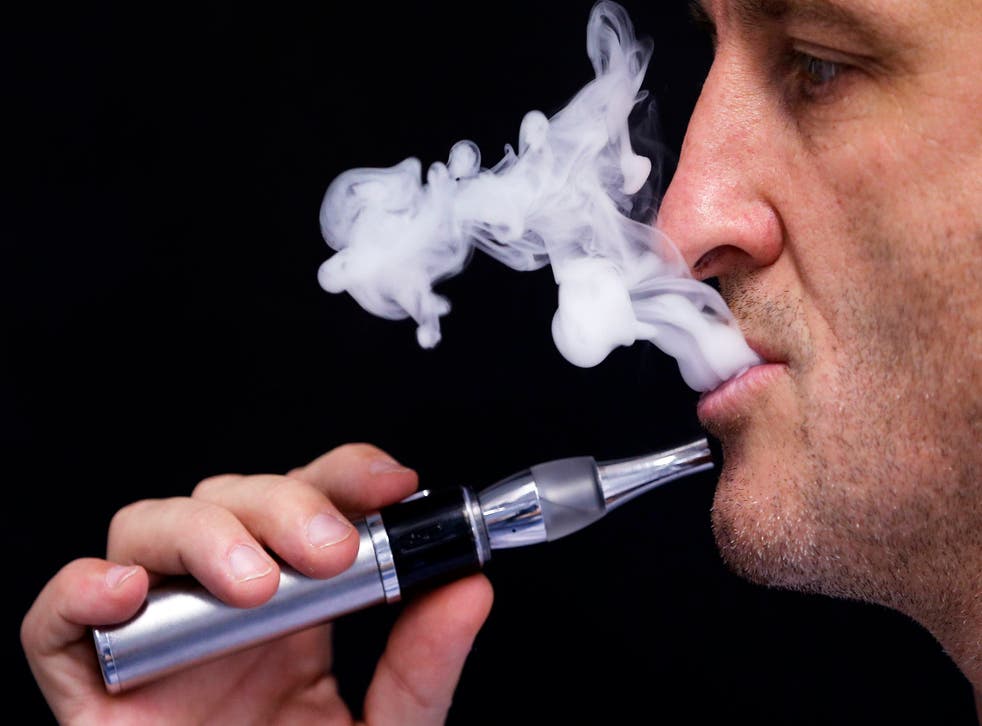 E-cigarettes are considerably more effective than over-the-counter treatments such as nicotine gum and patches at helping people to quit smoking, a new study has revealed.
One leading expert said it would be "perfectly reasonable" for the devices, which will soon be licensed as medicines, to be prescribed on the NHS.
Despite concerns that the recent rise in popularity of 'e-cigs' may be "re-normalising" smoking, Professor Robert West of University College London said that they had proven to be highly efficient quit-smoking aids, which could "substantially improve public health".
Around a quarter of the four million people in England that attempted to quit smoking in the past year used e-cigarettes to help them.
The new study, published today by UCL researchers, looked at the success rate of nearly 6,000 quitters. Those who used e-cigarettes were 60 per cent more likely to report succeeding than either those who tried to quit with over-the-counter nicotine replacement therapies, or those who quit without help. E-cigarettes were found to be as effective as prescription medicines, but the group of smokers with the highest quitting success rate were those who used free NHS stop smoking services.
There has been a huge rise increase in the use of e-cigarettes in the past two to three years, with some estimates putting the number of UK users at more than two million.
The reaction to the rapid rise among governments and public health experts has been mixed. Some have heralded the devices, which contain nicotine but are far less harmful than an ordinary cigarette, as a powerful tool to drive down the number of smokers, and regulators are planning to licence them as medicines by 2016.
However, others have warned that they risk "renormalizing" smoking and encouraging young people to take up smoking. The Welsh Government is even considering a ban on the devices in public places – a position that is challenged by this latest research.

Professor West, director of tobacco studies at UCL and the study's senior author said that once e-cigarettes had been approved the Medicines and Healthcare products Regulatory Agency (MHRA), it would be "perfectly reasonable" for them to be prescribed on the NHS.
However, despite their benefits, there are concerns that the tobacco industry could still benefit from the rise of e-cigarettes. So far two companies are understood to have applied for a medicines licence for their e-cigarette products, one of them a subsidiary of British American Tobacco.
If they are successful in their MHRA application, and the products are approved for NHS prescription, it could, in theory, lead to NHS funds being paid to a tobacco manufacturer.
However, Professor West said that, overall, e-cigarettes were "not good news for the tobacco industry".
"The tobacco industry would love them to go away…" he said. "They sell tobacco and do very well out of it and they would like to carry on doing that," he said. "However, [they] recognise that e-cigarettes are a major factor and the question is: what are they going to do about it?"
"It's such a complicated area…the tobacco industry has money coming out of their ears. For them it is petty cash to put in an MHRA application…for a small e-cigarette company that is innovating, the cost and the timescale involved is prohibitive. The challenge for the MHRA, and I know they're looking at this, is to bring the cost and timescale for getting a medical licence down to a point where the medium-sized companies doing the innovating can take part."
Professor West added that the proposed Welsh ban on 'vaping' in public places on the basis that it might be 're-normalising' smoking among young people was "not borne out by the evidence".
A Welsh Government spokesperson said that officials were "looking at the options" and that the proposals recognised the potential public health benefits of e-cigarettes.
Martin Dockrell, head of Public Health England's (PHE) tobacco control programme said that e-cigarettes represented a public health "opportunity" but said they were not completely free of risk.
"PHE believe e-cigarettes need to be regulated to ensure they deliver nicotine effectively, minimise the potential for harm, and are marketed only to adults as a replacement for smoking," he said.
Register for free to continue reading
Registration is a free and easy way to support our truly independent journalism
By registering, you will also enjoy limited access to Premium articles, exclusive newsletters, commenting, and virtual events with our leading journalists
Already have an account? sign in
Register for free to continue reading
Registration is a free and easy way to support our truly independent journalism
By registering, you will also enjoy limited access to Premium articles, exclusive newsletters, commenting, and virtual events with our leading journalists
Already have an account? sign in
Join our new commenting forum
Join thought-provoking conversations, follow other Independent readers and see their replies