Elon Musk trains with UFC legend ahead of Mark Zuckerberg fight
'The obvious conclusion is that I need a *lot* more training,' billionaire tweets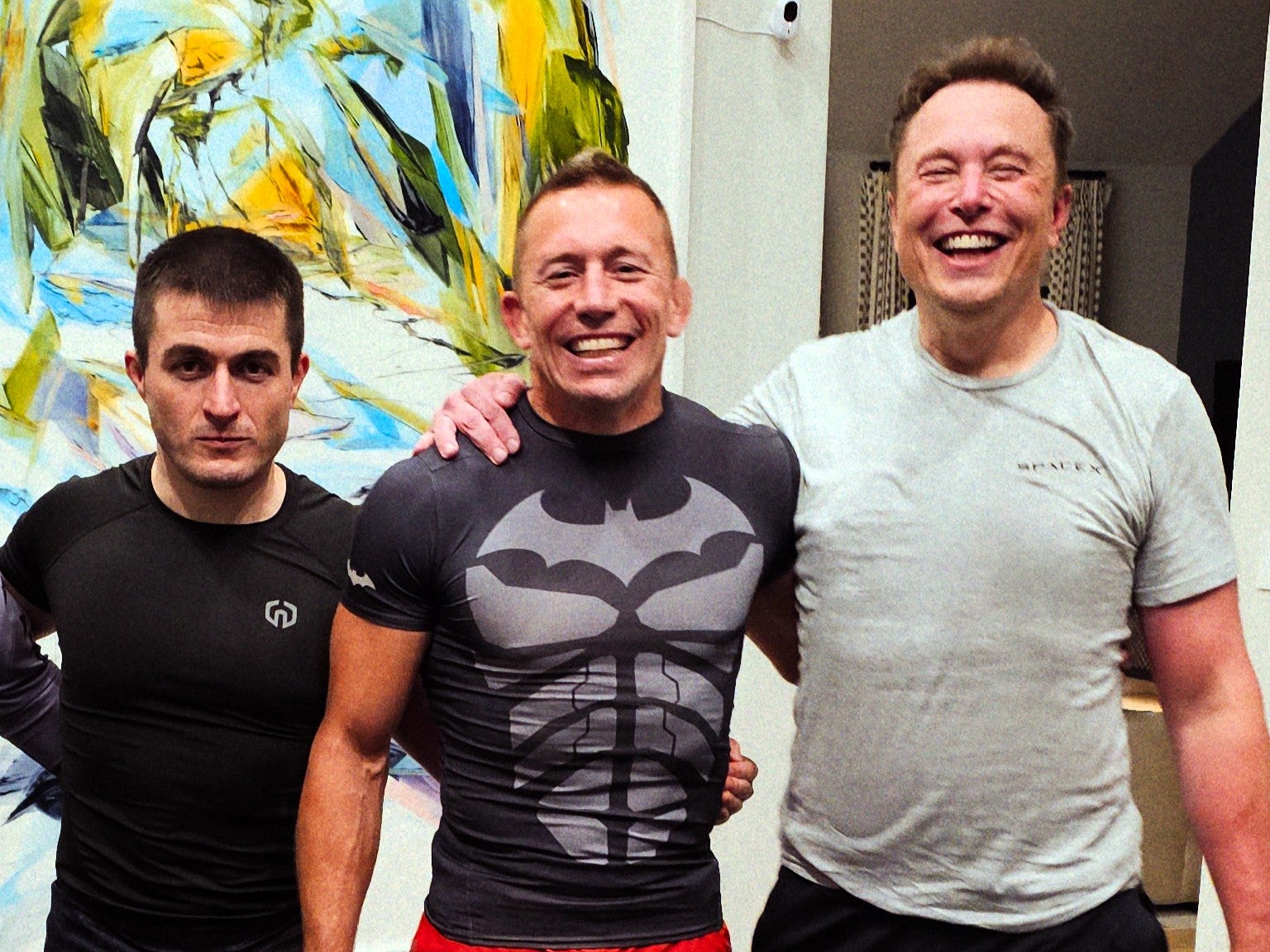 Elon Musk has taken part in a training session with former UFC champion Georges St-Pierre ahead of a potential bout with Mark Zuckerberg.
The two tech billionaires agreed to a fight last month after Mr Musk accused the Meta chief of ripping off Twitter with a new platform called Threads.
"Up for a cage match," the Twitter owner wrote, to which Mr Zuckerberg replied: "Send me location."
Both men have since sparred with podcaster and jiu jitsu enthusiast Lex Fridman, who joined Mr Musk on Monday in his first training session with Mr St-Pierre.
The Canadian fighter is considered to be one of the greatest ever mixed martial artists, winning titles in two weight divisions before retiring in 2019.
They were also joined by John Danaher, a grappling coach who is among the best regarded trainers in Brazilian Jiu-Jitsu and has coached a number of world champions.
"Had a great training session with Elon Musk, Georges St-Pierre, and John Danaher last night," Mr Fridman tweeted. "Everything about this was epic!"
Mr Musk replied: "Really fun!" The obvious conclusion is that I need a *lot* more training."
Prior to proposing the fight, Mr Musk claimed to "almost never work out", while the Facebook founder has been practising jiu-jitsu since 2022.
Earlier this year, Mr Zuckerberg competed in a martial arts tournament, winning "some medals" in his weight class.
His potential opponent holds a height and weight advantage over him, however Mr Musk is also 13 years older than his tech rival.
Following his training session with the SpaceX and Tesla boss, Mr Fridman said he was "extremely impressed" with his "strength, power, and skill, on the feet and on the ground".
Mr Fridman shared photos of his sparring session with Mr Musk, however no video of his training has yet emerged.
UFC trainer Javier Mendez recently predicted that Mr Zuckerberg would win the fight, given his apparent fitness and experience.
"The big advantage Zuckerberg has over Elon is that he's actively training and he's more of a dog right now, because he entered a jiu-jitsu tournament, so that tells me a lot about him," he said.
"All things considered, Zuckerberg is way ahead of Musk, but you won't really know until you see what Musk possesses... I would want Musk to think about ways to prevent takedowns. But you can't avoid a takedown just by trying to avoid it; you have to avoid it by striking."
No date or venue has been set for the fight.
Join our commenting forum
Join thought-provoking conversations, follow other Independent readers and see their replies