Elon Musk warns US General to prepare for space warfare
'We've got to make Starfleet happen,' says SpaceX CEO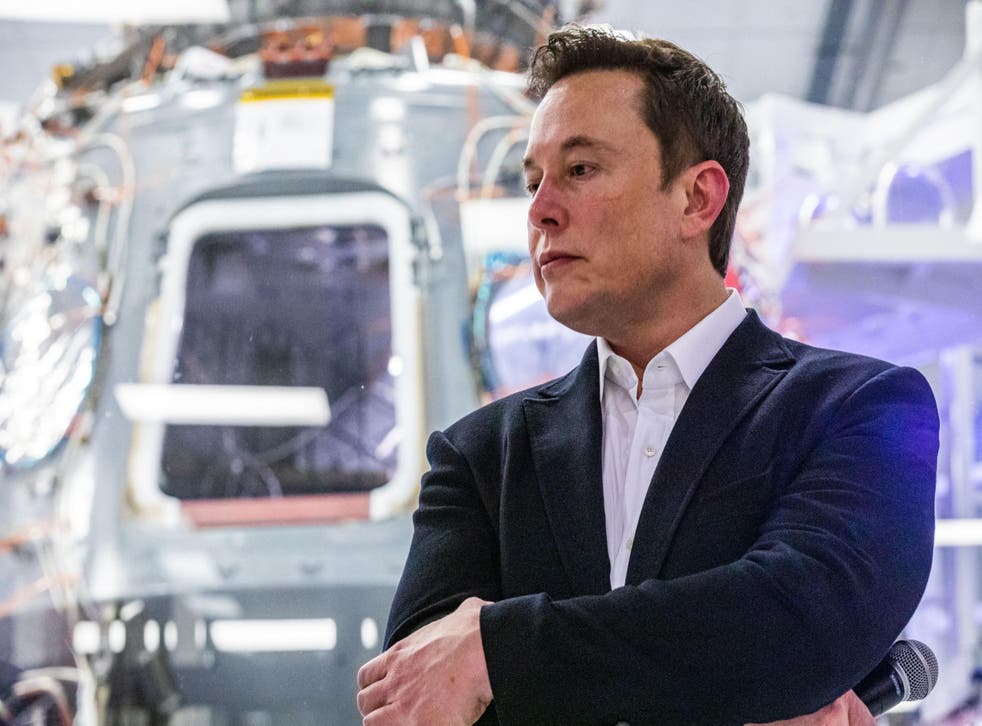 Elon Musk has told a top US Air Force General "the fighter jet era has passed", predicting wars will soon be fought using unmanned drones and space-based technology.
Speaking with Lieutenant General John Thompson at the AirWarfare Symposium in Orlando, Florida, the SpaceX chief executive praised the US Space Force, which was unveiled last year by Donald Trump.
The latest branch of the US Military has been widely mocked, with detractors pointing out the similarities between the Space Force logo and that of Star Trek, as well as the terrestrial camouflage used for the uniform.
The role of the new command is to protect satellites and other space-based infrastructure, while also conducting space operations to assist troops on the ground.
"I think it's actually cool that the creation of the Space Force is happening," Mr Musk said. "It makes sense that there's a major branch for every domain... I have zero doubt that if the United States does not seek great innovations in space, it will be second in space, as sure as night follows day. So it's a big deal."
SpaceX Dragon heads back to earth after ISS mission

Show all 15
Mr Musk said he hoped the US Space Force would result in a fleet of space craft, similar to that found in Star Trek.
"We've got to make Starfleet happen," he said. "When the public hears 'Space Force,' that's what they think. It's like, 'OK, we're going to have some sweet spaceships and pretty good uniforms and stuff'."
Mr Musk said innovation in air warfare systems would soon see autonomous aircraft replace current piloted craft, saying "if you don't push for radical breakthroughs, you're not going to get radical outcomes."
He said: "The fighter jet era has passed. Drone warfare is where the future will be. It's not that I want the future to be, it's just, this is what the future will be."
He claimed the Pentagon's most expensive weapons system – Lockheed Martin's F-35 jet – should have a competitor in order to prevent the US military from falling behind other countries like China. Mr Musk provided more details of what this F-35 competitor should look like on Twitter following the event.
"The competitor should be a drone fighter plane that's remote controlled by a human, but with its manoeuvres augmented by autonomy," he wrote. "The F-35 would have no chance against it."
Other Twitter users pointed out that the need for a human pilot increased costs and limited performance of modern fighter jets, as it adds the requirement of ejection seats, pressurized cockpits, and other features.
A remote-controlled jet would also not be restricted by the amount of G-Force the human body can withstand, however it may be more vulnerable to being hacked or interfered with by malicious actors.
Aerospace firms are already working on self-piloted jet fighters, with Boeing developing a windowless warplane that could be ready for operational use by the mid-2020s.
Register for free to continue reading
Registration is a free and easy way to support our truly independent journalism
By registering, you will also enjoy limited access to Premium articles, exclusive newsletters, commenting, and virtual events with our leading journalists
Already have an account? sign in
Register for free to continue reading
Registration is a free and easy way to support our truly independent journalism
By registering, you will also enjoy limited access to Premium articles, exclusive newsletters, commenting, and virtual events with our leading journalists
Already have an account? sign in
Join our new commenting forum
Join thought-provoking conversations, follow other Independent readers and see their replies