Facebook reportedly in talks to buy high-altitude drone makers Titan Aerospace
Social network could use high-altitude craft as part of it's internet.org initiative, providing internet access to developing markets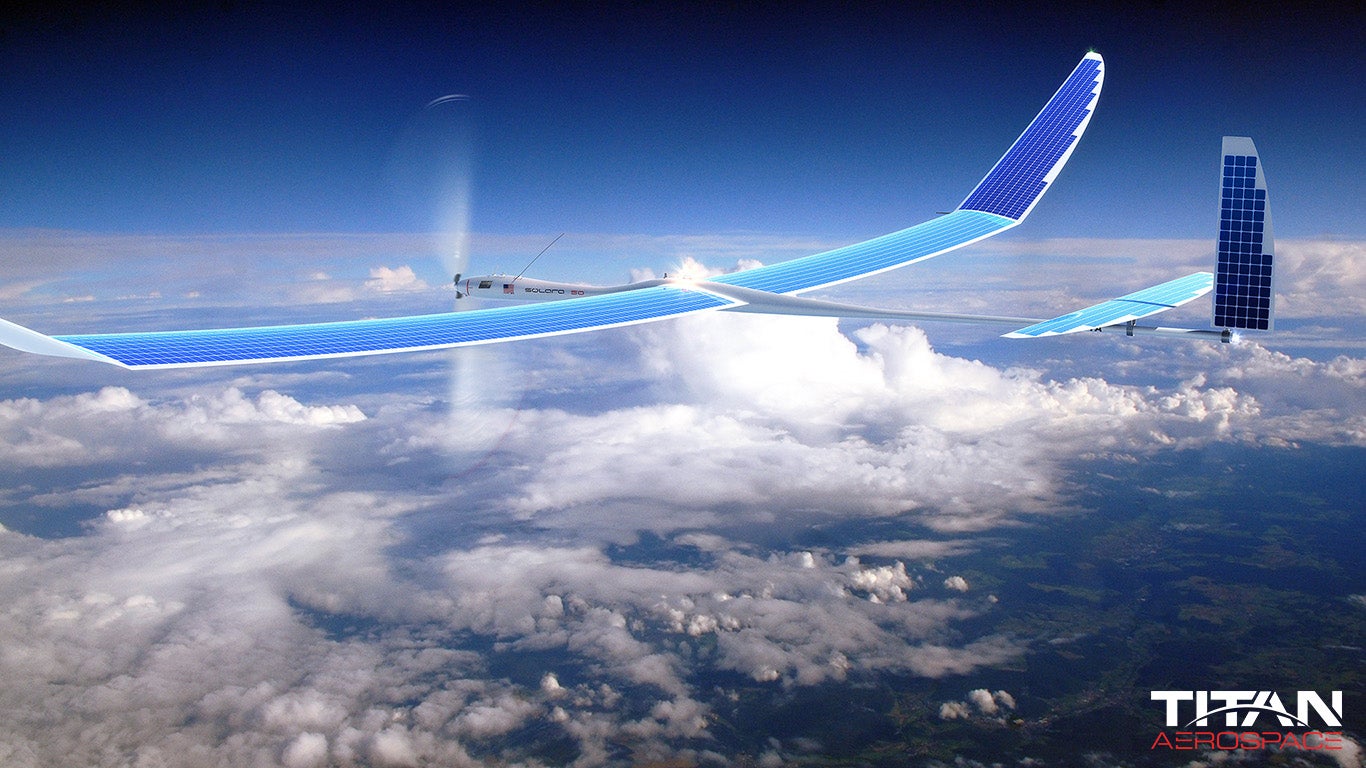 Facebook is reportedly in talks to buy Titan Aerospace, makers of solar-powered, high-altitude drones that can stay aloft for up to five years at a time.
It's thought that the social network is interested in using the aircraft to provide internet access in developing markets as part of its internet.org initiative.
This project, launched by Mark Zuckerberg last August in partnership with companies including Nokia and Qualcomm, aims to cut the cost of internet access across the world and connect "the next five billion people" to the web.
Reports from TechCrunch suggest that Facebook is interested in buying the drone manufacturer for $60 million and would begin by building 11,000 Solara 60 aircraft to provide internet access in Africa.
Titan Aerospace, a private company with research and development facilities in New Mexico, unveiled its Solara 50 and Solara 60 unmanned aerial vehicles last year, marketing them as extremely cheap alternatives to satellites.
The craft can be launched at night powered by an internal battery and once airborne use solar panels embedded into their 160-foot long wingspan to power them. The aircraft have a mission range of over 4 million kilometres and operate at an altitude of 65,000 feet.
This places them well above commercial airliners flying at around 30,000 feet, as well as regulated air-space in the US (the FAA's jurisdiction goes up to 60,000 feet) while the high altitude also means that they are out of reach of turbulence, sitting in a calm atmospheric area known as the tropopause.
Speaking to Fortune magazine last year, Titan Aerospace chief electrical engineer Dustin Sanders said that the company wanted to create a "single-million-dollar-per-aircraft platform" as opposed to the billions involved in launching a satellite.
"The operation cost is almost nothing," said Sanders "You're paying some dude to watch the payload and make sure the aircraft doesn't do anything stupid."
If Facebook does follow through on this acquisition it would put them into direct competition with Google's own 'Project Loon', a similar initiative that aims to provide internet via a network of high-altitude weather balloons.
Both Facebook and Google's projects have been criticized in the past for disguising commercial goals as altruism. Microsoft founder Bill Gates was among those who spoke out, noting last year in an interview with Businessweek that "when a kid gets diarrhea, no, there's no website that relieves that."
Facebook's interest in providing even slow internet to new parts of the world would also complement its recent acquisition of WhatsApp, a simple mobile messaging service that uses relatively small amounts of data to replace SMS and MMS text messaging.
While a 'drone project' might sound like a significant development for Zuckerberg's social network, it's worth remembering that the price being mooted for Titan Aerospace ($60 million) is a fraction of what the company paid for WhatsApp ($19 billion).
Join our commenting forum
Join thought-provoking conversations, follow other Independent readers and see their replies